What is The Importance of Creating a Logo With a Tagline or Slogan for Business?
Do you have a brand? Then you must have a logo and a tagline or slogan. Small brands usually don't have a slogan. They mostly go for logos and other visual brand materials. As they don't know how important it is to have a logo with a strong memorable tagline for the brand. "50% of People Look to a Slogan to Understand a Company's Purpose" brand slogan means a lot to both brands and consumers. For brands, it emphasizes brand identity and reveals core values, and motives. While the logo shows the perception of the brand, the slogan is a quick way to describe it.
Having a brand slogan can benefit you in many ways, but wait, it should be an eye-catching and striking one. Brand slogan helps to build up relations with customers and can influence purchasing decisions. In the crowds of competitors in your niche, a good slogan can help you stand out from the competition. This is a good strategy to establish authenticity, reliability, and other good value. Here we have discussed all brand taglines or slogans to help you create a successful one for your brand.
What is a Brand Tagline?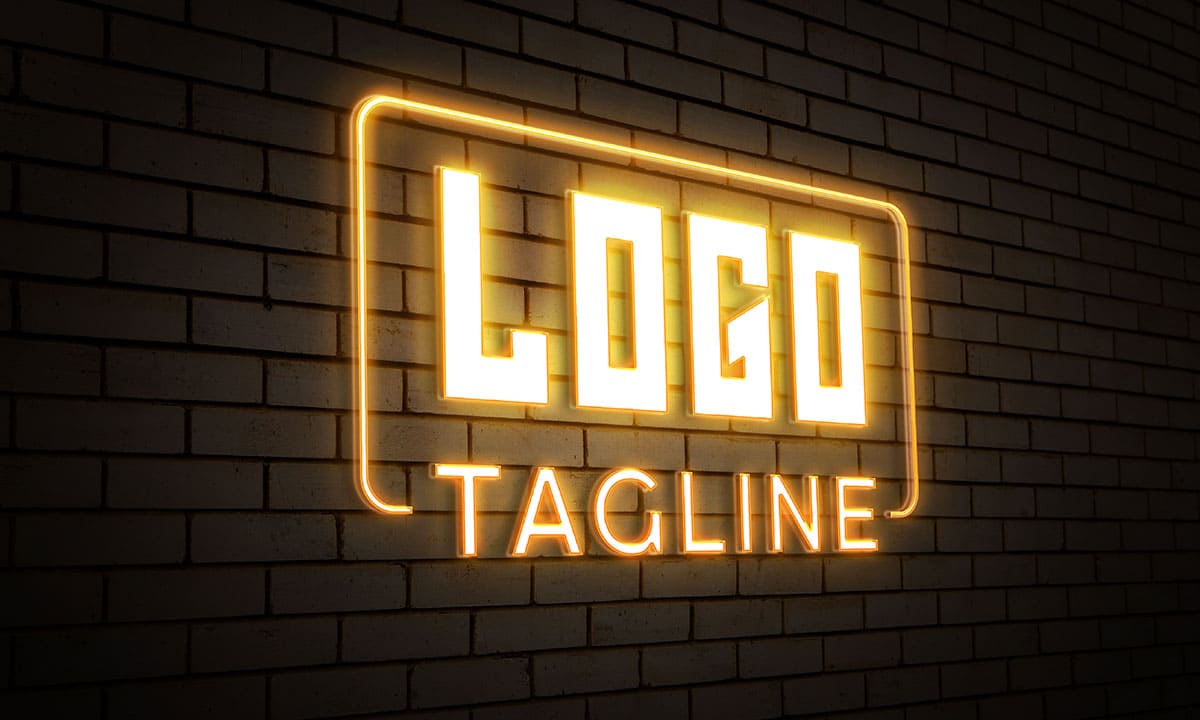 Simply put, a tagline is a slogan or a phrase that incorporates eye-catching powerful words. The complete tagline is an expression of the brand value or it may be a brand message that tells a story or personality about the brand. You may be familiar with Nike's 'swoosh', the iconic logo that reminds you of Nike every time you see it. Nike's slogan is as popular as the logo, the slogan appears short yet effective enough to reflect Nike's brand message. HSBC tagline is 'The world's local bank' which successfully resonates its motive and object and you know currently they have offices in 64 countries over the world.
So a brand tagline is a sum up of many things such as the brand's aim, motive, what the company does, and how it can help people. If you are a brand without a powerful tagline, you are missing its huge advantages. We will disclose the importance of a tagline for your business and how you can create one in the text of the article.
What Does Tagline Do to Your Business?
The tagline is the shortest brand message that helps to leave a permanent impression on the audience's mind. They work great to grab attention and make people interested to learn more about the brand. Typically, the best logo design makes a perfect brand identity when the tagline builds better brand recognition. A perfect tagline does many things for the brand. For example,
The perfect tagline represents your brand professionally

Increase brand identity and helps to be identical

Helps you stand out from the competition

You can tell the audience why they should choose the brand with the slogan

Helps to persuade people to buy
Above all, a tagline or slogan can go everywhere with the logo and other brand visuals. You can use it for web design and development, social media platforms, product packaging, and brand items like t-shirt design, mugs design, business cards, etc. So, it can take the job of introducing your brand and encouraging people to make deals with it.
What Does Logo Do for Your Business?
The logo is an essential part of a brand's visual identity. The logo is the best way to set a distinguished identity for brands. You can see every brand comes with a unique logo design, whether it looks professional or not, it says about the brand. Since the logo is a visual assistant, it can get attention faster than a tagline or slogan.
The logo includes graphics, illustrations, mascots, icons, and stylish typography to lure people's attention. Like the tagline, the logo has a big impact on a brand's success. Logos can make or break the audience's impression of the brand and build brand loyalty. The benefits of having a professional brand logo cannot be overstated. If you are already a brand or a startup, you should consider designing a professional logo for your brand.
The Importance of Having a Tagline or Slogan for Business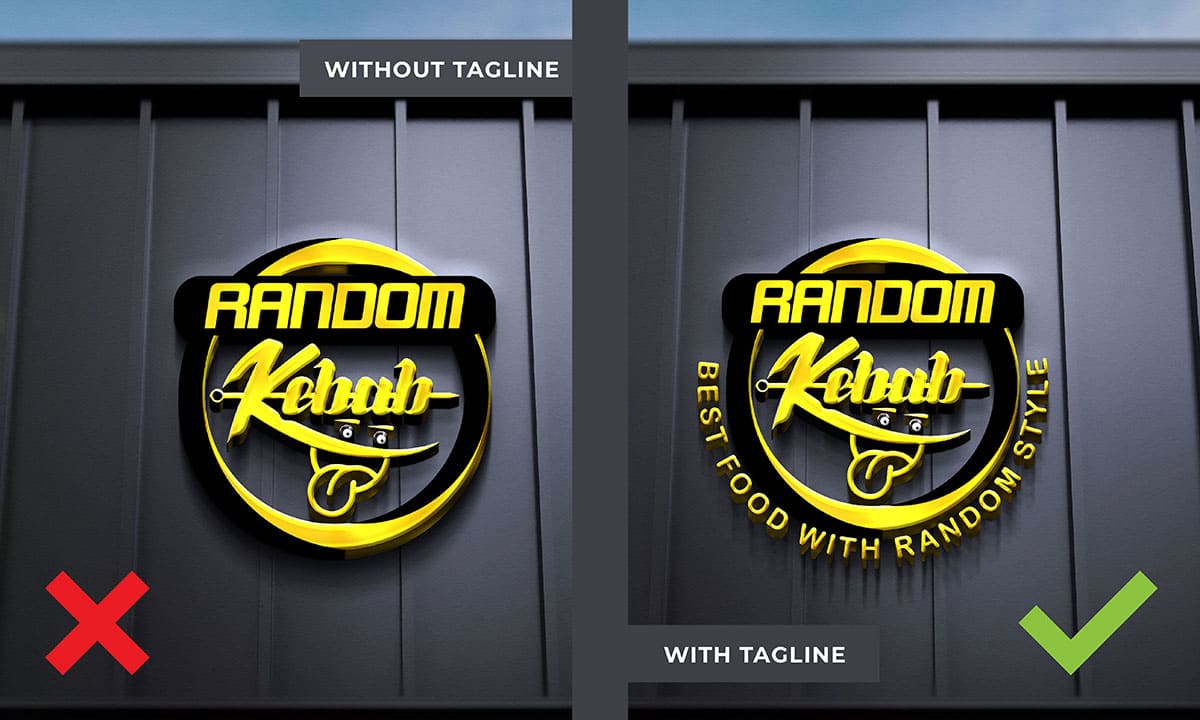 Nowadays, brand owners are so cautious about modern practices and brand strategies to increase brand identity and potential customers. Brand practice is no longer the same as before, although there is no chance. Because people are no longer dependent on offline business and advertising, they are now more likely to run eCommerce businesses, social media ads, Google ads, brand affiliations, etc.
Therefore, finding potential, building relationships with consumers, and brand recognition also change the way to work. However, online makes it easier for brands to connect, communicate, and engage with their target audiences. To facilitate your brand journey, you need to ensure that all the brand materials are properly established. It includes the brand logo, slogan, advertising with banner design, and all the visual designs of your brand. The slogan is considered one of the effective brand assets that all brands should have. Here are some importance of having a tagline or slogan for business,
Recipe for Successful Brand
Powerful taglines can make your brand journey seamless. When you have a strong tagline with your brand name and logo, people will be more interested in getting involved with it. Here the question comes, how can you create a strong tagline that better represents your brand motive? Well, we will discuss this in the next of the article. Powerful taglines can help you reach goals and become a successful brand. For instance, HSBC's tagline 'The world's local bank' worked to make it become one of the most popular financial brands worldwide. Determine what can put your brand in a trusted corner of the audience. If you are a manufacturer, you can focus on quality, if provide services, you can focus on credibility and reliability when creating the tagline. In this way, a perfect brand slogan can be an asset to building a successful brand identity.
Tell a Story to the Brand Audience
It is better to employ a short prevailing story with a tagline that can emotionally touch the audience. All brands have unique features that set the brand apart from others. Whatever your uniqueness, you should make it clear in the tagline. Have you ever seen the Mastercard tagline which says, "There are some things money can't buy? For everything else, there's MasterCard." This is how they tell their story. You also should define a tagline that tells your story in a persuading way. If you want people to get a positive first impression looking at your brand, you should implement a powerful tagline in your brand name and logo.
Increases Recognition
The tagline can surely do a lot for brand recognition. Once a tagline is set for the brand, it must remember people about the brand. Whether there is any brand item or not, the slogan always works similarly to the brand logo and other brand materials. Since slogans are short, it helps to easily recognize the brand and make the brand memorable.
Makes You Distinguish
Online e-commerce has become so competitive. Nowadays it is very difficult to move with a new brand and get leads and potential customers. Because you can't ignore the massive competition in the marketplace and you have to go through it. In addition, you need to employ an effective marketing strategy, successful advertisement, and online and offline campaigns to get acquainted with the target audience. Besides, your branding design, logo, slogan, business card design, etc. Also, work regarding this. If you want to create a unique brand identity, there is no better way than creating unique brand names, logos, and slogans for it.
Help People Make Decision
Effective slogans can also be persuasive. It can lure the audience's attention and persuade them to make purchase decisions. This is why all the big and small brands consider having a converting slogan along with the brand name and logo. When you decide on a slogan for your brand, make sure that it is easy to understand, recognizable and encouraging. Slogans that have the following features can certainly help drive more traffic and potential.
Make You Memorable
One of the significant features of all successful brands is they have a memorable logo or slogan which keeps people reminded about the brand. Psychology says people can easily remember things that are simple and decorative. This is why eye-catching brand logos can easily take people's attention and encourage them to connect with the brand. Unlike logo, slogan or tagline doesn't include designs. It may come up with an aesthetic font style and color but what it says is more important. However, brands can appear with several slogans for different products and services.

Services | All Kinds of Content Creation Services Company
What are Some Good Taglines?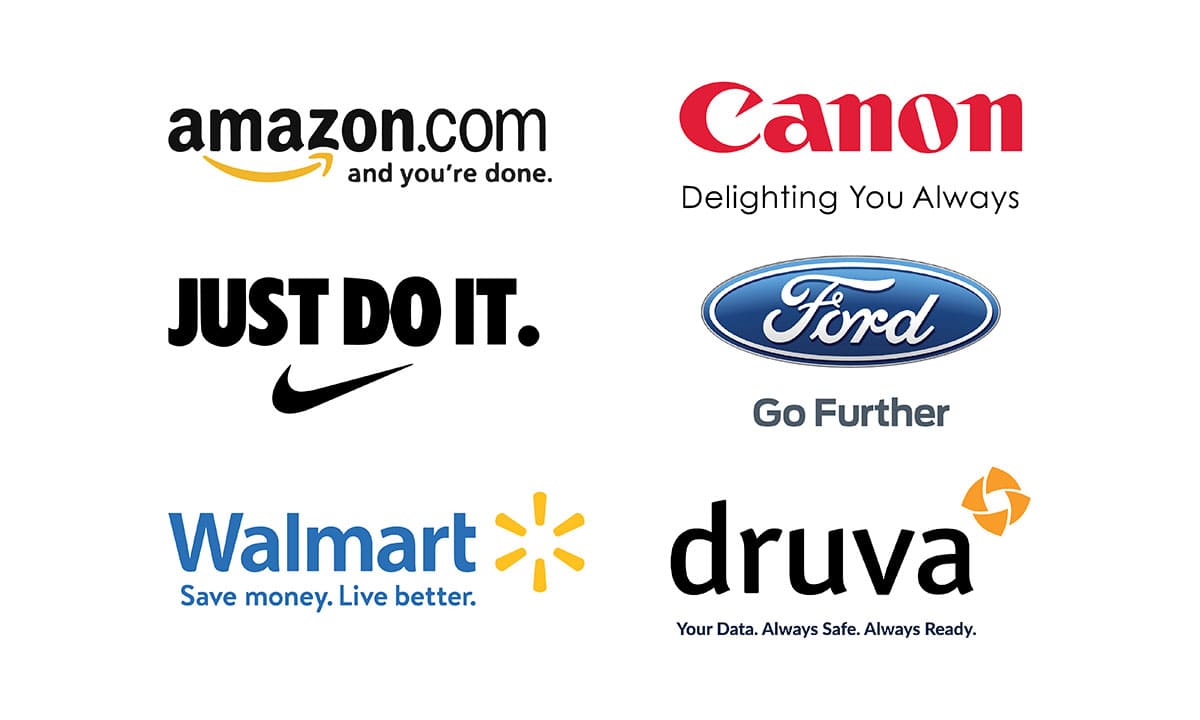 Good taglines generally come short, not more than three to four words, although there are differences also. If you are on the verge of creating a tagline for your brand, you can get inspired by the examples of popular brand slogans. All the brands have unique characteristics and motives on which they work through the journey. Having a strong tagline with a brand name is not only important for the audience but also for the overall brand staff. For your convenience, here are some examples of good taglines,
Nike – Just Do It

Apple – Think Different

Wendy's – Where's the Beef?

Coca-Cola – Open Happiness

L'Oreal – Because You're Worth It

M&Ms – Melts in Your Mouth, Not in Your Hands

Dunkin Donuts - America runs on Dunkin

Verizon – Can You Hear Me Now?

Taco Bell - Think outside the bun

Walmart: Save money. Live better

Disneyland - The happiest place on Earth

Samsung - Do what you can't

Allstate - You're in good hands

Kentucky Fried Chicken - Finger-licking good
What are the Features of a Good Tagline?
So, how do you know that your tagline is perfect and provides the best result you need? Well, this is a question that should need to answer. Brand practitioners always intend to implement best practices for branding, marketing, and advertising design. Since brand owners don't have enough time for deciding on the brand logo, color, and other brand visuals, they hire professionals instead. If you are a brand, you can hire freelancers, and brand design experts to do the job for you. Similarly, you can also outsource the perfect tagline for your brand by hiring experts.
No matter how you are making the tagline, you should consider some important things to ensure the tagline is perfect. The best taglines have a clear message that is easy to understand and remember. They should be short and concise but still, convey your brand's unique selling proposition (USP). A great tagline can help you stand out from the crowd and attract potential customers. Here are some tips to create a strong tagline:
Short
The rule of thumb for making a perfect tagline is to keep it short. Too many words can make the tagline look busy that won't even capture the audience. People won't be interested in focusing and reading phrases that include two or three lines. If you want to reach higher with your brand slogan, then you should keep it short. Make a tagline within five to six words and it is the ideal range for creating a perfect tagline. The shorter the tagline, the easier it will be to remember.
Simple, Easy to Understand
When keeping it short, you should also focus on making it clean, and easy to understand. Don't use complex words or words that confuse people. Make a tagline that can influence your target audience in the right way. For instance, if you are a brand that sells baby and kids items, then your target audience isn't only their parents but also the children as well. In such a case, the tagline should be something that can easily be understood by children.
Establish trust and Positive Emotion
The brand tagline is so good to establish trust and positive emotion in the audience. Taglines can make you trustworthy and if designed well, they can establish the right emotion in the audience. You can say it is emotional branding where you need to provoke emotion by encouraging people with your brand slogan. To do this, you have to consider the products or services you offer, and the best way to connect people with your brand. You can tell a micro-story resonating with brand specialties in the tagline.
Show the Core Value
The core value is what makes you different from others in your industry. This should be something that people can quickly identify with and relate to. If they don't know what this means, then it doesn't matter how many followers you have. People won't follow you if they don't understand what you are about. It is recommended to show the brand's core value in the tagline for the best result.
Give a Reason to Choose You
Make a tagline that separates you from the competitors, and gives the audience a reason to choose you. This can smooth your brand journey and can save your marketing budget. This could include things like,
A specific product that sets you apart from others

A service that no other company offers

An industry first

A niche markets

A quality guarantees
Endnote
A slogan or tagline is one of the important parts of every brand's journey. It should be fixed from the journey's beginning, along with the brand name and logo. However, the tagline is changeable like your branding. You can create new taglines when needed. It is necessary because the brand's missions and goals change over time. In addition, the slogan may become obsolete over time and may not fit well with the company. Unless you have a timeless slogan, you will need to refurbish it over time. Finally, a relevant, sophisticated, and timeless slogan can be a great asset for your entire branding journey. So, you should be careful about it when creating your brand slogan. And that's all about taglines or slogans.