Brochure Design Service
Brochure design service is a promotional copy that advertises your business to your audience. Remember, not everyone belongs to your audience group. They are specific. And thus, the brochure needs to be target oriented.
In most cases, a brochure is a piece of paper in different shapes, sizes, and styles. It could be an open sheet or a piece of folded sheet with customized designs. Printing a brochure is not a big deal and is a traditional way to advertise and promote businesses and organizations. The majority of businesses and traders use the brochure for their offline advertisements. But now, you can use them for online promotions, as well.
We customize any type of brochure for our global clientele. Without engaging with a professional like us, it is not possible to have the best outcome. You need an effective brochure that can showcase the potentials of your business to your audiences. And we make that happen.
The expert designer team at the Graphic Design Eye will help you design the best ones. Place an order for your design needs and we will provide you with a striking brochure design service.
Get Popular Types Of Brochure Design
At present, the demands of brochures have sky-rocketed. You will need them for almost all the services and business. They truly help to expand a business and make a client base, smoothly and smartly. So, based on the needs, there have been popular categories of brochure design ideas. Each of the designs help to spread the business branding among your audiences with attractive styles and outfits.
Whatever your purpose in designing the brochure, Our professional brochure designer team specializes in designing the perfect type of brochure based on your objectives. Look at our brochure design categories below.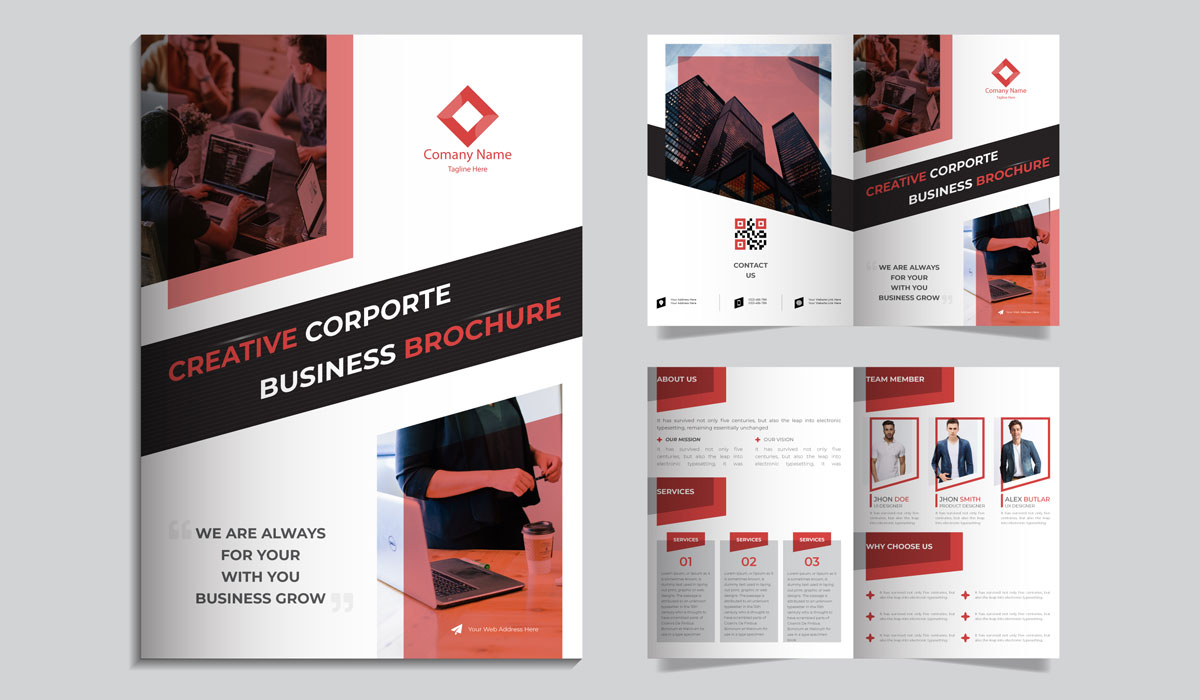 This is the bifold brochure that is often seen being used everywhere. The bifold brochure design looks simple but effective, quick, and easy to create. Since it is made by folding a sheet of paper in half, it is called a bifold brochure. It includes four individual panels and three sections which are front, middle, and back. Bi-fold brochure because it allows organizing all the information in a small space. Bifold brochures look great when they are designed perfectly with image colors. You can use eye-popping graphics and texts in the front section and put the main discussion in the middle and back sections.
Whatever purpose you have, you can rely on bi-fold brochures to accomplish it. The expert brochure designers of our company are able to provide the best designs to cater to your needs.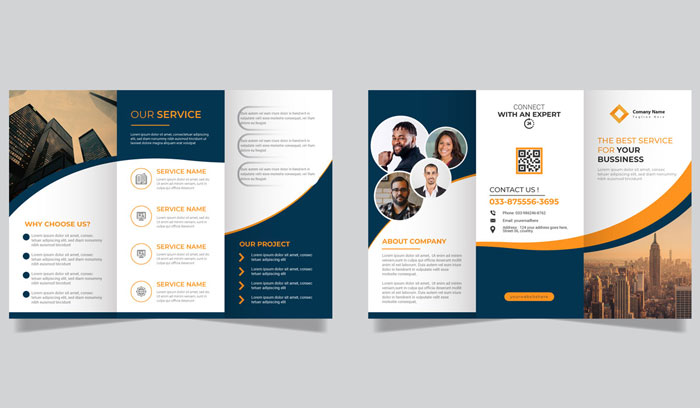 Tri fold brochure is also known as letter fold which provides larger space for displaying rich marketing offers and promotions. Since the paper is folded three times, it is called a tri-fold brochure. Tri-fold brochures have more images and more texts to relay the message to your audiences. You may find it similar to the gatefold brochure, but the tri-fold brochure is different and it does not have a door-like appearance like the gatefold ones.
Tri-fold brochures have six panels and three individual sections. You can get ample space to illustrate what you want to let your audience know. Besides, a tri-fold brochure is one of the best options for presenting graphical content. Also, you can also use it as prospectus, flow of information, business presentations, and so on.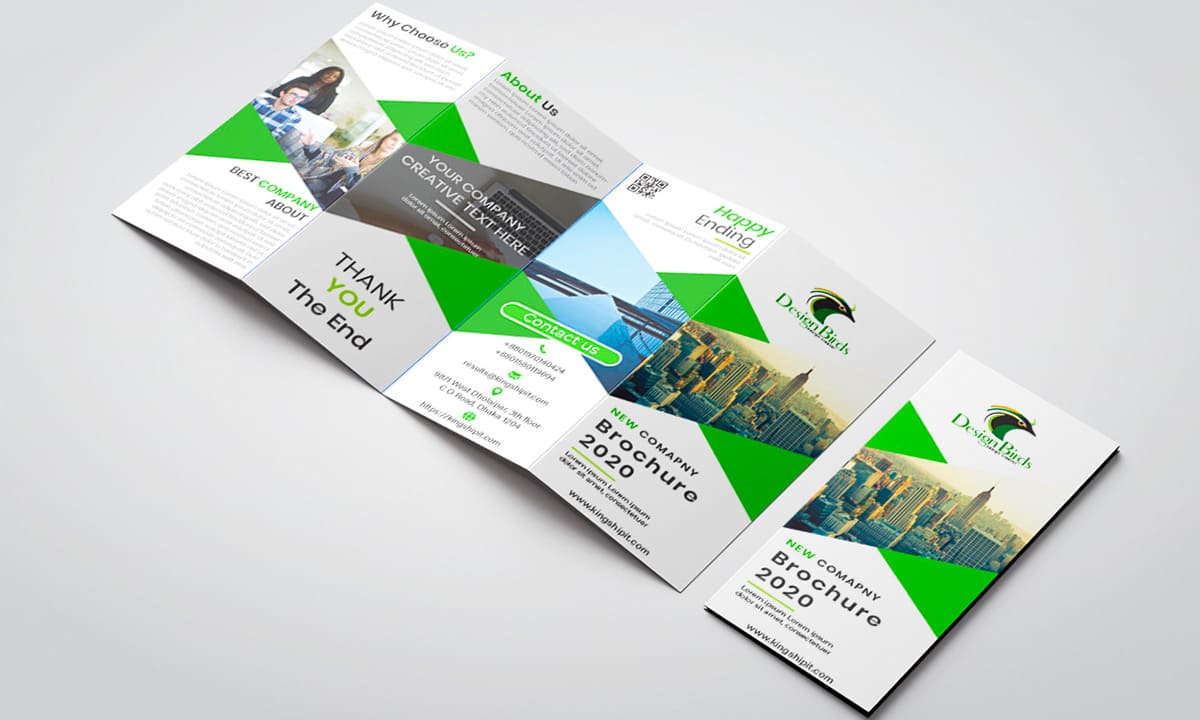 For an in-depth presentation of your services or products, you can select the double parallel fold brochure. The brochure paper is folded in the middle and then folded again. So, you are getting eight pages at a time in the brochure.
The parallel folding allows each of the pages to hold more information in a stylish and creative way. As you get more space, the messages become clearer. Aligned with the business or organization, you can select each of the panels (page) to represent them. The overall thematic look helps the brochure to stand amid the crowd.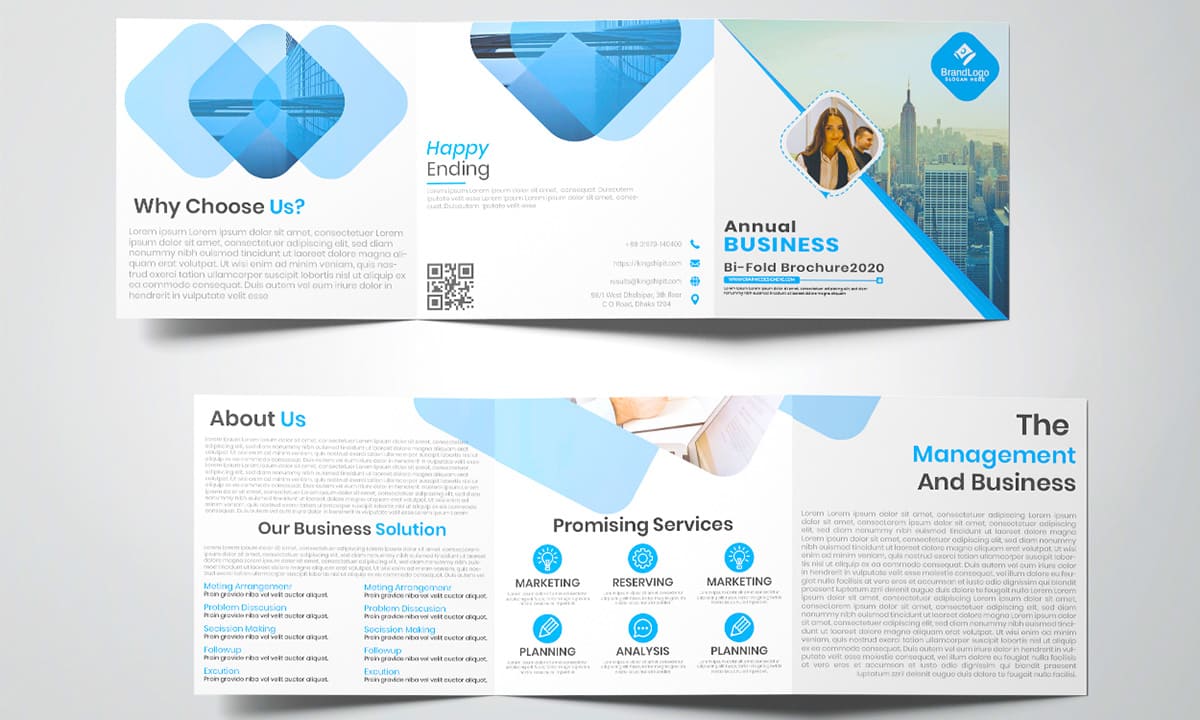 Professional appearance is the primary feature that pocket brochures hold. Second, they are available in a tri-fold feature. It means you can easily fold the brochure, and store it in your pocket instead of throwing it away. Further, it is a cost-effective way to deliver sufficient information. The brochure has several folds which reduces the use of more paper but provides a lot of necessary data to people.
Moreover, they look smarter for their folds and people accept the brochures for their alluring designs and styles.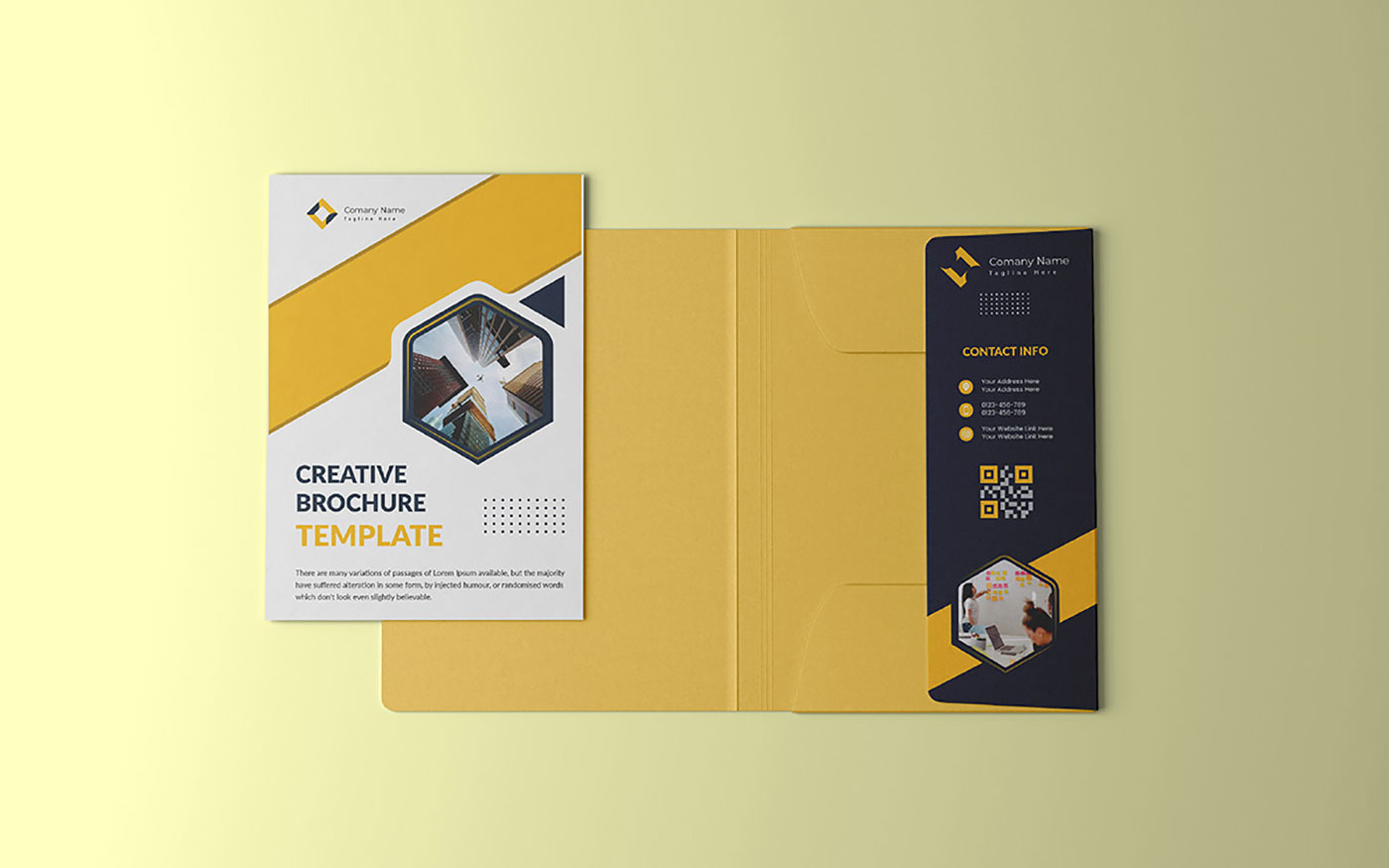 An impressive brochure design is the folders and insert brochure. Usually, a folder holds the brochure inside it to keep it organized. The combo of the folder and brochure is a great kit as you can provide a couple of brochures inside the folder which will provide the intended audiences with a comprehensive idea about your business.
This is, in fact, a set of brochures where the folder plays the role of the cover while the brochure is known as the insert. Typically, the design of such brochures (the folder and the insert) look great when they are similar to each other. But you can also bring a change in the design.
Instruction & Order
Just send your project instructions
Modification
We send the designs to clients for feedback
Delivery & Pay
File Delivery and payment release
Brochure Design FAQs
So, you are looking for a brochure design provider, right? In that case, you must get some basic knowledge about the complete brochure design services and its unknown processes. The best way to get the idea is to go through some of the relevant questions and their answers. They will deliver an in-depth insight in your mind which will help you make the decision correctly. Check some of the widely asked facts here.
Why Graphic Design Eye Special for Brochure Design Service?
Graphic Design Eye is a professional brochure design service provider in the industry. And it took years for the brochure design company to secure a respectable berth amid thousands of competitors. While designing a brochure, Graphic Design Eye considers lots of aspects to bring perfection in the overall design process.
Strategically, brochures help to increase the visibility rate of any business or company. Because the brochures are not from ready-to-use templates. Instead, they are generated through in-depth research, market and competitor analysis, considering the types of audience, and many other factors. Some of the features mentioned that have made us special:
Flexible price plans
Scopes of sample analysis
Complementary photo editing
Customization of every order
Efficient and professional service
Get unlimited revisions & quick turnaround
Smart, easier and flexible payment clearing process