Menu Design Service
A menu tells people about the specialties of a restaurant or food-selling shop. It is the first thing that people seek after taking a seat inside the place. If you do not have a fine-tuned menu, you may lose the attention from people. Here lies the importance of menu design services.
You know, people now spend hefty days to keep pace with the time. So, they have less options and hours to select the right food for them. But using the best restaurant, hotel, and cafe menus, you can cut their hassles. Providing a customized menu to your customers, you are relieving them of worries.
The menu contains all the products that you offer. But it should look interesting, attractive and stylish, as well, to blow their mind. The menu should turn their metabolism on to test the foods you offer. There should be ample options and mentioning of foods in line with their respective pricing.
With a distinctive menu, your customers will get a superior experience. The menu will make them feel at home as there are lots of offers and features. Also, the well-designed menu helps people to make decisions instantly and effectively. Thus, you are gaining an advantage over your competitors. Your business will get a natural forward motion.
However, selection of the best menu design service provider is a matter of wisdom. Remember, not everyone can sketch the right menu design. Instead, you must get it from professionals like us that will help your customers visualize the exclusive and delicious offers of your business.
We are ready to take your menu design orders. Place them before your competitors hire us.
Different Types Of Menu Design: What Are You Looking For?
Graphic Design Eye offers all kinds of visual design solutions online including menu design. We help clients all over the world to create visual elements for their business like logo design service, business card design service, We have a highly professional team of graphic designers who are creative and succeed in creating the best modern design for your needs. As a modern graphic design service, we look forward to bringing you leveraging menu designs that will surely accelerate your business. Below we've included some of our menu design categories so you can get inspired to go with our services. Let's have a look at them.
Restaurant menu design
Menu book design
Service menu design
Premium menu design
Bi-fold menu design
Gatefold menu design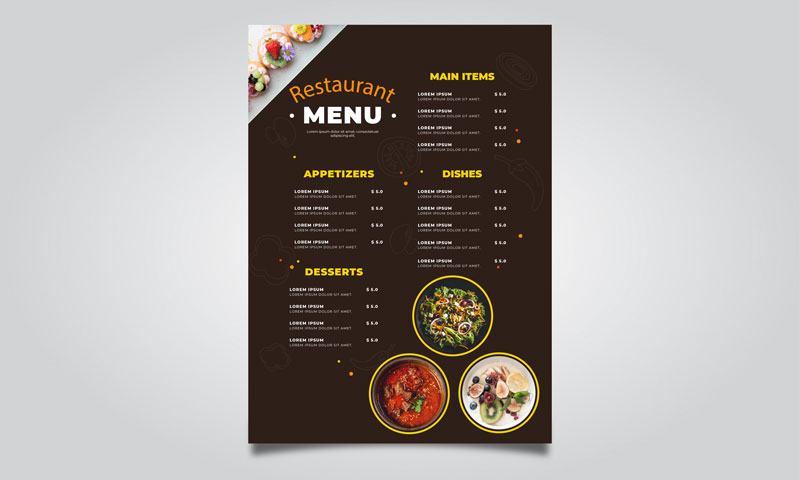 The menu is an integral part of restaurants, coffee shops, and other food corners. Even if you are in a 2-star hotel, you can see their menu hanging on the wall or attached to the table. Restaurant menu allows consumers to decide what they would like to order. It gives them a while to make decisions when talking with each other and then order the desired food. A menu is a must in every hotel and restaurant. If you start a new restaurant. You should create the menu before the opening ceremony. There are different types of restaurant menus you should consider. They are,
Fixed menu
Static menu
À La Carte menu
Du Jour Menu
Cycle Menu
Prix Fixe Menu
Table d'hôte
Beverage Menu
Dessert Menu
Learn about these different menu types to know which one you should choose for your restaurant. Although, you can create a custom restaurant menu with your own design and the way you want. If you've any customize menu design and layout on your mind, our expert designers will make it live for you.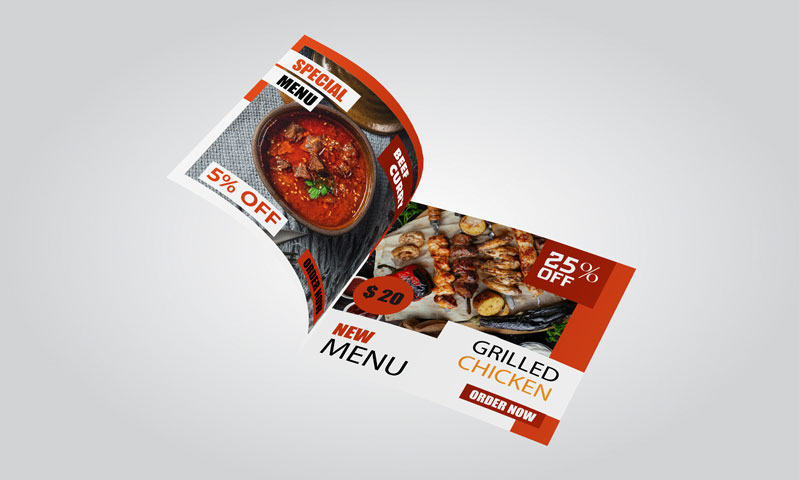 We see the menu book includes multiple pages full of different food items, drinks on every page. Restaurants that have a lot of items such as burgers, sandwiches, desserts, etc. Requires menu book to show all the items together. We design menu books including all the food items graphics and descriptions so you can just use print design and take them in your restaurant.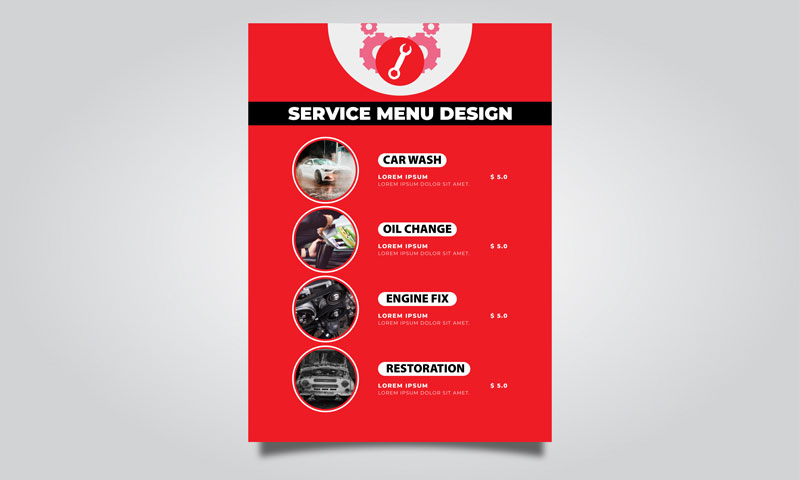 Those who are some kinds of service agency and provide services in their category. They also need to have menu to provide clients with all the information about your service. Your service may include various packages and different price ranges. When you have a service menu, you don't have to talk much with clients. You just provide the menu and let them decide. What service agency you are? Just give us information's about your service and we will create an interactive service menu for your agency.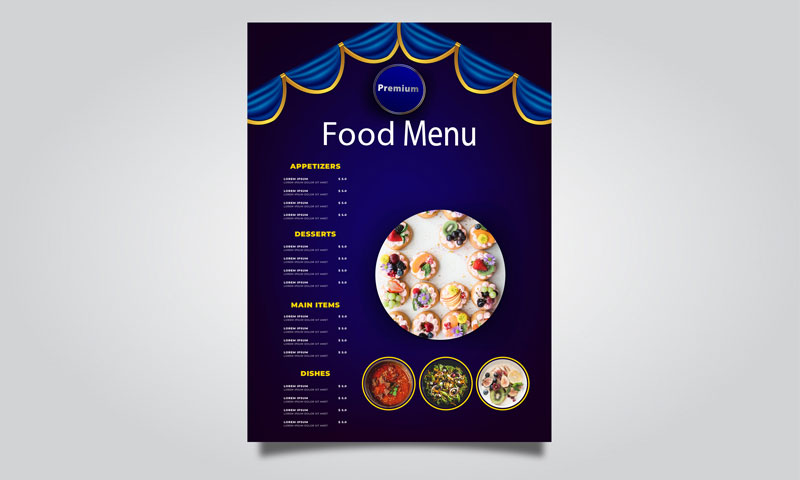 For client's demands, we design subtly distinguished menu that illustrates the brand personality in premium way. Our premium design menu will drive emotion to consumers and influence them to make vigorous decisions. When you're a premium brand that has a unique consumer base, you always want to keep engaging your audience with visually appealing design and appearance. Thus, you need a professional agency that could understand your brand value and would generate the design you need for your menu. No matter what you need, our graphic design team will design a fresh conceptual, and alluring menu which will surely make a huge difference from the typical design.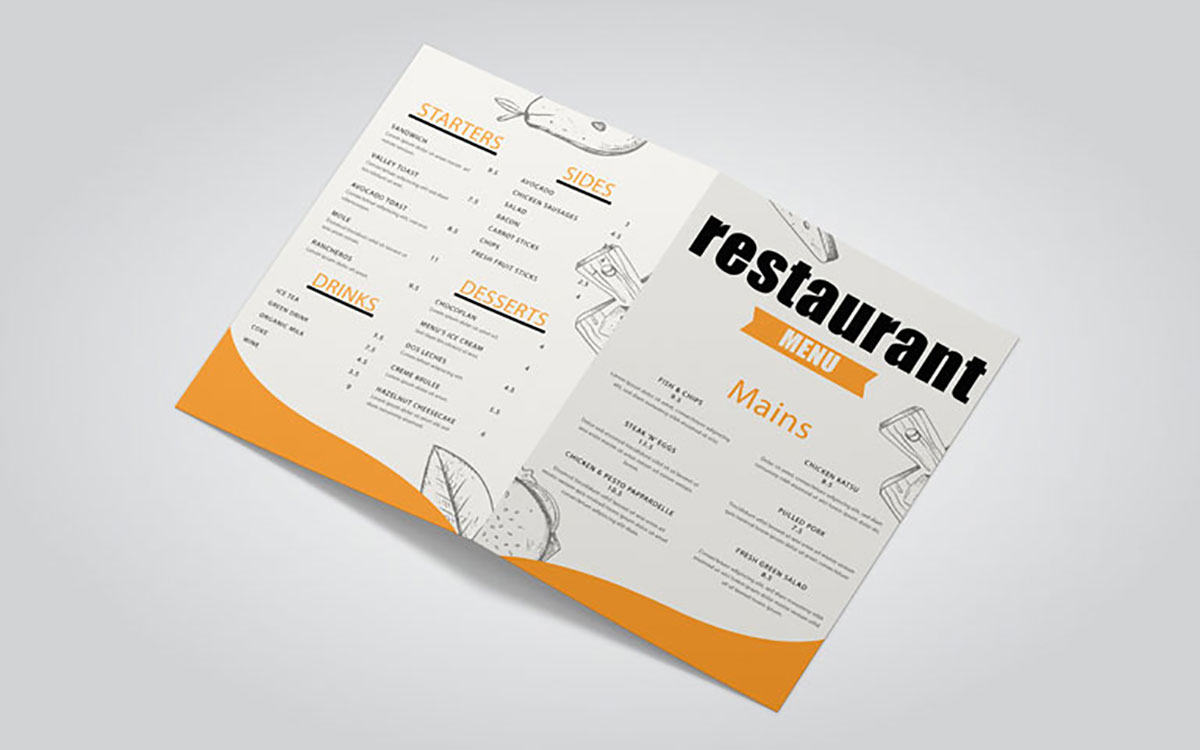 Looks like a traditional Bi-fold brochure design, bi-fold menu puts more options before consumers. You've freedom to include more graphics and more items into the bi-fold menu with descriptions. If you like we'll design an entire cover for your bi-fold menu and make the inner design visually pleasing. So, your clients and consumers can feel comfortable when they are holding the menu and thinking about what they would order.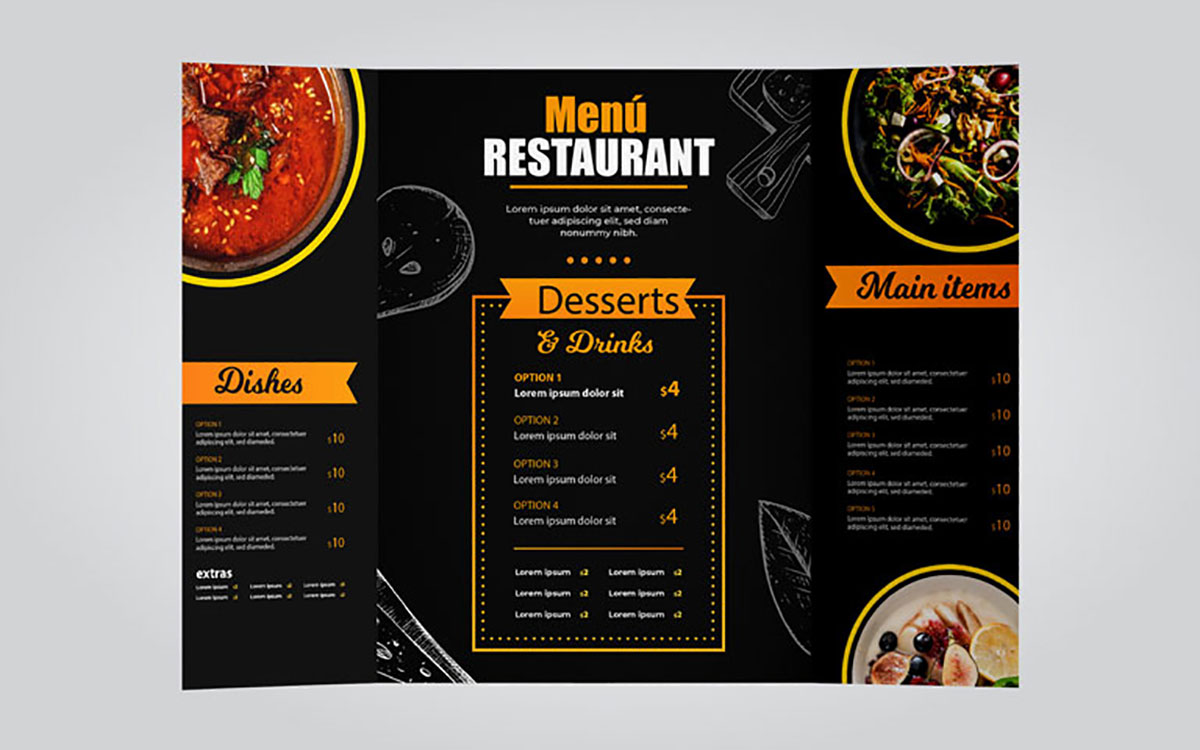 The Gatefold menu is so effective and value-driven. Its unique presentation tells consumers about your distinctness. If you want to have a distinguished menu for your service or restaurant, then the gate fold menu is perfect for you. Besides, if you've multiple categories in your service, the gatefold menu will allow you to show each category in different parts of it. For your convenience, the gatefold menu includes three separate sections. The Gatefold menu opens like a window and reveals the information inside this. If you have the desire to make your menu stylish, you can consider gate-fold menu design.
Define The Precise Size And Layout For Your Menu
Every business has its unique appearance that seems to be its brand identity. Brand identity encompasses all the brand visual and contextual elements you use for your brand. For instance, a brand logo generates the brand color palette. The color is used in every brand visual element and it makes a unique brand color sense. If you have a brand color palette, you can use that in creating menus and other brand initials. For menu design, you have to consider the color, layout, and background of the menu. To define the perfect size, think about the items you want to include on each page of your menu. If you can do it, try to sketch the layout and determine how it looks well. Then decide a width and length for your menu. For your convenience, menu designed in most cases with the width and length of,
But if you've any custom size, shape in your mind to design your menu, you can let us know that. We'll create a customized menu with a customized layout and shape. Whether you want to make a single, double, or multiple page menu, our expert design team will build it adjusted your business.
How Do We Create Customized Menus For Businesses?
Since the menu makes the first contact with clients and consumers, it should have the ability to make a good first impression about the business. Whatever business you are, you can impact consumers with an effective menu. Therefore, you should intend to create an effective menu by professional design agency which could help you in this regard. Graphic Design Eye offers reliable online design services. We have a bunch of creative designers who love to research design materials and generate authentic and creative designs for clients. The design team is focused on creating user-centric and consumer-friendly designs. So, the design would seem compelling for the audience. When clients come to use for creating menu for their business, we go through the process given below.
Get The Specifications
First of all, we get the specifications about your business, what type of business is it? It helps designers to get a primary concept and also helps to perceive the design. Because menu design varies on the business and the target audience. When we've information about your business, our designers research and find the design that will be pleasant for your audience.
Design Layout
The next step is to design the menu layout. The layout is the structure of the menu. So, when we're intended to design the layout, the designer's team contributes to deciding how things would look well in the layout. Our designers are experienced as they take into account both psychological and visual perceptions of consumers. Divide the layout into sections and patterns and create it in an alluring way to impact consumers.
Color And Typography
Typography and color come as one of the most important aspects of all types of visual design. Color and typography have a great impact on the viewer's psychological mind. We are more likely to interact with the design that has favorite color and typographic style. For menu design, our designers choose the right color and typography for your menu. The color combination they make will surely draw audience's attention to it and make them feel comfortable with the entire visualizing.
Image
Image is necessary for menu. If you're a restaurant and want to create menu, you must provide the actual images of the food you serve. Then we prepare and include them in your menu so that consumers can get a real view of the food before ordering. You've to capture images yourself and send them to us. We'll modify and attach them to the menu adjusting the layout. Finally, when all the work is done, we will provide you the print-ready file of the menu. Now you just need to go to a printing store and get the hard copy of the menu right in your hand.
How Much Do You Charge For The Menu Design?
We're looking forward to making the price reasonable for all types of business. Typically, online graphic design service comes with a higher price range that seems costly for small businesses. Therefore, to make our service obtainable for all, we offer professional graphic design services including menu design in small price range. Our menu design service has three different categories. They are,
Basic menu design
Standard menu design
Premium menu design
The basic menu design includes one-page menu with an eye-catching layout. We will deliver the print-ready format you can print any time. Basic menu design starts from $100. Next to the standard menu is designed more uniquely with exclusive images, layout, and typography. You can choose custom layout for standard menu and get a standard menu for you. You can grab the standard menu design service only for $150. In the premium category menu design, we form genuinely premium-looking menu for your business. Our designer's research audience, and consumer behavior to build a value-driven menu design. If you're a well-known brand that wants to make a noticeable menu, this premium service is perfect for them. You can get the premium service for $500.
That's all if you've any inquiries about our service or anything, just leave a message on our website contact page or email. We're always here to help you with what you need.