Label Design Service
Label design service is essential as labels contain brand logos and important information about a product, brand, or business. When a product is displayed, customers usually check the labels first. Therefore, if the labels are unappealing, you may miss opportunities to increase sales. A clear and visible label helps customers check the product and understand its details.
However, if the product label design is unattractive, your customers may lose interest. Poorly designed labels can also erode consumer confidence in the product's quality. If customers find poorly designed labels, they are less likely to purchase the product due to the lack of authenticity of the product.
Our expert designers also meet the industry's needs and comply with guidelines. So, there are no issues regarding the label violating any rules or regulations while promoting your brand's products. We carefully consider elements such as fonts, colors, label themes, text, and descriptions.
Besides, our research team undergoes in-depth research in the first phase. It helps to know the market scenario clearly so that we can design with current trends to grab consumers' attention. And finally, we deliver the most impressive product label design service. Get trendy label designs by getting a quote from us now!
Different Types Of Brand Label Design
The label is one of the most important branding assets for your business and it is used to beautify the outlook of your final products. Therefore, you have to be conscious while you are on the brink of designing labels for your brand products. The label of your products should be 100% creative and attractive so that people get attention to your products. People go to the market to buy their necessary products and while they find the same products with different label tags, they seem to choose the product even for the taste. It is proven because most often design dominates over other aspects to lure people's subconscious mind. Our professional label designers can create eye-catching and creative labels for any of your brand products. Here are several types of our label designs below.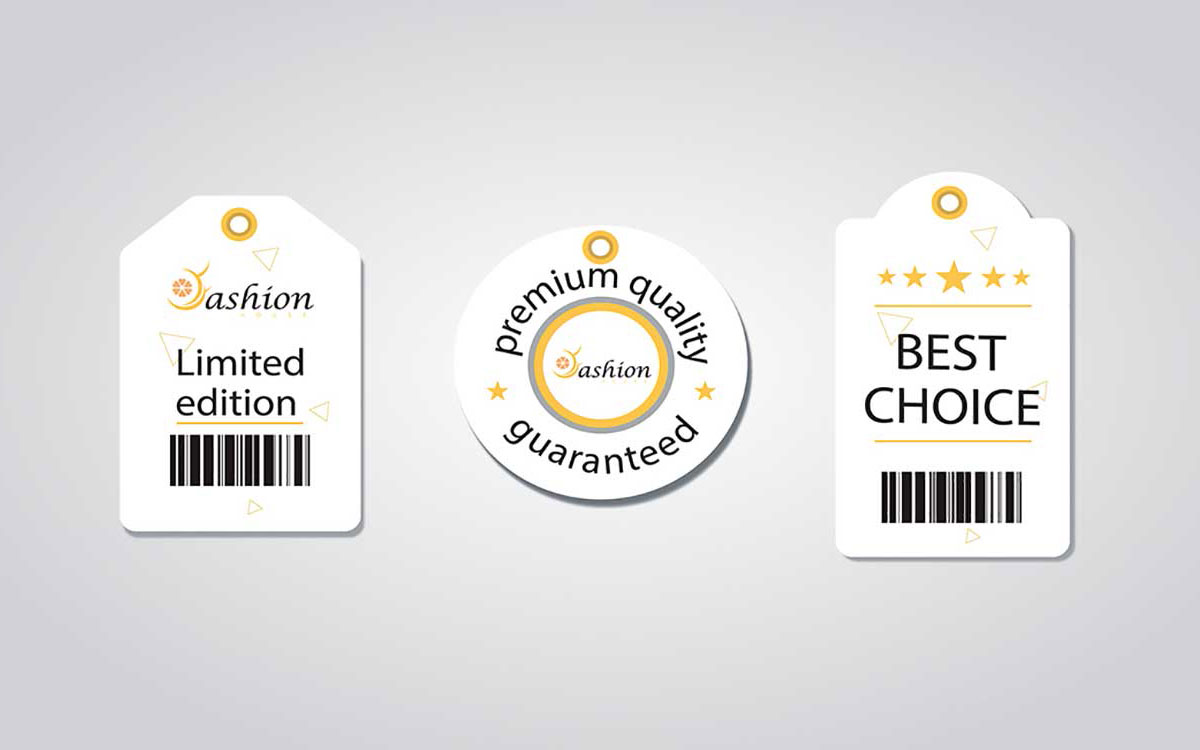 Peel-and-reseal label is a type of label feature commonly used in the food and consumer goods industry such as food items, resealable bags, and hygiene products. It typically consists of a label material that can be easily peeled open to access the contents inside and then resealed for future use. This feature is designed to help keep the product's detailed information. There are some kinds of products that need to add lots of info about those products in a short labeling space and peel and reseal labels help in this case.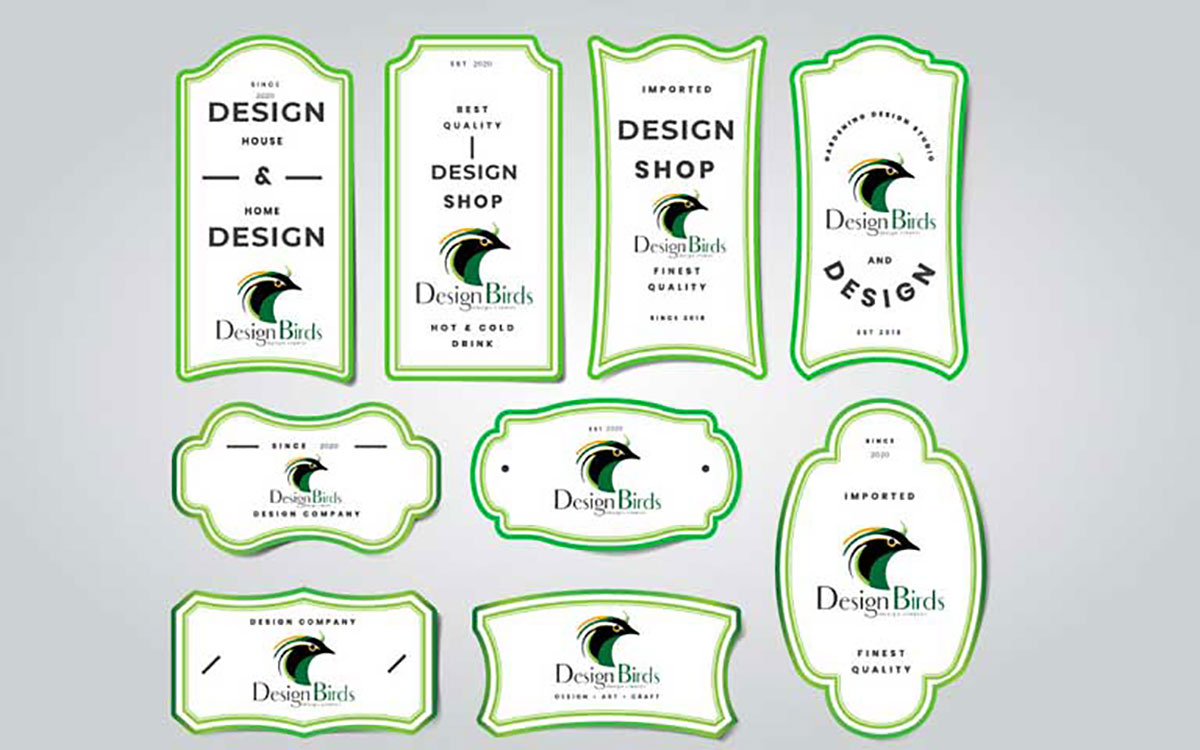 Die-cut label is a specialized form of labeling that helps to cut labels into custom shapes and designs using a die-cutting process. Unlike standard rectangular or square labels, die-cut labels offer a high level of customization, allowing businesses to create labels that perfectly fit the product's packaging or reflect their brand identity. One of the key advantages of die-cut labels is their ability to provide a professional and eye-catching appearance. Die-cut labels are commonly used across a wide range of industries, including food and beverage, cosmetics, health and beauty, and manufacturing. It offers a unique way to present products to consumers, enhance brand recognition, and make a lasting impression.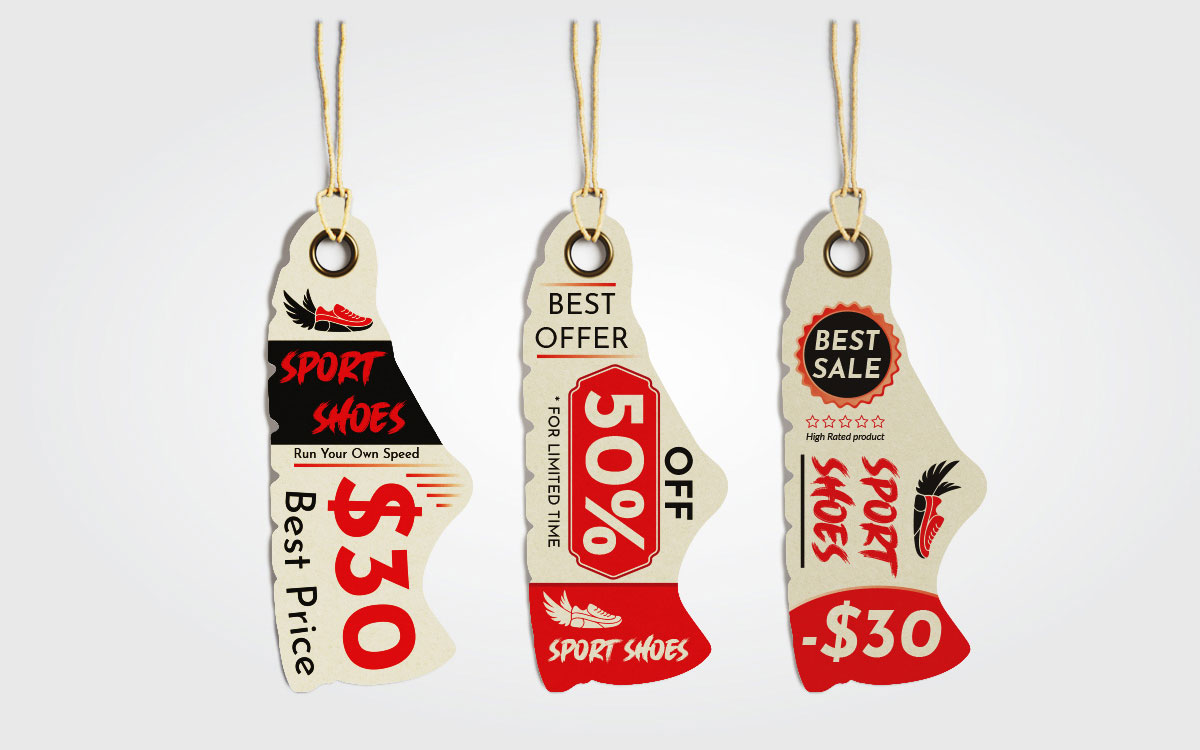 Tag label is referred to as a tag. It is a label item commonly used for various purposes, such as providing information, identification, branding, or instructions. They serve a wide range of functions in different contexts. In retail and commerce, tag labels are frequently used for pricing, product information, and branding. Clothing items often have tags that display the garment's size, care instructions, and brand logo. In the realm of inventory and logistics, tags are used for tracking and identifying items during storage and transportation which helps to ensure efficient supply chain management. The flexibility and simplicity of tag labels make them invaluable for various applications, from retail and logistics to personal and artistic needs.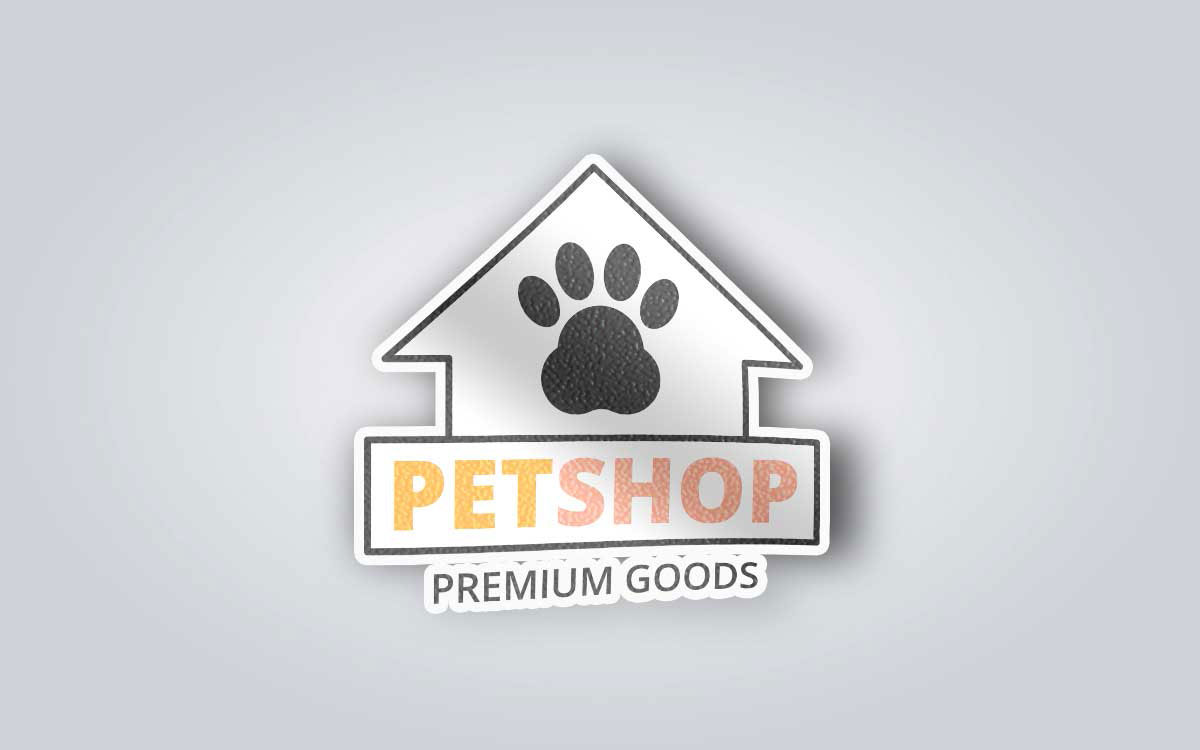 Grade label is a designation or mark applied to a product or item to indicate its quality, standard, or classification within a specific grading system. Grade labels are commonly used in various industries, such as agriculture, food, textiles, and manufacturing, to provide information about the quality, characteristics, and attributes of a product. These labels help consumers, businesses, and regulatory bodies make informed decisions, ensure quality control, and establish product standards.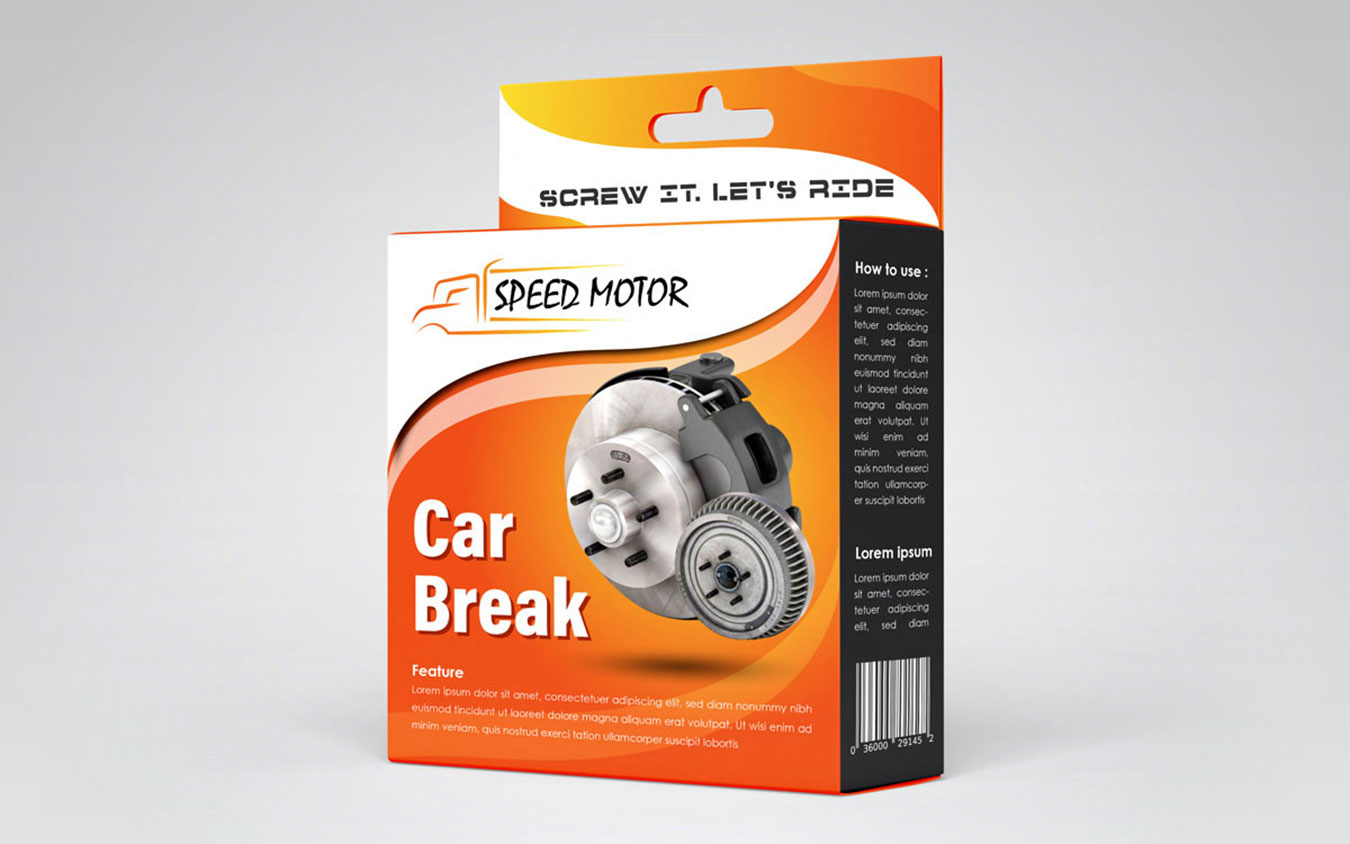 As its name, the descriptive label is the label that we see every day when we buy any product from the store. A descriptive label is a type of label that provides detailed information, instructions, or descriptions about a product or item. Descriptive labels not only serve as an informative tool but also play a significant role in promoting transparency, safety, and informed decision-making.
Weight of the product
Ingredients
Composition of the product
Nutrition value
Information of manufacturer
Manufacturing date
Expire date
Price of product
Therefore, it's called a descriptive label. Your product descriptive label should be organized properly with all the information shown above. If you find a designer to take this job, it will be easy for you.
Instruction & Order
Just send your project instructions
Modification
We send the designs to clients for feedback
Delivery & Pay
File Delivery and payment release
Label Design FAQs
We have added some frequently asked questions about label design. When people first meet at an online service, they have a lot of things to discuss before confirming the order process. As you are here, that means, you need a label design service. For your convenience, check out the added questions here. If you have any further queries, please feel free to click the contact button. Our customer care team will instantly get you back with their support.
Why Is Graphic Design Eye Specialized For Label Design?
Label design plays a vital role in product marketing as it serves as the visual face of a product, conveying essential information, creating brand recognition, and influencing consumer perceptions. A well-designed label separates a product from competitors, effectively communicates its unique features, and enhances brand loyalty.
Graphic Design Eye has gained a distinguished reputation as a professional label design service provider with a global reach. We have a bunch of professional experts to design the best label for your products at a very cheap rate. Our main motto is to give the designs on time with our clients 100% satisfaction and build a trustworthy relationship with you to build your business great together by saving your money. We will be included in your label design order:
Creative & unique multiple design concepts with a mockup
Unlimited revisions, 100% satisfaction guaranteed
High-quality 300-DPI with single or double-sided design
Lifetime free changing (Minor)
Dielines marking
Full editable file delivery AI, EPS, SVG, PSD, JPG, PNG and PDF
Ownership rights
12-24 hours delivery time
Pixel perfect design
No hidden charges, money-back guarantee