Jewelry Retouching Service
The sole aim of the jewelry retouching service is to enhance the photographs. In fact, photo editors apply some artistic effects to make the photos look more alluring. So, when you use the images for commercial purposes, you can gain success easily, and smartly.
While retouching the jewelry product photos, our editors apply Jewelry Dust & Scratch Remove techniques. So, if there is dust, scratches or unwanted marks on the product, they vanish in the photos. Instead, the lighting effects make them look brighter.
This photo editing technique also aims to remove blemish shades from the jewelry items. At times, we apply background change to add an impressive look to the products. The use of color correction is also necessary for jewelry retouching. After applying all the techniques, we make the photos look flawless.
Regardless of your business size or shape, you can use this particular photo enhancing service. Mostly, it is useful for e-Commerce business as product photographs are frequently used here. As an e-Commerce trader, you may need to upload photos and descriptions of your jewelry items. Remember, people will read the description if they like the photos.
We are a leading jewelry retouching provider in the industry. What's more, we have served numbers of global clients with their jewelry photographs and beautified the photos. Moreover, we have ample options for our clients to explore.
If you are in need to retouch your jewelry items for commercial or private purposes, you can get our photo retouching service. Write to us to know more. Alternatively, use the order page to place your order and get it done within the shortest possible time.
Jewelry Retouching Difference
The jewelry photo retouching service process has been divided into some categories. All the category is highly necessary for the best product images. It is nothing but a specific modification of the photographers with the help of photo editing software. Improving the jewelry image quality is the main goal of jewelry retouching service. So how the process is going on?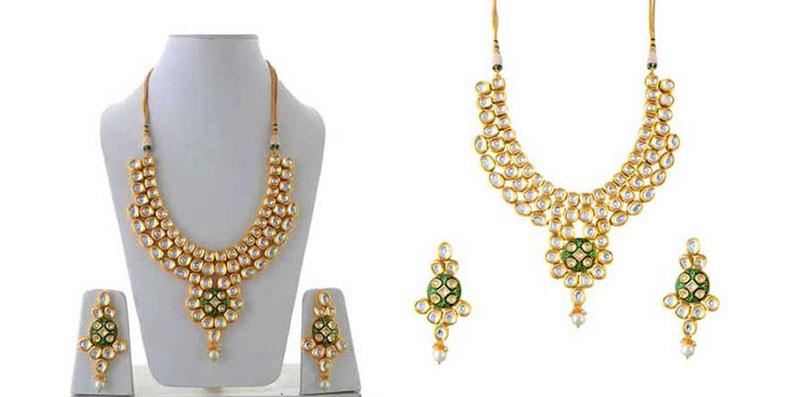 When you took a photograph of your product, sometimes the background of the image may look uncomfortable or may not suit the photo. If you are an online retailer, your first goal should be to make the image eye-catching and comfortable for potential customers so that they can easily decide to buy the product at a glance. Removing the background of your product image and further adding a white or suitable background will make your image unique and exclusive. On the other hand, the mannequin will help you to give a 3D-like looking at your product photography. Your image will look like your product is surfing in the air when you take them through this service.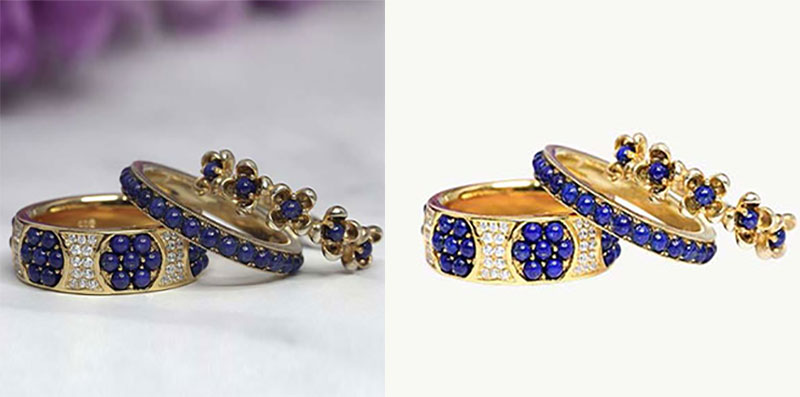 Your product photos might need to do the color correction completely or to change the photo color of a particular part of that, color correction will help you to fix all color problems in your photo. It is an underrated part of post-processing that will allow you to correct the color of your jewelry product photo and enhance your jewelry photography by taking the photo editing services. Generally, it is used to adjust gemstone colors and numb the look of your images.
It is also a post-processing or post-production service that is going to give realistic shadows as the drop shadow and mirror effects to your images to make them outstanding. Sometimes people are disgusted with shadows but if they use them rightly, it can be advantageous and can make images especially jewelry product images look very natural. Making natural shadows in your photo is very tough, you can use light techniques but you may put much effort to do this. But you can achieve your goal by post-processing of them.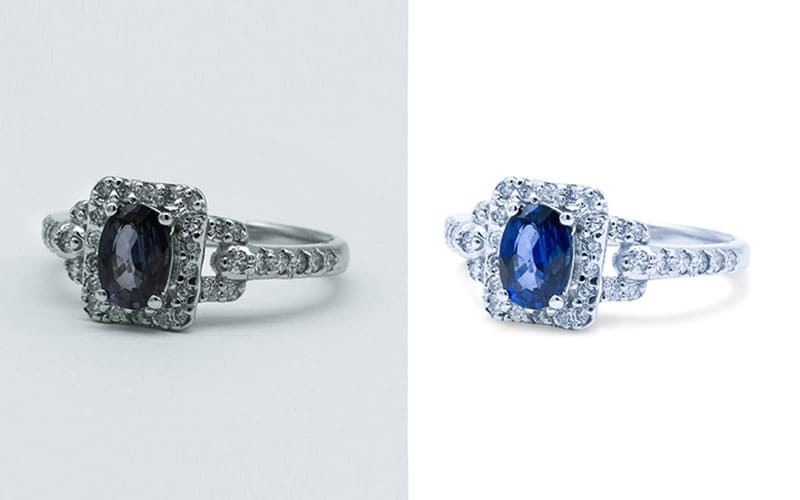 You need to remove dusty particles and poor reflections from your photo if you want to make them look stunning. Besides, the jewelry which is photographed might contain scratches and unwanted objects or spots which may turn off the outlook of the image. So, you should need to fix those issues to make the image look perfect.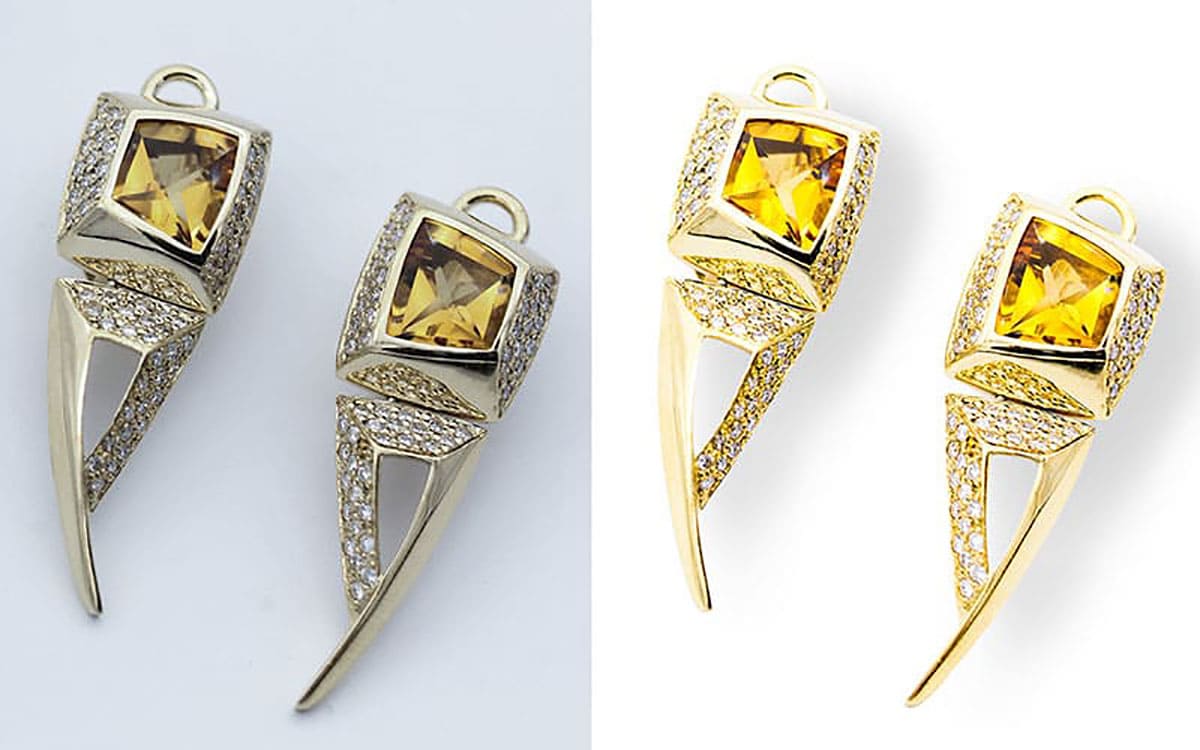 Sometimes it is too hard to capture essential extractive scenery with just a camera. For example, a shiny piece of jewelry or a source that is glittering. These types of objects make little blur some important details of a photo that might not be captured on just a camera. It is a crucial factor for those who are trying to capture product photography special for jewelry products where shininess is a selling point. That's why you can need to enhance your jewelry product shine after taking the photograph.
What Is Jewelry Retouching?
Jewelry retouching is one of the leading sectors in all sorts of graphic design services worldwide. Almost all businessmen or online retailers can't have professional photographers who can make good product photography. That's why you need the help of an expert graphic designer for the post-processing of your product photo design. Jewelry photography is tricky, if you aren't handier with it, you may have to face some problems. Jewelry retouching requires-
An in-depth understanding of the lighting
Minimal color cast and reflection
Should be captured all tiny details
Making the color correction
Adding contrast
Removing background
Cleaning without any damage to photos
Glittering and shining images of gems
Why Jewelry Retouching Is Important For Your Business?
Do you know that jewelry retouching service is your one-stop solution to stand out in the crowdie marketplace? Most jewelers would agree that taking photos of the jewelry product is the toughest activity in this sight. Those pieces are highly reflective, where you should work with different colored gemstones that appear dull while the intricate designs are not accurately captured. If you want to produce professional-quality jewelry images, then you must have to face a crucial step to resize images and lighting.
Without the basic knowledge of commercial jewelry photography, you won't be able to reach your goal. On the other hand, the online platform that you are using as your e-commerce store also has some product image requirements and guidelines that you need to maintain as well. Well, known online platforms like Amazon, Walmart, and eBay, everyone has their approval photo requirement systems.