Catalog design layout sample
Catalog design needs to be trendy as it carries the customer's attention toward your product. You need to find the best design to show your product information, offers, trending campaigns, and many other things that help to run your advertisements. There are numerous design ideas and inspirations to make the best catalog for your needs but it will be better to not go through familiar choices. Rather creating a unique one will illustrate your brand values in a distinct way. No matter, we can help you create the one you want.
Below mentioned services are not the only services we provide; our boundary is bigger as we've got talented and expert artists to ensure the best graphic design services as per your requirements. Here are a few design samples of catalogs where you can find yours from.
Types of catalog design by concept
Types of catalog design by format
Types of catalog design by concept
Catalog design is not just varied to their format, it is also distinguished by the field of usage. What type of business is yours and what type of products you use to sell and how many different types of products you have in your store? These are the matters to consider before choosing one layout for your product catalog. For your convenience, here are some different business catalog designs to give you some inspiration. Regardless, if you don't find your business here, then no problem, just unique shape, and layout and we will get you exactly what you want.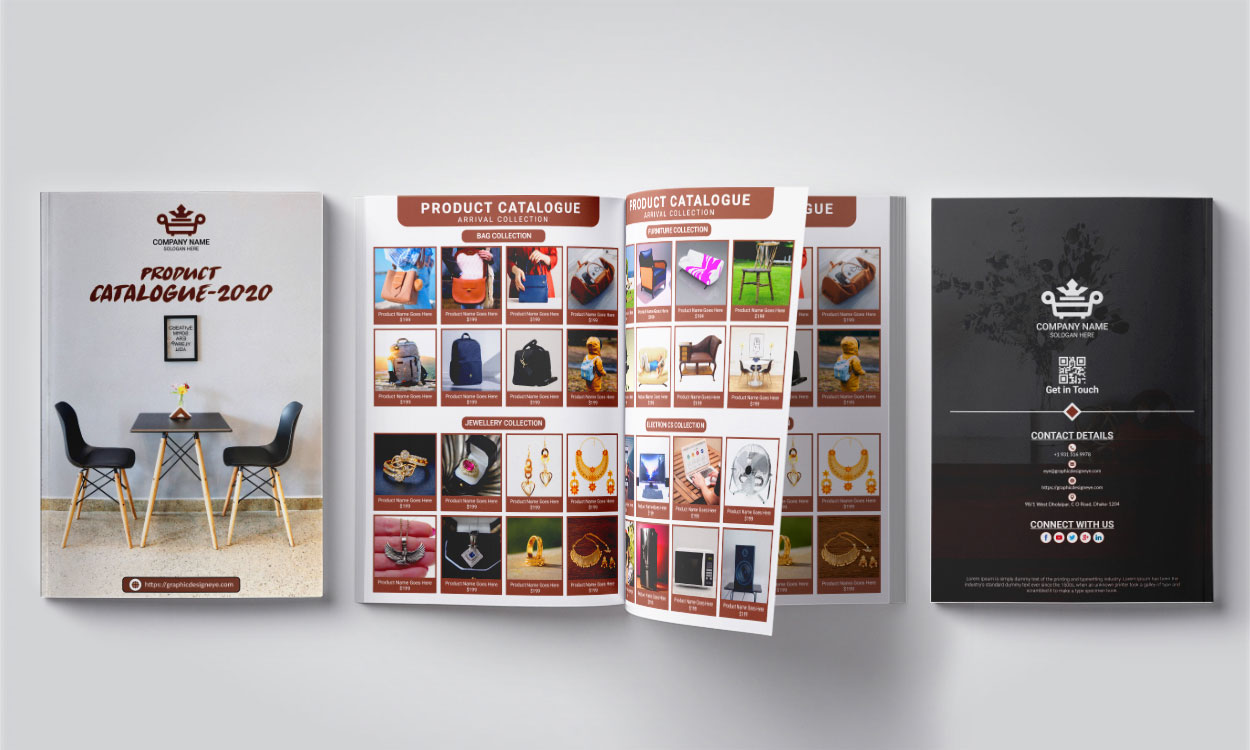 The e-commerce business is now expanded all over the world. People are getting used to shopping online as it is the most comfortable way of shopping. Ecommerce business and online shopping cause less trouble than conventional offline business and shopping. Even with a lot of products in an e-commerce store, it is so easy to navigate and find the exact product that the customers need within a moment by searching the product name in the search bar. Therefore, it may sound that e-commerce businesses don't need a product catalog. Though it is right you can create a catalog landing page in your online store to give a quick glimpse of the products. Besides, you can start advertising and spread your product campaign through the online catalog and can call people's attention.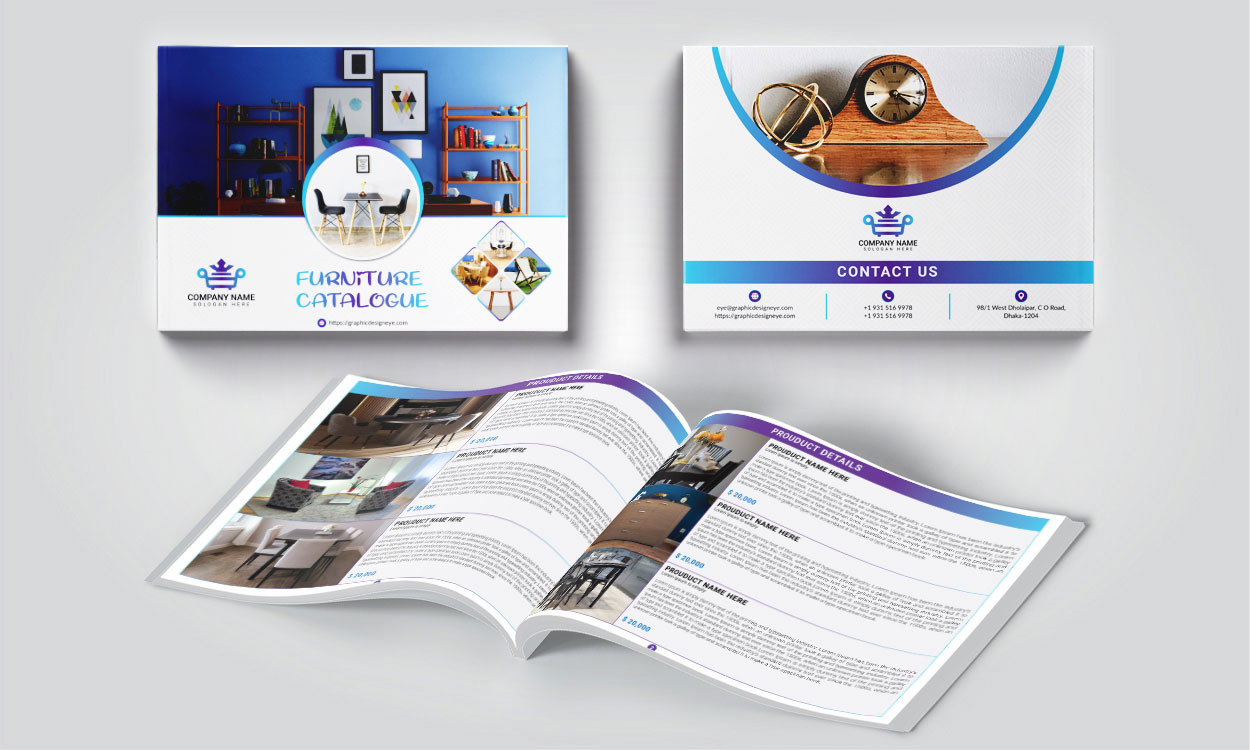 Furniture business also needs a product catalog to create a sense of navigation with products they have in the store. These catalogs are not only used in-store to support customers but also used as an asset of advertising. By printing a vast amount of product catalogs and handing them out publicly, you can easily share your brand awareness through people and can get some customers also. For a furniture product catalog, the landscape format is perfect enough to display furniture products clearly. You can include product descriptions and other necessary information to make things visible for customers.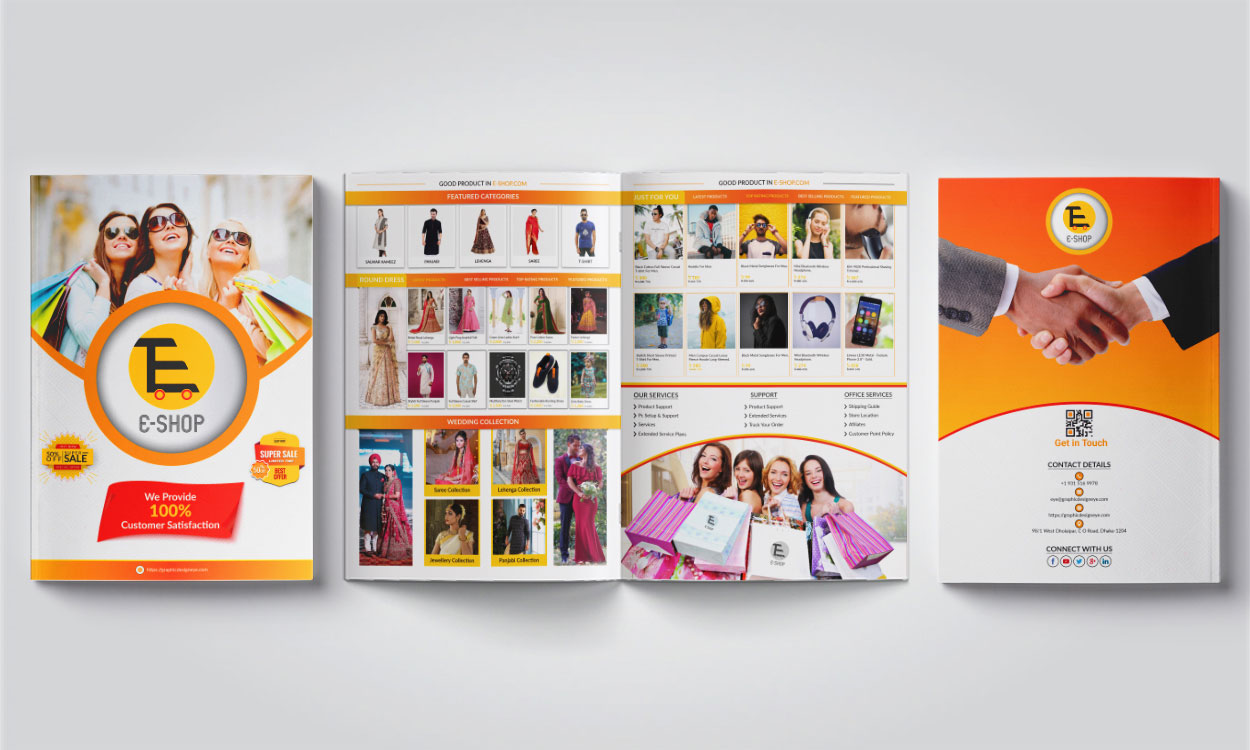 The fashion business is in crying need of a product catalog. All the fashion products authored by a particular store should come out in catalog form. Fashion catalogs are different from the others, they are not organized like booklets rather they are managed in a single sheet. Each page refers to a particular dress holding the dress code and an image with a model figure. If you are a fashion business, then you must have catalogs for your dresses to provide consumers a perspective view of the dress. There are so many fashion business holders dealing with us to make catalogs for them. And we are doing this with 100% satisfaction by making these catalogs eye-catching and lucrative for buyers.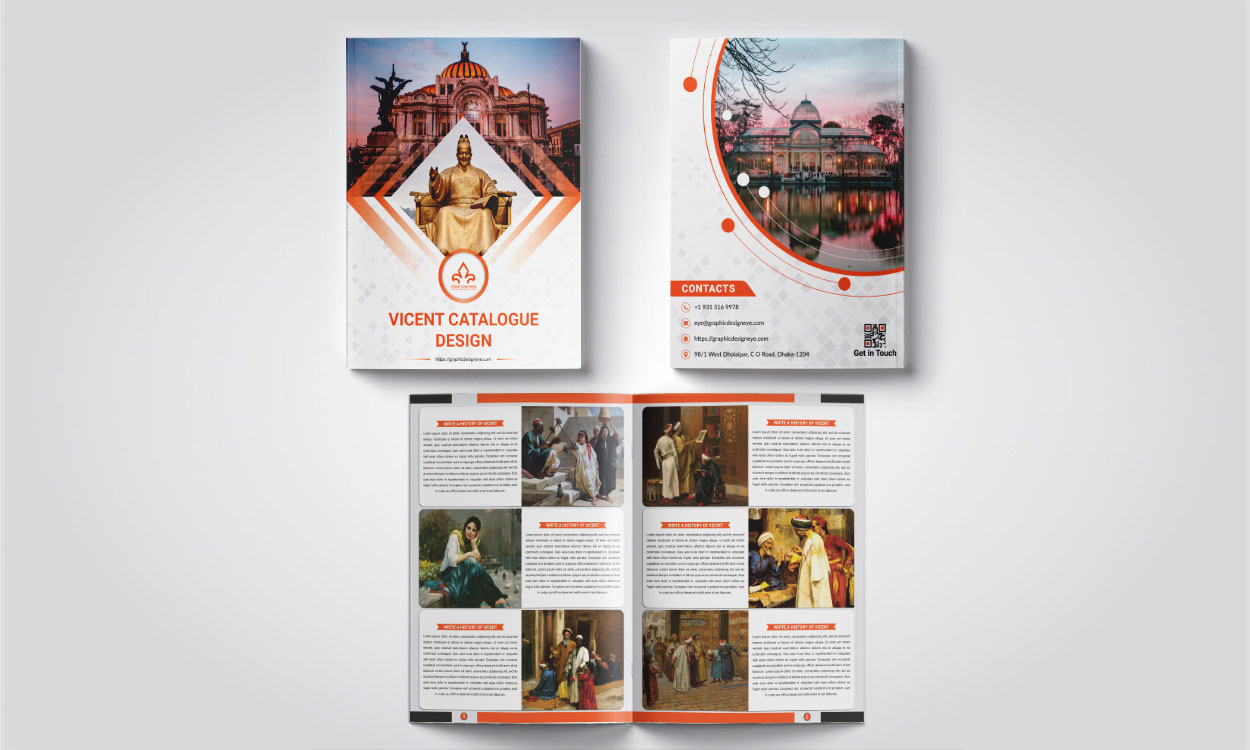 Content-rich catalogs are similar to grocery store catalogs. These catalogs hold huge product items in themselves with descriptions and prices. Usually, businesses that deal with a variety of products and have to make an overview of these products fond of these catalogs. We especially design content-rich catalogs with proper planning and distribution of spaces you need to show all of your products. We can bring you the perfect layout for this type of catalog that will surely go with your business.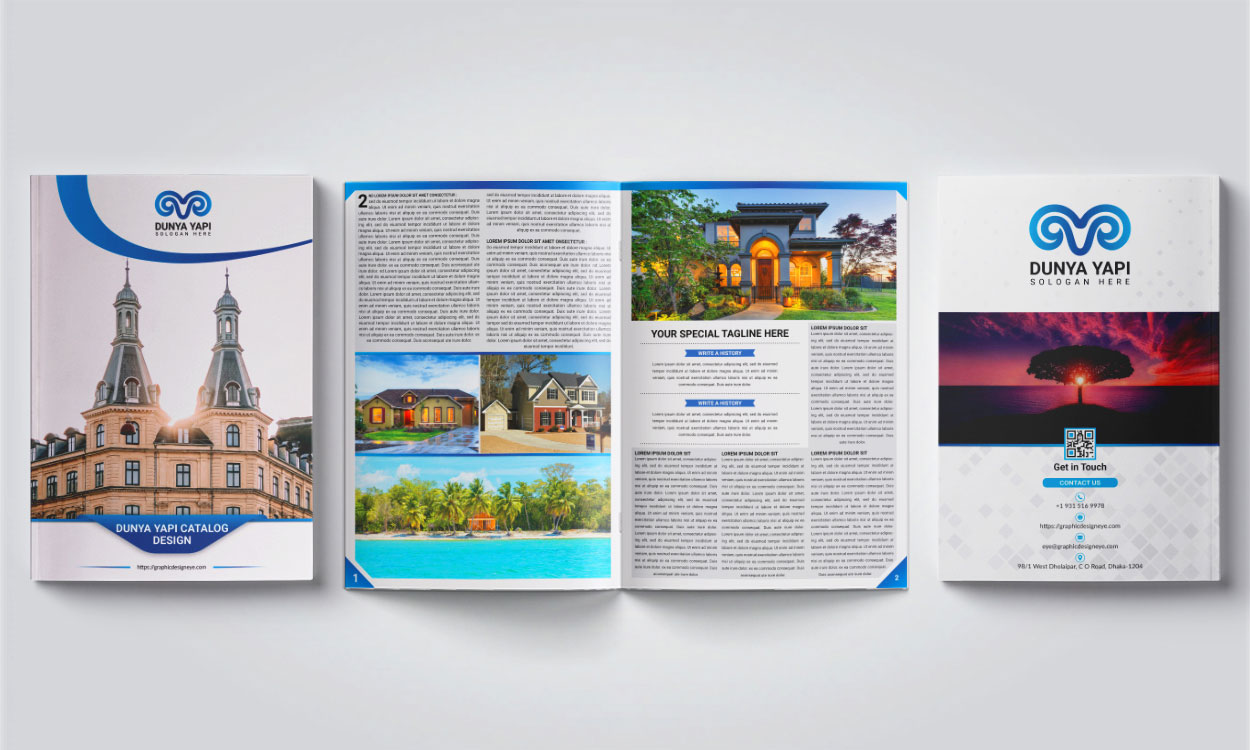 If you are dealing with the real estate business, then the catalog is not such an unfamiliar issue for you. Whether you are a real estate agent or an investor, you need to make the real estate catalog for the clients to demonstrate the land or property you want to deal with for selling. For the real estate business catalog, you can choose any format, but A4, portrait, or square format is best in this regard. We design real estate business catalogs professionally with quality image addition. You can rely on the experts to prepare the best form of real estate catalog design for your business.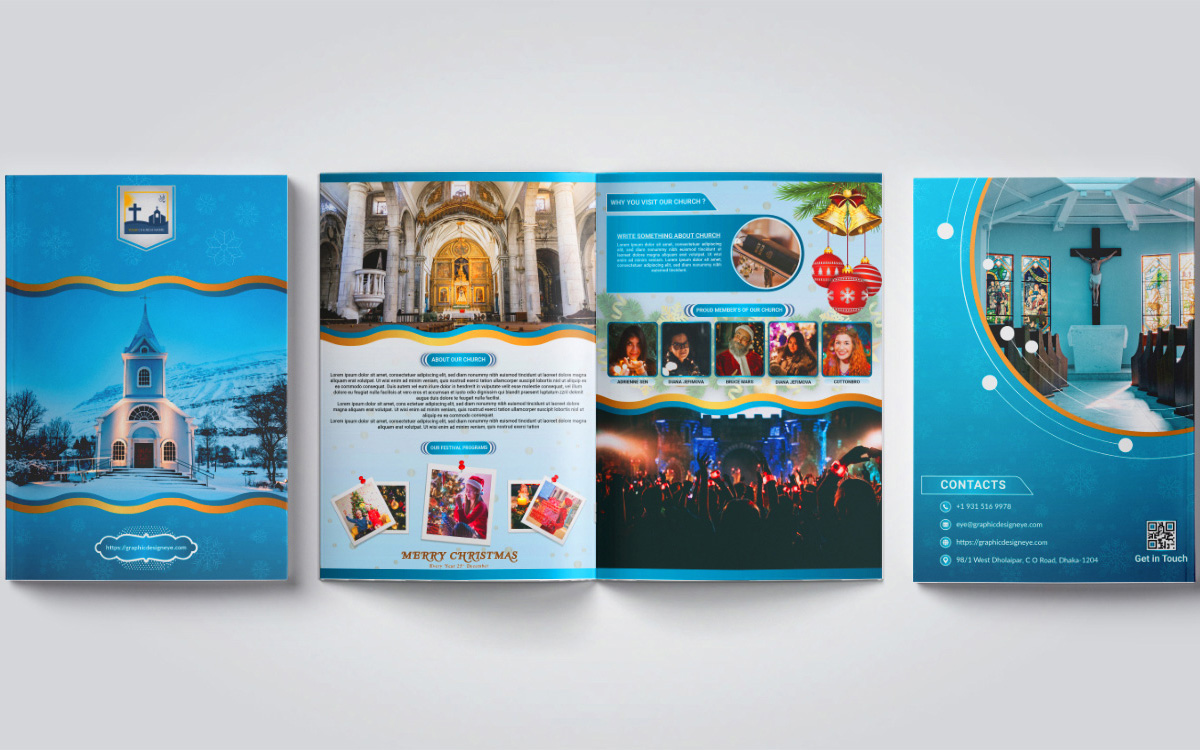 Whether it is a trade fair or a cultural exhibition, there must be catalogs that take an important part in the exhibition. Most of the time, the exhibition catalog holds the profiles of all the exhibitors in the event. These exhibitors are responsible to guide visitors to find their business partners and to find other leaders to make deals. This type of exhibition catalog also includes a navigation panel showing the exact location of all the exhibitors, a list of exhibitors and their profiles, a buyer guide with mentioned products and services, seminars, and conference details of the exhibition.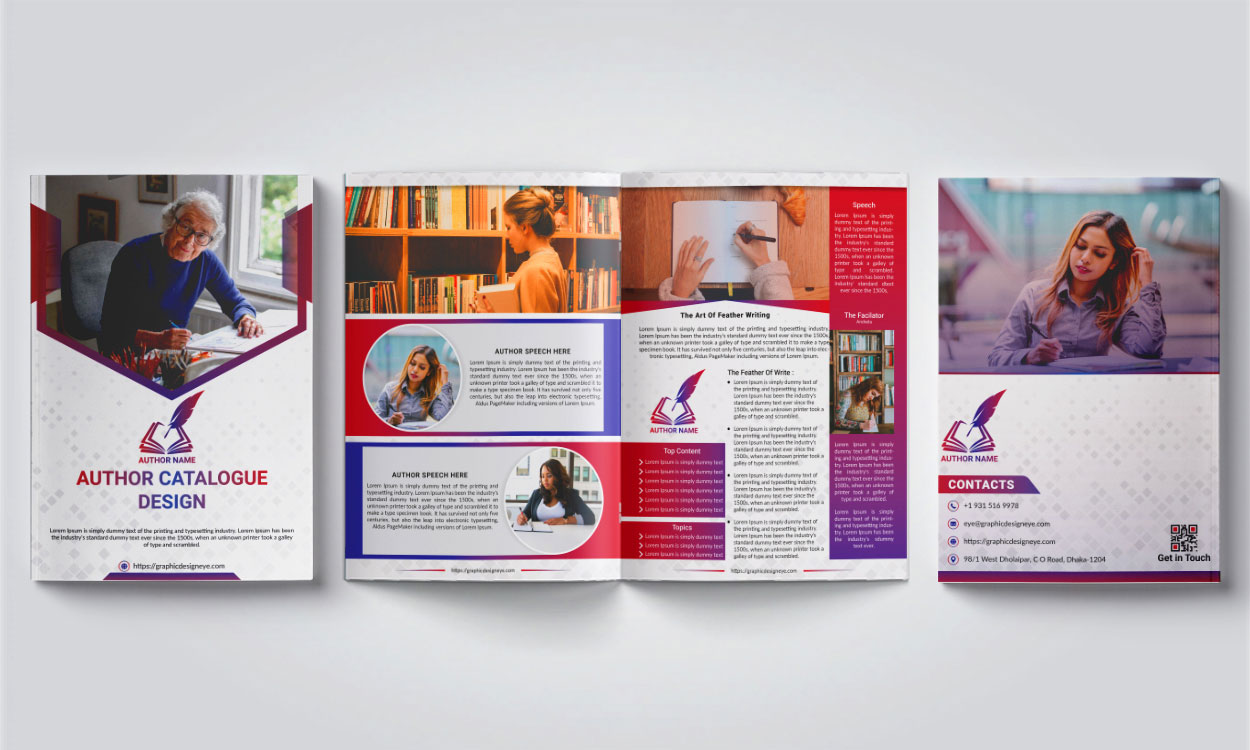 Catalog cover is also a matter of consideration to make it overall beautiful and appealing. It is a big part of the catalogs as it creates an interest to have a look at the magazine and at least see what it offers. The product catalog you make to show consumers, they at first see the catalog cover.
Therefore, the catalog cover page should be designed properly. You can derive attractive graphics, product images, copywriting, call to action, and some offers and discounts announced through it. Our expert designers are very much productive to find creative concepts and highly raise them in designs. They can bring the exact form of catalog cover that will be able to get the attention of your customers and persuade them to buy products from your store. However, the catalog cover page can be designed in different forms. You can keep it in such forms like,
Semi-transparent catalog cover - include no graphics and visual design, just a semi-transparent plastic cover.
Minimalist covers - are simple but full of all the ingredients that a cover need. The design of such covers also come in a minimalistic form that could easily engage people with the catalog.
Colorful catalog cover – are often designed with the brand color tone but you can keep it distinguished and color-rich to claim huge impressions through that.
Image and graphic-based – image and graphic-based catalog cover are perfect and more feasible than other forms of it. you can include glamour's, feature products, or artistic vector arts to your catalog cover as well.
Your catalog covers will reflect your business identity and brand determination, so, before taking a quick decision. Fortunately, there are hip designers who take the lead in this regard with their design minds. You can easily hire a professional catalog design agency like Graphic Design Eye to prepare a full catalog setup service within a few days.
Types of catalog design by format
A catalog can be made in various formats. It completely depends on the author's wish, and how they want to construct it. Catalog interface is an important matter to take into account while you are designing it. Because you have made it customer-friendly so that they can interact with the product catalog.
However, your product catalog should have the ability to persuade consumers with its outer look and product display management and make their minds buy more products. Therefore, you have to count some initial issues while designing a product catalog for your store. When business holders come to us to design a product catalog for them, we ask about the format of the product catalog. You can look in the below to understand how many different formats are available to design product catalogs.
Portrait format
Catalog in portrait format is good to display all your product items within portrait formatted book pages. This type of catalog comes with a cover itself and some inside pages. The amount of the inside page depends on how many products yield on your store. Portrait format catalogs are perfect to use in grocery stores, restaurants, jewelry businesses, and other purposes. We keep the layout simple but focusing on proper distribution of white space, product image, and description. Usually, our portrait format catalog comes in three different variations of sizes. They are,
8.5" x 1'
5.5" x 8.5"
6" x 9"
4.25" x 11"
Landscape format
Landscape format is perfect for commercial and non-profitable organizations, insurance businesses, and real estate businesses, and so on. You may be familiar with landscape format as it is highly used for so many purposes like landscape images, and landscape views. Our landscape catalog design is just similar to theirs. When do you understand that you need a landscape format catalog? Well, if your business holds rich product items which need broad and clear visualization in the product catalog to depict a good overview of all your products, then it needs this type of product catalog format. Typically, our landscape format is based on two different sizes. They are,
Square format
The square format comes with a square shape booklet format, not too big and short in size. We can design the perfect size you need to completely gather all your product items in it. The square shape is perfect to match all business outlooks and creates a sense of urgency among the consumers. Mainly we prefer to keep the square catalog sizes between 8" x 8" and 6" x 6". No matter if you own a large product inventory, our customizable square format product catalog can attach all the products according to the layout we will design for you.
Mini catalog
A mini catalog is one of the trendy catalog designs used mostly by small business owners. This type of mini catalog is so perfect to hold the product identification of small businesses. Because small businesses don't conduct huge products so they need to do it in a money-saving way. We design a mini catalog based on your business and product inventory. Though mini in shapes, we show no compromise to the design both cover and inside layout. Therefore, you can choose this catalog design with certainty.
A4 catalog
One of the most common and used catalog design formats at present. Simply comes with an A4 outlook and much adjusted with the brand design and look. There is no variation in its size because its name indicates its conventional size which is A4. If you want a minimalist product catalog for your business, then you should consider the A4 catalog format design for sure.
Unique catalog format
Tired of seeing the usually printed catalogs which are used in almost every store in your area and don't want to go similarly with them? If so, then you might be thinking about unique designs to depict your own business catalog and to stand out from the crowd with that. No problem, we can help you in this regard by designing a unique shape and layout for the catalogs. We also give priority to designing unique concepts for whatever client's specifications.