What is A Flyer in Graphic Design?
Graphic design comes with a huge variety as most of the visual advertisements we see here and there are made with graphic design. Flyer design is a common genre of graphic design. But designing flyers is an experimental issue. Flyers should be designed well so that they can reach the goal of why they would be created. Think of the time when someone hands you a flyer on the street, what did you find on it? A message, something about an event, brand introduction, or discount/sales of a specific product? Whatever it is, a flyer comes with something important to you. That's why a flyer is considered an effective marketing tool because its content, images, and colors easily attract someone to get to know you.
What is A Flyer?
A flyer is a form of paper advertisement that is designed for wide distribution. It is also known as a colorful handbill, circular, and leaflet design. Usually, you find flyers on the street billing by someone. Although it is the most common way of advertising and it is also cost-effective.
What is the Purpose of Using A Flyer?
The main purpose behind a flyer design is to grab its receiver's attention instantly. Flyers are most commonly used for business purposes. As flyers are designed for wide distribution, almost all the receivers aren't going to read them carefully. Because people are too busy to pay a few minutes to read some unnecessary words. Some so many people will throw it after receiving it. So, your flyers need to be created as attractive as you can. Here we point out the most common fields for flyers. Flyers are used to-
Promote an event

Very much helpful way to create brand awareness for new business

Flyers are a very effective marketing tool

It is the most cost-effective advertising system for small business owners

Flyers can promote a business or service

It can separate you from the competition

It is very easy to carry or handle

It can be printed for wide distribution

It is colorful and informative

Helps to get the word out about your sale

It is a visual conversation between you and your customers

Flyers are perfect for announcing an upcoming event

It can be posted in public or crowded places to get mass attention

Advertise an event such as a music concert, nightclub, appearance, festival, etc.

Promote a business whether it's a good selling or service provider

Persuade people about any social or religious awareness

Recruit members for organizations or companies

Showcase that your business or organization is contributing to a charitable cause
What Should Be Included in Your Flyer Design?

Creating flyers is nothing but applying knowledge of graphic design. If you have proper knowledge of how to design a flyer then you can do it by yourself. It is almost an easy task. Again, the design of your business must be creative and attractive. Don't overdo with texts and imagery. Try to keep it simple but attractive so that people can easily get to read it. Not so simple or not so gorgeous, try to keep it the way it will be perfect. What type of information should you need to include in your flyers? Before answering it, realize the purpose of creating your flyer. For which reason, do you need it? for marketing? Raising awareness? Advertise an event or concert? For what purpose you will go to make a flyer, you just need to reflect your needs. For example, if you are advertising an event or concert with a flyer, then you must add the event details such as, when it will be held, where the event will place, and any requirements to join the event. Here we try to give a flow of information that will include whatever type of flyer it is-
Name of your event

Define the type of event

Date/time

Location

Cost of entry

Contact information

Include social media profiles

Work with details

Attractive headline

The balance between images, texts, and layout

Take color advantage
What are the Common Flyer Sizes?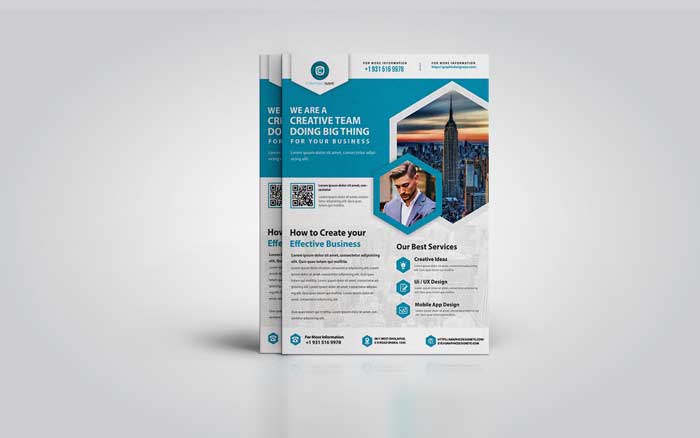 Though it is confusing to decide on a standard size for your flyer. But considering some common sizes, here we mention three usable sizes of flyers. You can go for the one which will suit your needs.
Half Sheet
It is a type of small flyer which is also called a half sheet. The regular size of a half sheet is 5.5 by 8.5 inches most commonly chosen for the minimal cost required for print design. This type of flyer is usually used for non-folded promotional flyers and it is cheap to print.
Standard Flyer
This type of flyer is standard for industry usage. It comes at a minimal size of 8.5 by 11 inches. It can be folded in half, twice or three times, and is widely used across the states and Canada.
Large Format Flyer
It is also called tabloid format as it can be used for small format newspaper design. Whatever, this type of flyer is good for large documents that need to be folded such as restaurant menus and oversize leaflets.
Services: All Kinds of Content Creation Services Company
How to Design Business Flyers?
Designing flyers for your business is tricky and a bit quite experimental. With flyers, you have to grab the attention of your receivers and need to attract them to get to know you. In this way, what type of design would help you a lot? The answer is graphic design, catch your target audience's attention with a flyer that is effective in both design, size, and style. Good uses of graphic design will make your flyer look outstanding. Let's look at these points-
Work with Typography
Texts which you are going to include in your flyers must have a strong attractive outlook so that one can easily engage it just look for the first time. Typography is a crucial design element that will innovatively express you to your recipients. Don't use too many different fonts on a single page because it will distract to reach your target. However, you can find the best font for you with the help of the internet as it has a large different font collection. So, you can take advantage.
Take Colors As an Advantage
Colors are the fastest way to catch someone's attention. People always pay the most attention to colorful content, texts, and images. So, the color is very communicative. It can make visual communication between you and your customers. In many professional flyer designs, you will find colors as a consistent key. Whatever colors have dealt with different psychology in the human mind. Different colors have different psychology such as red and orange convey warm feelings while blue and violet bring coolness and calmness. You can also combine colors between two contrasting tools like black-white, yellow-brown, etc. to enhance the uniqueness and outlook.
Abstract Shapes As Design Elements
Abstract shapes can be a way to add interest to your composition. Abstract shapes are heavily used in graphic design because they hold meaning. They can signify something to us. Using abstract shapes as a design element will bring a comfortable look to your flyers. Also, they are contacted more by human eyes that's why they are used here and there for different significant purposes.
Clean, Organized, Open Space
Information and details that you might get to include in your flyer must need to be clean and well organized. Using too many colors or imagery is a way of turning your template into a mess that will distract the recipient's attention from the document itself. So, don't overdo with texts and imagery. Keep it as simple as you can. You should keep in mind that; your letterhead design is a delivery mechanism for your company. So, it should be built properly so that it feels great in the hand of your target audience.
Why Choose Flyers for Advertising?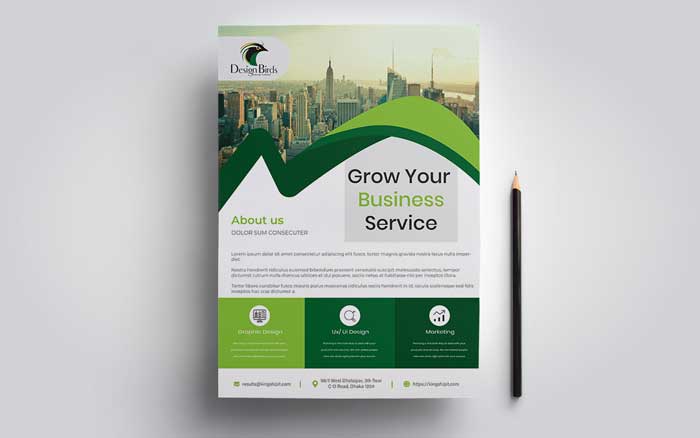 For a small business owner who is planning an event for brand promotion but is worried about the cost of event money, flyers can be the best assets through this activity for him. Let's check those purposes of using flyers for your business at a glance.
Flyers are Cost-Effective
When you want to make an advertisement for your business, you may search for a service that is as low cost as effective. In this issue flyers are the most recommended advertisement design service which will take you into customers' hands directly. Making television ads or banner designs may seem so costly for the small entrepreneur. Also, this will take them behind their competition.
Tangible
The first and foremost necessity of a flyer is, that it can easily be carried by anyone in their hands. Someone holding your flyers physically means that you are halfway to getting your message across. Once someone has your business flyer in hand, then the outlook of your flyer will decide whether they read it or throw it. The way you design your flyers is going to tell consumers about the uniqueness of your business.
Easy Access to Customers
Flyers have easy access to its holder. They are perfect for distribution in local or public areas. You can find them on roadside notice boards and in front of any area where people are likely to gather. Also, flyers are so easy to stamp anywhere.