How to Design and Distribute Pamphlets?
Pamphlets are one of the traditional ways of spreading out ideas, thoughts, and opinions widely. It has been used since the early time when printing was invented. Therefore, pamphlets are considered one of the first printed design materials. At that time, pamphlets were mostly used in religious and political propaganda, as it was the easiest way to share opinions among the public. However, the event we are talking about was cut off more than 400 years ago and there is no need to mention how the situation has changed since then. In addition to that, pamphlets are such a remarkable material used in so many important incidents which you know if you search online. If you are also thinking to use this great material for any of your purposes but worrying about how to make this properly. Then we will assure you not to worry about this, because we are disclosing all about pamphlets in this article. If you want to make a professional pamphlet design that will work, you are suggested to meet with a professional pamphlet design company. So, let's dive into the discussion here below,
What is A Pamphlet?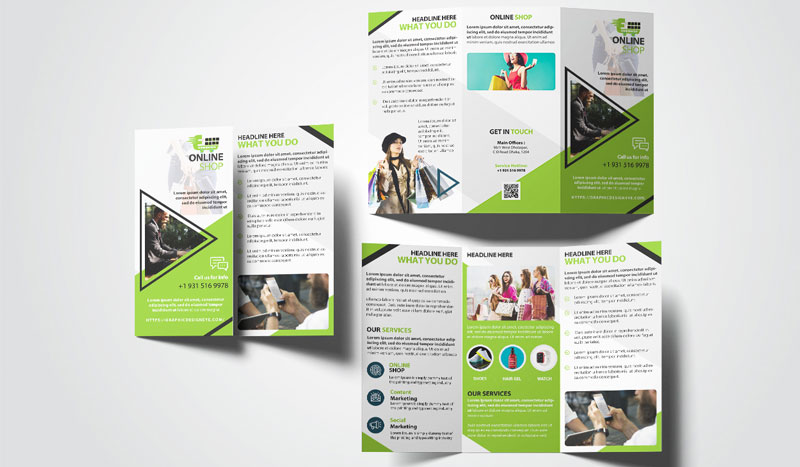 In the digital world, there are many types of print advert materials we can see around us. Banners, posters, leaflets design, flyers design, and rack card designs are most common among them. As we can see all of these are different in size and shape and sometimes in purposes also. Although, pamphlets are one of the mentionable print advert materials helping present online and offline marketers, service providers, and those common people who need this. Simply put, pamphlets are generally leafleting or brief booklets that mostly come in unbound, single or double pages, and booklet format. They are perfect to use in any distributional activity no matter what the purpose is. You can see pamphlets using spread educational, and political, for small events, and also for business marketing and advertising purposes. You can make pamphlets based on your need and the amount of content you want to include in this. For your information, pamphlets can be made with 5 to 48 pages. But people feel comfortable keeping the page number as little as they can and they make it on a single page with attractive graphics and typographic sense.
What are the Different Types of Pamphlets?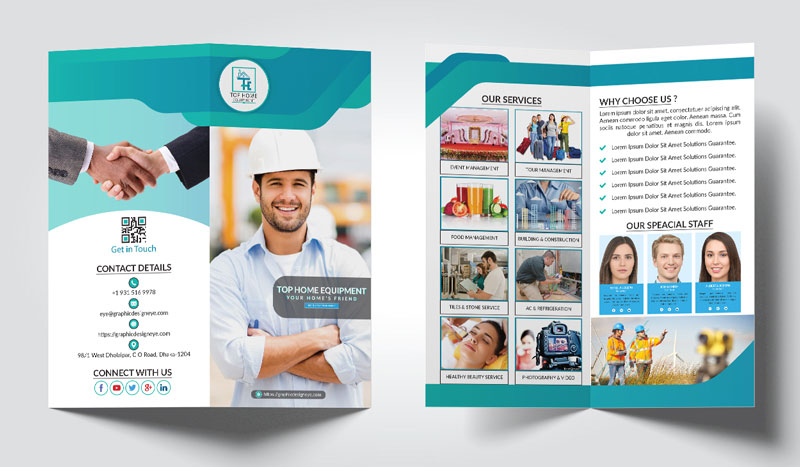 As a print advert material, pamphlets don't always come the same, rather it comes differently according to the purpose it's being used. The main reason behind publishing pamphlets is to get people's attention on a specific topic that you want to know about. You should think about your target audiences in this regard. So, you have to make it in a way that will be appealing and perfect to catch your target audience's attraction. There are also some regulating issues for which you have to early decide how you should make the pamphlet. Well, to make it easily understandable, here we are showing some common pamphlet categories. When you are on the brink of designing pamphlets for your purpose, just consider these points and choose the best options among them for you.
Folded & Unfolded
Pamphlets can be both folded and unfolded depending on the requirement. If you want, you can make the pamphlets whether folded or unfolded as both forms are perfect. Folded pamphlets are sometimes regarded as brochures design because of their brochure-like folding form. Unfolded pamphlets come in a single A4 or customized paper where all the content is adjusted on a single page with proper planning. Keeping your pamphlets on a single page is good if you are making this for advertising and marketing or selling purposes. If you are going to make it folded, then try to keep the front page engaging so that the audience can get a quick view of what you want to tell them. There are several different folding types to consider before deploying your pamphlets as folded.
Single & Multiple Pages
As we see above, your pamphlets can be 5 to 48 pages but if you don't have as many contents to include in your pamphlet or you want to make it a single page. You can keep it how you want. It mainly depends on your purpose and the elements you want to share with your audiences. It doesn't matter whether you publish single or multiple pages the success depends on the entire design, interface, and written tone included in your pamphlet.
Size Matters
For all printed advert materials, size is an important issue to pay attention to. Size is a considerable issue because when publishing pamphlets, it needs to be perfect in dimension as well as the measurement size. You always need to think about the standard size of the pamphlets so that audiences will also find them interesting. However, if you won't go through standard size, then you should know that different countries have different size recommendations for print design advert materials. Although, most people aren't careful about standard sizes as they make them in their way. But for your convenience, here are the standard size formats you can take for yours, A4 (8.27×11.69), A5 (5.83×8.27), A3 (11.69×16.54), DL (8.66×4.33), Letter (8.5×11), Legal (8.5×14), Half Letter (8.5×5.5), Tabloid (11×17), Rack cards (8.5×3.67).
Informational / Promotional
In most cases, pamphlets are used to widely distribute informational or promotional content about any incidents, government emergency information, political and religious movements, and for business purposes like marketing, brand awareness, product implementation, and so on. There are different types of print materials to manage such offline activities. For informational and promotional activities, no other materials are as good as pamphlets. You can highly rely on it to implement and raise any advertorial, educational, product information, and propaganda specifically.

Services | All Kinds of Content Creation Services Company
How to Perfectly Design Pamphlets?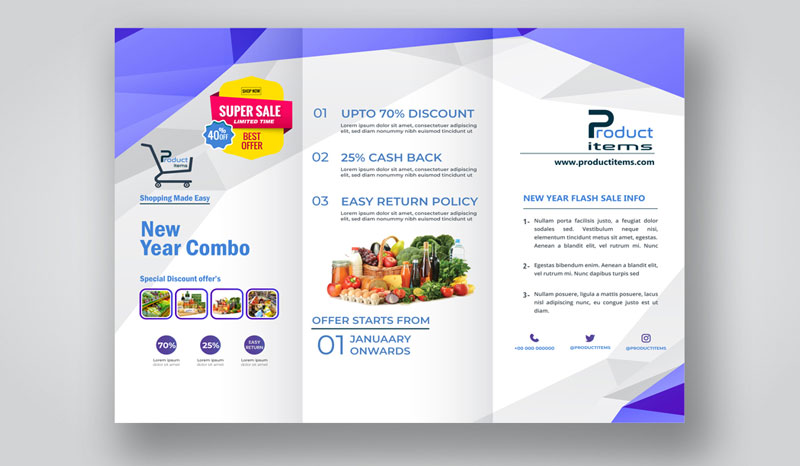 However, it is highly important to ensure the right color, typography, compelling writing part, and graphics while considering designing professional pamphlets. People mostly go through a print media agency when they need such print advert materials and ask them to prepare one for them. But if you want to create a customized pamphlet designed according to your desire, then you will better go for graphic design agencies online. Although most of them aren't available in print as they just make you a print-ready format of the design. Whatever, professional designers come with high knowledge of how to design pamphlets, banners design, leaflets design, in a word, all the forms of design materials. Therefore, you should always choose them if you need to design something for your offline business or online website. Besides, you should determine the entire design and outlook of your pamphlets and should discuss it with the agency. If you have any particular color taste, design, and image recommendations, you should provide them before starting. And, don't forget to go for these options included here below,
Know Your Purpose
There must be a specific purpose for which you tend to design pamphlets. You also have a specific purpose, aren't you? When creating pamphlets, you should know the purpose clearly to make a design almost perfect. Besides, knowing the purpose will help you to determine your audiences which will work to create the most compelling form of design in this regard. The design of your pamphlet depends on this and your consumer base.
Think About the Design
When you have a clear thought of why you are creating the pamphlet, it will be easy to create a design for it. If you are making this for any business purpose, then make it engaging. If you have a social purpose, then consider the information more than the design. Informational pamphlets require graphs, charts, and statistics to engage the audience's eye and make their mind read the whole discussion. No matter what the pamphlets are, the design should be appealing. If it is not, it will fail to gain an impression from the audience as a result.
Consider the Layout/Size
The pamphlet's layout and size are a considering fact that we have already talked about above. Pamphlets' layout and size depend on the elements you want to include in them. Element means the image, graphic, and writing part of the pamphlets. If you have a huge element whether it is image or typography, you have to consider multiple pages and a slightly bigger layout for it. On the other hand, if you don't think that your pamphlets won't be rich in elements, then you can consider making it a single page and can go for a smaller layout size. However, the layout works as the skeleton on which all the design elements are organized properly. Just like a building structure that holds the overall constructional importance of the building.
Compelling Copywriting
Above all, you must have compelling copywriting in your pamphlets to make audiences mind in your showing objectives. Copywriting is the life of your pamphlets. The purpose you are implementing should be clearly described in the pamphlets. For marketing and advertising design pamphlets, copywriting should come schematically, clearing your purpose to the target audience with a strong call to action, and striking visualization of your goals. However, if you do not manage this properly, you will fail to achieve the required success in your pamphlet advertising.
Colors
Colors are much important when you are making things to get individuals' attention. Colors have a separate impact on human psychology. Therefore, pamphlets' colors should be focused and responsive. However, choosing color wisely will enhance the readability of your pamphlets. Try to use high-contrast designs like dark fonts on a light background to keep it alluring.
Image / Graphics
Lastly, images and graphics will help to turn the visibility rate of your pamphlets highly. Pamphlets should come with an illustrative design of your business, service, and products. Images are the way you can create a trustworthy place for your branding design among the audiences. Whatever your purpose of producing and distributing pamphlets, you should highly consider including quality images in them.
How to Distribute Pamphlets Effectively?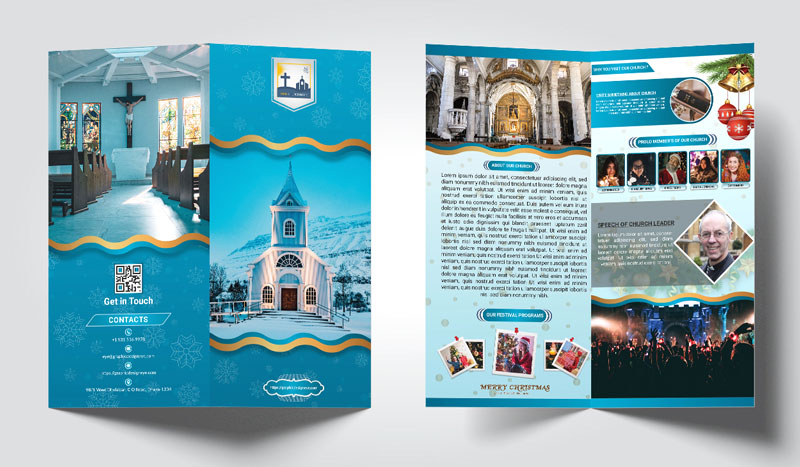 When you have done designing pamphlets for your purpose, it's time to distribute the pamphlet to your target audiences. Pamphlets are good implements for sharing specific brand, political and commercial messages to a wide community, group, or among the local people. If you are a new business or you are an existing one who wants to increase sales in your physical store by grabbing target audiences' attention, it will help you to become successful in this regard. However, the success of your pamphlet's advertising depends fifty/fifty on its design and distribution strategy. If you are worried about how you can distribute pamphlets in a way that will bring positive success for you, then read the below instructions with concentration.
Target Your Audience
In every offline ad materials distribution, the first step of the strategy should be targeting the audience. It is crucial because you don't want to go in the vein of all your invested money by distributing them unplanned. There is nothing better than targeting a specific audience, where they are, and planning how you can reach them with your advert piece. Targeting an audience will help you to effectively grow your audience base. When you have a targeted audience and you provide them with your sales advert copy, they will surely respond and go to your store to find their necessary items. Your target audience can be anywhere based on the type of your business. Once you have illustrated and located your target audiences, then you can follow these ways to distribute your pamphlets.
Go across everywhere your target audiences are

If your pamphlets are single pages then you can distribute them inside newspapers and magazines. Through this, you can deliver it directly to your audience's door

In your local place, there must be a bulletin board where newspapers, job recruiting, and important news briefs are hung on. you can affix your pamphlets with these bulletin boards to grab the core attention of passersby and get new customers in your store

You can also target crowdie public places like a bus station, railway station, and public events in your local area to get spread your words everywhere
Endnote
Hope this article will help you to successfully design and distribute pamphlets effectively. No matter what your purpose, just find a professional pamphlet design service to accomplish your goal, tell them why you need this, and they will create the most workable pamphlets with eye-catching graphics and copywriting for you.