Rack Card Design Service
A rack card design is a traditional offline branding material that has an effective role to present things distinguishably. Rack cards also offer flexible advertising options for brands, businesses, and organizations. You can put marketing efforts into it and get excellent results if you make it perfect. Rack cards have so many uses and it is considered one of the best reasonable options for offline advertising and business promotion. Whether you know about rack cards or not, if you have a business and you are thinking about a cost-effective advertising design option for it. You should consider a rack card. The rack card needs to be designed well if you are looking for the best result for your purpose. The first impression is the last, if you can't make a strong first impression through the rack cards, people won't give attention to it. In addition to this, offline print advertising materials such as leaflets, flyers, handbills, and rack cards have a 50/50 chance to span the receiver's attention. But the chance will be higher if it has an attractive design and an eye-catching presentation. To make your business rack cards in that way, you must take the help of a professional rack card design service. And if you're going to find a professional service for your purpose, Graphic Design Eye is the best place to get your work done.
What Is Rack Card Design?
Rack cards are similar to leaflets and flyers design but it comes with differences in structure and size. Generally, rack cards are 3.5/4 inch in width and 7.5/8 inch in height and are made with hard paper sheets. Unlike flyers and leaflets, rack cards include limited space. So, you don't have the chance to include heavy content or images in it. This is why rack cards are simple yet effective and used in all kinds of marketing, products and service promotion, show features, special offers, discounts, and so on.
Why Are Rack Cards So Effective?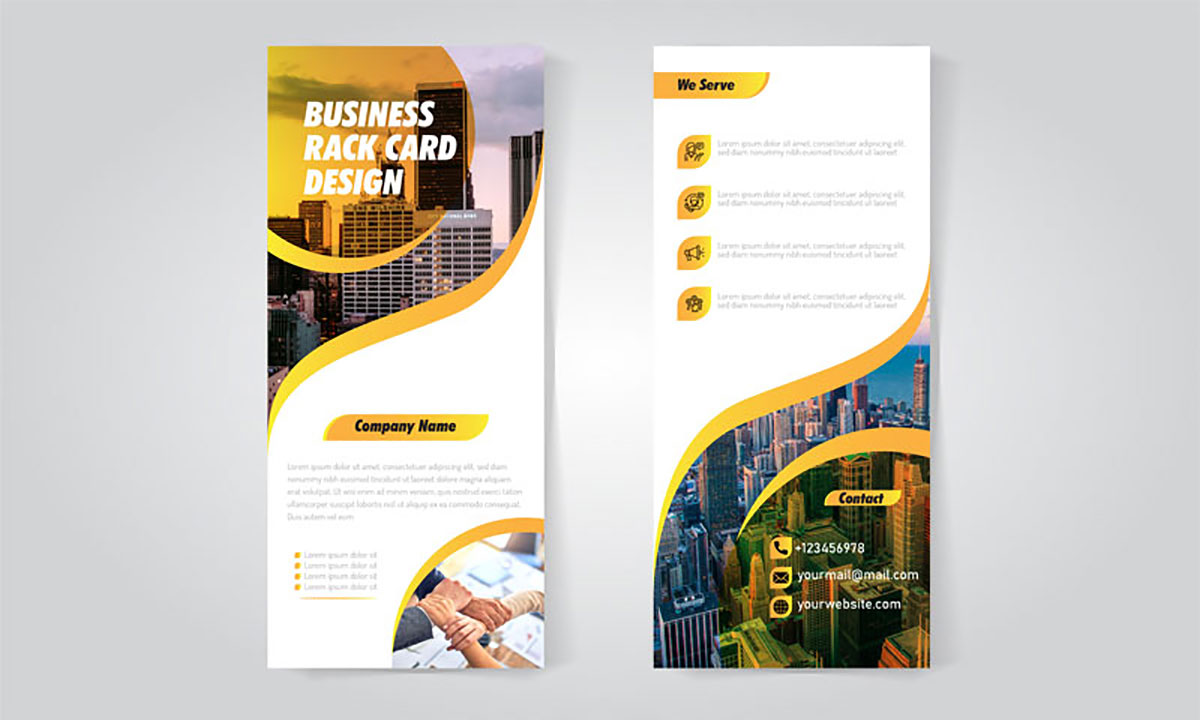 Today's businesses highly depend on marketing and advertising. In both online and offline businesses, advertising and marketing provide an easy solution to engage the audience, attract consumers, increase potential and make more revenue. In this regard, business owners and marketers implement online and offline strategies, create advertising materials, and spend a lot on digital marketing and online activities to reach their goals successfully. Implementing the right strategy for business is crucial. You've to define the target audience and reach them with your offerings and persuade them. Rack cards can do all of these for you. Rack cards are shareable, and targeted to your purpose. So you can print huge rack cards at once and distribute them locally among your target audiences.
Also, rack cards are cost-effective as well. So, as an advertising and content marketing material, Rack cards are best for small businesses that have a low budget for advertising. Here are some reasons that tell why rack cards are so effective for all types of business.
Reach Your Target Audience
Reaching the target audience is a big part of the game. It is not so easy for businesses to reach their target audience and convince them. It takes relentless hard work for brands to make a loyal audience and consumer base both online and offline. Fortunately, there are social media for online and advertising materials offline that help marketers successfully reach their target audiences. And in this regard, rack cards seem to be the best offline resource that can grab the viewer's attention at first sight. When you have the viewers' attention, they must look at the objectives. In this way, rack cards can help you to reach your target audience and turn them to your potential.
Increase Brand Awareness
Rack cards have the potential to increase your brand awareness. You can design rack cards for your brands exceptionally. This means you can include your brand design, and logo design, choose your brand color palette 4 and keep engaging graphics and images that directly indicate your brand. However, when you decide to design rack cards for your brand, you must have specific marketing or advertising reasons. Whether you're intending to promote products and services or you just want to let people know about you. Rack cards will make it easier for you.
Convey Your Message
Rack cards are so effective in conveying messages directly to your target audience. Statistics show that rack cards have an increased chance of acceptance by the audience than leaflets and flyers. Because of its comfortable size and rigid interface, people love to hold it and spend a few moments seeing what is included in it. Typically leaflets design and flyers come as non-hardy and can easily be twisted and crinkled and people often don't give an eye to the content. On the other hand, rack cards do it perfectly conveying your brand message to your audiences.
Make A Strong First Impression
Rack cards are good for making a strong first impression on behalf of your brand. Rack cards aren't content-rich items. It just includes simple graphics and the least amount of content. Only important options that you want to know the audience should include on the rack cards. So, when someone receives and glances at it, they have a good impression of the design. And if it comes with persuading offers and discounts, then they must go for it.
Call To Action
A call to action (CTA) is essential for advertising materials. It shows consumers the way direct to you and provides contact information to catch you anytime. Rack cards include a strong call to action to drive audiences directly to your storefront. CTA should be visualized clearly on your rack card. It is not that all the people know about your brand and its location. For those who don't know that much about you, CTA would be helpful to connect them to you.
How To Design Perfect Rack Cards For Your Purpose?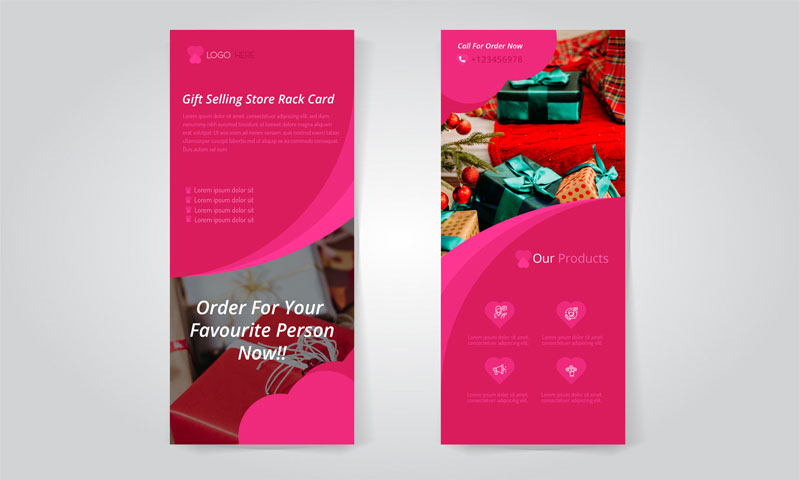 Your main target is to span the audience's attention and engage them with the rack cards. To do that, you have to ensure the perfect design for your rack cards. So, how can you design perfect rack cards for your purpose?
Simplicity
Whatever purpose you have got to design a rack card, it should be simple yet actionable. People like to engage with simple things and when it comes to advertising and marketing promotion, simplicity is highly recommended. When people look at any advertisement, the attention span time here is almost three seconds. In this short period, if they find it interesting, they must engage more in it. In this regard, content-rich advertisements with complex graphics can't get that good result. So, if you want to get a better response from rack cards, you should design it simple.
Make It Noticeable
The design of your rack cards plays a game-changing role. Color, layout, included graphics and illustration, and typography, you have to consider all of them to make it visually engaging. To ensure the best design for your rack card, there is no option but to implement professional design services. You can find prepared rack card templates online but they aren't so effective. If you want to make it noticeable and eye-catching, you must take professionals to help with this issue.
Show Features And Benefits
If you come with products and services, then you have to focus on their benefits and features. Show all the features of the product and express how users will benefit from it. You should present it temptingly to make people interested in it. If your product or service features a lot, then put all of them in the back of the rack cards. Try to keep the front part illustrative and include the least content here. If you successfully made their attention with the cover part, they will move on to either part to see your offerings.
Discount/Offers
Discounts and offers provide flexible solutions to make consumers' minds and drive them to your store. Rack cards with discount, buy one get one offer gets more results and connection than a typical one. Offline stores give discounts and persuading offers at festivals, special days, and at the end of the season. To let people, know about the discount and offer news, you can make rack cards, and distribute them in public places within one or two days. And then wait for the flood of consumers on the appointed day. Run the discount event shortly to make a sense of urgency for consumers.
How To Design A Custom Rack Card For Your Business?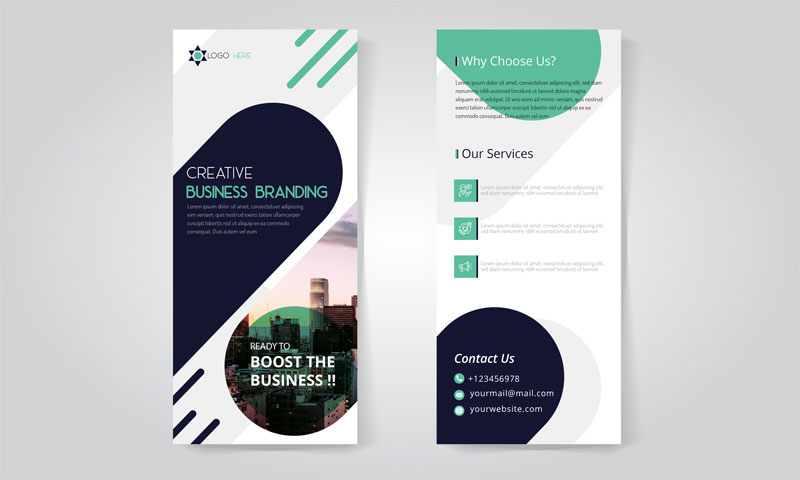 Rack card design is often provided by professional graphic design services. You may find ready-to-print rack card templates online but they aren't so perfect. Although you can customize these templates still it doesn't make sense you can use them. Rather you should find a professional online service that could bring you the best rack card design. There are huge benefits of preparing rack cards by professional designers. They will take a closer look at your brands, offerings, and your target audience to define engaging designs for rack cards for your purpose. Therefore, if you want to design effective rack cards, you must go for a professional rack card design service online to accomplish your need.
Why Is The Graphic Design Eye The Best Option To Choose?
Graphic design eye is an experienced online graphic design and editing, service provider. We accept all types of design and editing tasks from clients around the world and generate the most satisfying design they need. If you're about to create a rack card design for any of your purposes, you can freely choose and leave it to us. Our professional design team will communicate with you to get your specifications and execute the job thoroughly. If you read the discussion above, you already have an idea about how we conduct the rack card design process. For advertisement design, our designers research and analyze target audience behavior to create enchanting designs for it. If you want to get a successful design for your rack cards, Graphic Design Eye will help you better than any other option.