Dropshipping Can Help to Grow Business
Dropshipping has become the center of attraction for online influencers nowadays. It is gaining popularity in terms of its operations and mainly because it is risk-free. A lot of new Entrepreneurs are now entering the dropshipping industry because it is easy to build upon and requires minimum investment.
What is dropshipping?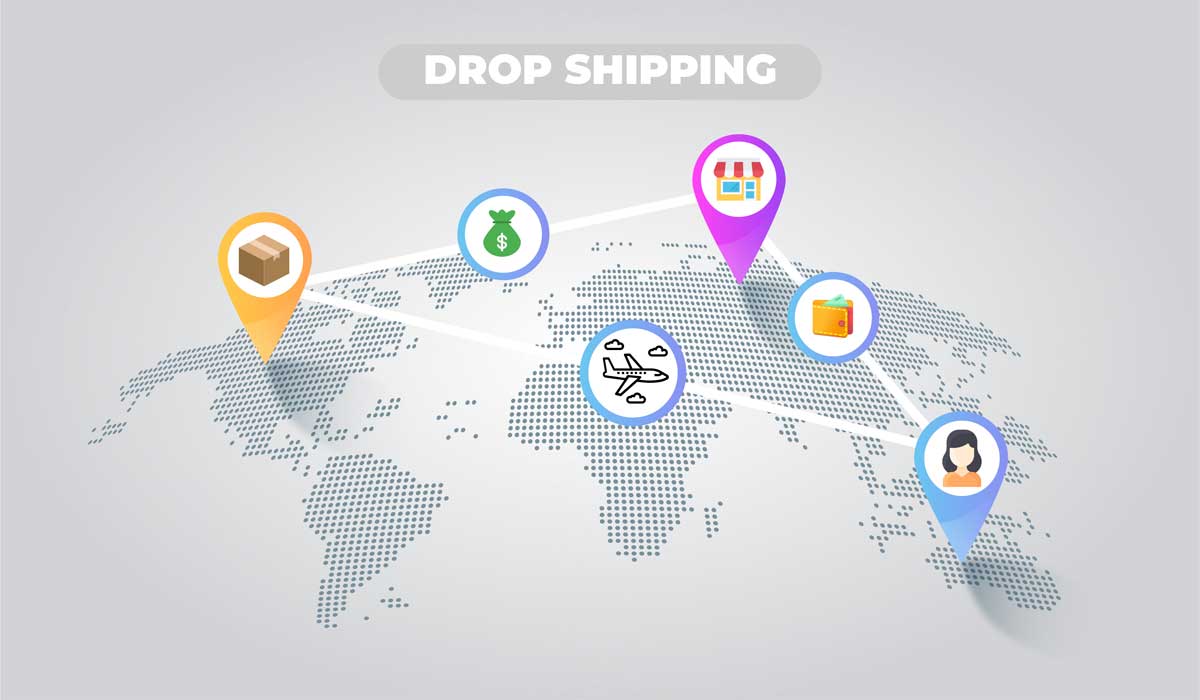 For those of you who do not know what dropshipping means, it is a new generation business model where the owners purchase items from a third party and sell it to customers. The most interesting fact of this model is, you don't have to own products to sell. You just act as a middleman who brings required items to customers.
To fulfill customers' requirements, you have to connect with certain parties that wholesale or manufacture the product. when you have got any suitable orders of the product, you instantly contact the sellers, and they will send the product to the customer on behalf of you.
Requires a minimum investment in terms of stocking up or having a warehouse.
All you have to do is to have an eCommerce website, and once you have an order for a particular product, you can contact a third-party supplier to purchase it from them and ask them to directly ship them to the customer.
Now that you know what dropshipping means, we can further help you understand how you can use dropshipping to grow your business. So, for example, you have a business selling paint sprayer and titan packing kits, you can approach a few dropshipping businesses to sell your products or you can on the side start a dropshipping business yourself featuring your product as well.
Tips on how you can use dropshipping to grow your business
So, if you are interested to go ahead in this tactical business module, you should have the dropshipping strategy assimilated at first. Here we keep some notable tips to follow about dropshipping business for beginners.
Select your target market
You have to focus on your targeted market to sell your product. The following are a few tips for you to help you choose your market:
Select the products with which you can charge a higher amount of profit.
Your main job in dropshipping is to market the products so efficiently that you can secure maximum customers. Sometimes this would require a good amount spent on marketing. Make sure your pricing covers that marketing cost you entailed.
Make sure you do not end up spending a lot on shipment. Whether it is done by you or a third party. If you are bearing the cost of the shipment make sure you get good rates from the company.
Online things are usually brought on by impulsive buyers. So, making your product marketing is appealing to the customers who are good with online buying and have disposable income.
Yes, dropshipping might look like an intermediary job but if you play it right you can develop a brand of your own.
You might want to focus on products that are not easily available on the market. A lot of customers are looking for unique things on the internet, if your product falls in that category then you might have a good chance of attracting customers.
Research your competition
There are a lot of businesses that are now in the drop shipping industry. It is important to do your due diligence on the competition. Make sure you find out who is selling what product. If you want to market your product to drop shippers, find out if they are sending similar products.
If you are into dropshipping yourself, you should find out the kind of products your customers are dealing with. This will help you get an edge over your competition.
Find a supplier
Find a supplier that you can purchase your products from at good rates. Sometimes partnering with the wrong supplier can ruin a lot of things for you.
Most of the drop shippers are operating from an overseas office and trusting them would require a lot of research. Do your due diligence of research and not just invest in any supplier.
Alibaba is an eCommerce business that is into dropshipping and has a policy to verify its suppliers and manufacturers. So, if you want to grow your business you can become a supplier to these dropshipping companies.
Create an ecommerce website
Create an eCommerce website that can help you with your dropshipping business. You can also use Shopify to create a platform to sell products. Shopify does not require you to be tech-savvy to operate it is very user friendly.
However, if you have the budget to hire a website developer, then you should do just that. Make sure it is worth the investment.
Customer acquisition
The main thing needed to run any business is to have customers. If you do not have customers who are willing to buy from you, you can't do much with your dropshipping business.
If you plan to sell home products consisting of paint sprayers, titan packing kits, and paint bucket or HomeGoods like furnishings and decorations, etc. you should focus on attracting customers who have an interest in constantly revamping their houses or whose hobbies include paints and decoration.
Similarly, depending on the kinds of products you are dealing with, you should work on developing a plan for acquiring such customers. Today, content marketing is the best thing that is happening on the digital front that is doing wonders to attract customers and increasing their loyalty
The key however is to create attractive and precise content, that can grab the attention of just the right people.
Analyze and update
The last thing is to keep the process ongoing. Develop analytics reports on your buyers, products, and competition and keep renewing your marketing strategy.
The strategy will help you to adapt new ways and techniques you can use to acquire new customers.
Benefits of dropshipping business
However, there are some potential benefits including dropshipping business. As we have gathered the basics of dropshipping business, it will be better to learn about the benefits. so that you could realize how you could be in these business activities.
Minimum investment required
It comes first when we are actually talking about the benefit of dropshipping business. you don't need any higher rate of investment to start it. All you need is an ecommerce website with the visualization of products you want to sell.
No need for any primary warehouse or store to stock real products, just take orders from consumers and make it happen anyhow to fulfill the orders. Because of this, dropshipping business is less risky than the traditional retail business.
High success rate
With a dropshipping business, you have chances to succeed if you do it properly. As there is no hassle of maintaining the warehouse, packing and shipping orders, managing inventory and stock level, you just have to pay attention to get customers.
The more you get orders from customers, the higher profit you can earn through this. Keep that in mind, you need to be familiar with your website name and social media appearances so that people can remind you when they need products you offer.
No limitations of location
There are no limitations of location in dropshipping business. you can order through any of the sellers and wholesalers no matter where they are living and send the order to customers living in any area.
Unlike brick-and-mortar business, you can sell way more than that in a dropshipping business. and also, you can do this with more flexibility that you can't find in any other retail business.
No restrictions on products
As you don't have to collect products to sell, you can offer to sell products as much as you can. In dropshipping business, there are no restrictions on products that you can or can't sell. You can choose a wide variation of products to sell on your website.
So, you can look for trendy products that have a huge interest in the marketplace and offer them to your potential customers. also, you can list for sale products that are brand new in the market on behalf of its manufacturers.
Dropshipping is becoming a trendy business which is adapted by generation z. It is ideal for people who want to earn quickly with minimum risk and investment. As a drop shipper, you can also collaborate with other businesses to sell their products.
The model is gaining popularity and the trend is likely to continue itself in the year 2021 as well.