How to Become An Affiliate Marketer?
In the modern world, we are doing everything from sitting on the couch in our living room, in front of a PC, or handling a laptop, or smartphone in our hand. We can do everything, even managing business and other working events, monitoring offline industries, and so on. Online also allows us to make money from home and in some cases, you don't require any skill to make that. Yes, there is something like that and in a word, it is called making money while you are sleeping. And the process is known as affiliate marketing. It is one of the best online money-making processes that everyone is paying attention to nowadays. If you are interested in online money-making processes, then you should learn affiliate marketing. We have discussed the topic below to make you understand affiliate marketing and also instructions on how to become a successful affiliate marketer in 2021. So, let's jump into the discussion,
What is Affiliate Marketing?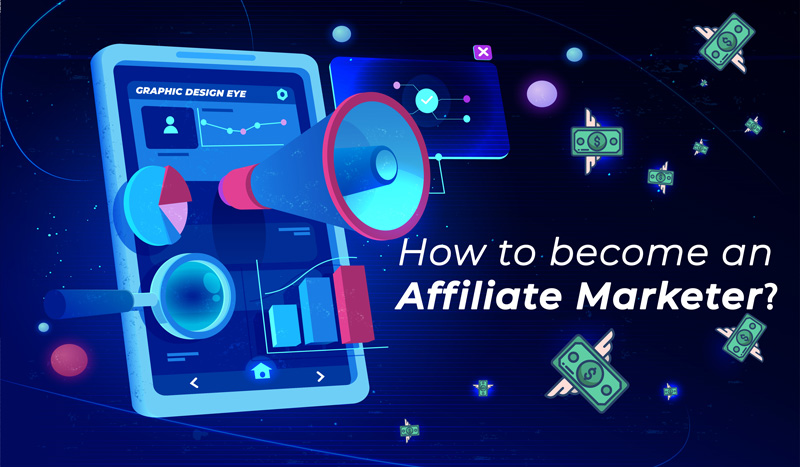 Affiliate marketing is a third-world money-making idea where you don't need to own a business or sell products and services. All you just need to do is, promote other manufacturers' products. The main goal of affiliate marketing is getting sales on your promoting post. If you end up with a sale, you will earn a specific amount as a commission. When you are an affiliate marketer, you are acting as a salesperson of the company. You don't sell the product you just make a way through which potential consumers can be allowed to buy the product. You can choose products that you want to make affiliate programs, make sales pitches via quality content related to the products, and include links on them. Viewers who will engage with the content will click on the link if they are interested to buy the product and, in this way, you will earn a profit. Interestingly, affiliate marketing is almost free of cost. You don't need high investment to become a successful programmer. Also, note that affiliate marketing does not just happen with products, it also tracks traffic, leads, and downloads for apps and software.
How Does the Affiliate Program Work?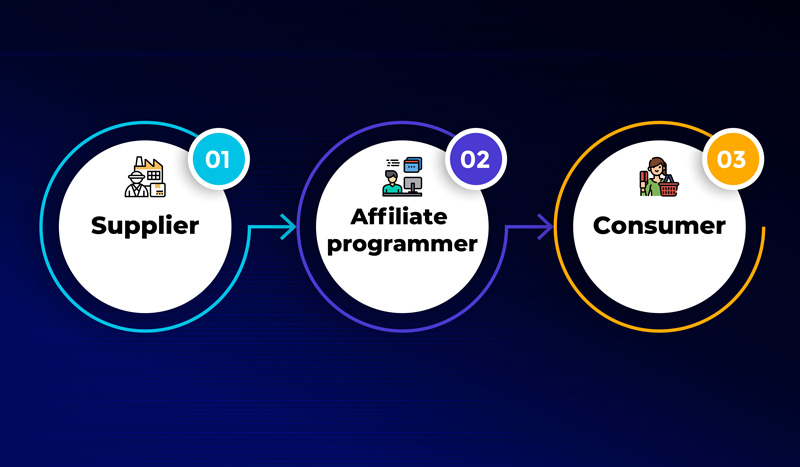 The affiliate program works through the involvement of three individual parties. They are,
Here is a breakthrough of the parties so that you can understand which position would be best for you to become an affiliate.
The Company
It is the brand or manufacturer of the product and items to whom you are going to the affiliate. No matter if the company is the bigger or smaller starter, if they wish to run affiliate programs over their products and services, they will count as the affiliate company. An affiliate program creates a new way for product manufacturers and brands to increase their sales and brand awareness as well. They don't even need to be involved directly in such a process, but they can still benefit from this.
Affiliate Programmer
An affiliate program is a person who promotes on behalf of the company. Affiliate programmers can be a single person or can be run by a whole team if they have massive affiliate facilities and activities. In affiliate marketing, affiliate marketing is the party that keeps all the processes active. They advertise products, increase brand engagement, and use various tactics and implementations to persuade consumers. If they, do it well, consumers will take action and purchase the product. One can be an affiliate marketer with just a blog, or website, using social media platforms for selling products and other ways. Whatever ways they want to go through, with the affiliate link, they can do it and earn a commission.
Consumer
Consumers are the target audiences for which affiliate programs run. If consumers aren't engaging with the affiliate content, it won't make any sales and as a result, the affiliate will lose its goal. To engage consumers, affiliate content like product reviews, product photos, and video ads post on several social media platforms and search engines. Letting consumers know about the affiliate commission is completely up to the affiliate programmers. They can flash it or keep it secret, it depends on the tactics and the way of presentation. If the presentation goes persuading, consumers will end up buying the product. These three individual parties drive affiliate programs and keep them running. Here, you may clear your role in affiliate marketing as you are the affiliate who will create compelling affiliate contents to persuade consumers. Once you sell any products through your referral, the affiliate network records the transaction and further it will be confirmed by the company. And then, you will get paid your commission.

Services | All Kinds of Content Creation Services Company
How Can You Start As An Affiliate?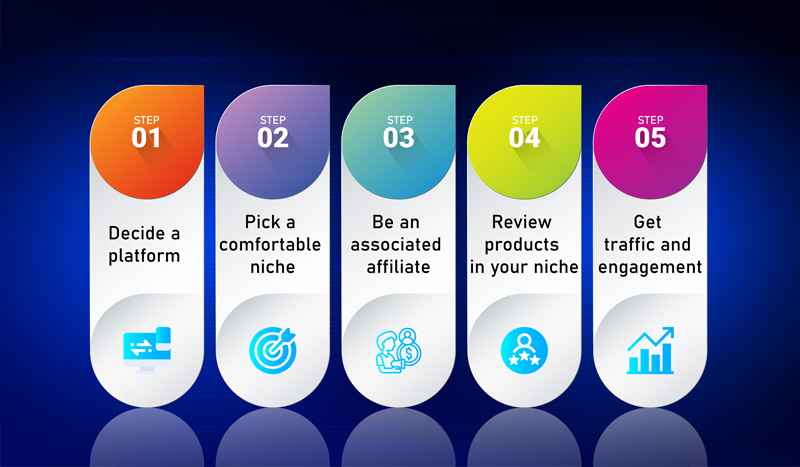 Whether you are starting it just for passion or you want to become a serious affiliate marketer, you must have to set goals and decide on tactics that can lead you to a sweet outcome. Fortunately, you can get a huge knowledge and instruction online as there is no shortage of video discussion and written content there. To make your journey secure, we are showing a step-by-step guide that will help in your entire affiliate marketing journey. However, it is not so difficult to start an affiliate program if you are pursuing it the right way. Here is a complete guide managed by the expert affiliate marketer's suggestion which will make the whole process easier for you. Take a look at the options below for a glimpse of what will happen next.
Decide a platform

Pick a comfortable niche

Be an associated affiliate

Review products in your niche

Get traffic and engagement
Wondering to see just six steps to becoming an affiliate? Yes, that's as simple. Let's dive into the breakthrough of these steps and know what it requires to become an affiliate.
Decide A Platform
First of all, you have to think and determine a platform where you want to look at your audience, offer them exclusive products and convince them to buy from your referral. There are different platforms and channels available through affiliate marketers that can easily grow. You can start with having your own
Website

YouTube video

Live webinars

Social media platforms
Website
Having a website mostly a blog website and publishing affiliate content regularly may be the easiest way to start as an affiliate. Creating a website to publish great product review content will cost you a few dollars per year. But it requires huge attention to setting and optimize a website to get better performance. After doing the essential tasks, you can publish content on the website and expect organic traffic.
YouTube Video
YouTube video is another great opportunity for those who want to make money through affiliate marketing. In YouTube video marketing, the goal is to make exclusive video content that resonates with specific products. The creators provide affiliate links on the video description through which viewers can directly purchase the product. If you are interested in going this way, just keep in mind producing great video content which can persuade viewers.
Live Webinars
Webinars are online live casts where both hosts and attendees can communicate with each other. Affiliate marketers can arrange live webinars as a live presentation and discussion of preferred products with the prospects. As an affiliate marketer, you must have a particular audience base, right? Performing in a live webinar will drive the audience into a more effective and engaging sales pitch. You can illustrate the features and advantages of the product to make it interesting or if you are driving on a different topic, you just mention the product name in the middle or last of the life. One thing you should remember if you are going to host live webinars is, to promote the webinar via social share, send emails to the prospects, and also paid to advertise. The more engagement you have in the live session the more chances to grow the sales rate. You can offer a discount from purchasing via mentioned referral link on the webinar.
Social Media Platforms
Social media platforms like Facebook, and Instagram makes affiliate marketing a little bit easier for the influencers. They can easily target audiences in specific ways like targeting through age, gender, activity, region, and even in local areas. Social media for affiliate marketing is proven to succeed. Social media provides a variety of opportunities to easily attract people to your sales pitch. You can adapt text/posts, images, videos, reviews, tutorials, and live streams to the platform and persuade people to purchase the product from your referral link.
Pick A Comfortable Niche
Being tricky while choosing a selective niche is the point you should consider most. Defining a niche is understanding your competition and also the chances. If you're going to do it with a website, you have to pay a lot of attention as it is not so easy to get organic traffic and lead conversions on the website. However, there are tons of niches you can choose to work on. But it is better to choose one that you are knowledgeable about. Since affiliate marketing is all about products, you've to write reviews on your niche products and create video and image content for visual engagement. If you choose a niche that you're not proficient at and you do not have enough knowledge, you will not be able to create great content and as a result, success will go away from you. Before choosing your niche, research the given topics,
In online competition, it is better to carry on low competitive keywords which have an ongoing demand

Niche consistency and sustainability

Do you understand the niche properly?
There are huge categories and subcategories of niches like hobby niches, money niches, health and fitness niches, lifestyle niches, home décor niches, tech niches, and so on. Think you have a tech blog website where you post tech-related content. Now, if you are a techy person and find great interest in talking about tech products, then you can manage content by yourself. Otherwise, you have to hire content creators on a payment basis and should pay a lot to create compelling content for your website.
Be An Associated Affiliate
When you have set out a niche, it's time to find affiliate programs that match your affiliate goals. If you're working in the tech niche, you shouldn't go for affiliates of beauty and food products. It won't do any good at the end of the day. Finding perfect affiliate programs to join is crucial for affiliate marketers. Different affiliate programs offer different commissions. Some merchants pay a high commission for selling their products while others pay a little commission to the affiliates. For your convenience, here we're mentioning some of the best platforms for affiliates this year. They are,
Amazon Associates

eBay partners

Shopify affiliate program

Solid affiliate

ShareASale affiliate

Lead Pages partner program

Bluehost affiliate program

Hostgator

3dcart

Max bounty affiliate network
One can choose multiple programs and get a commission by selling products. For instance, most of the starters feel comfortable starting as an amazon associate. You can say Amazon is one of the biggest affiliate program network platforms. As amazon is the mainstream online shopping platform, affiliates easily find niche products here. If you are a starter, you can be an amazon associate easily and start earning through your referral link.
Review Products in Your Niche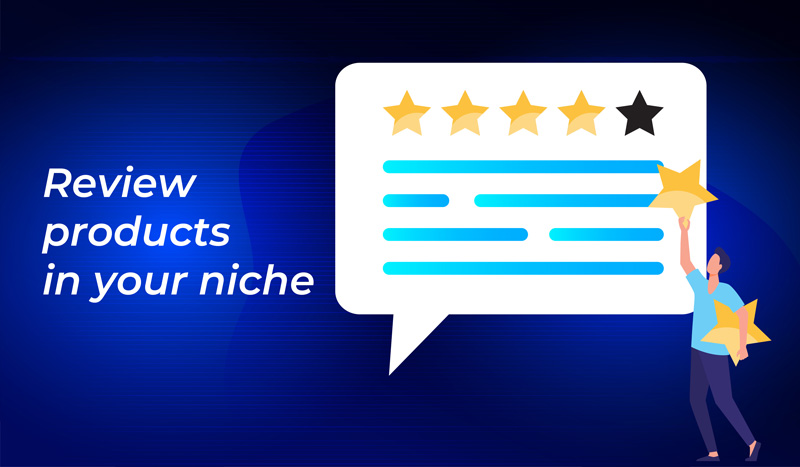 Whatever affiliate program you have signed up for, you are now ready to step up to the next level and that is creating great content to publish on the affiliate platform. Creating content is mainly the process of promoting products in your way. It is the process of building trust, and engagement, monetizing audience interest, and responding to that. As we know that affiliate marketing is all about interacting with more and more people to know about specific products and convince them to buy.
Affiliate programs implement several content marketing strategies like video content, appealing graphics image, photo editing text content, audio, e-book, email marketing, etc. to engage with audiences. Suppose, you have a website and your niche is health. Now what you have to do is, publish blog posts regularly on your website relating to different topics in your niche. At this point, you have to ensure that you are publishing quality type rank-chasing blog posts as you are not working in the niche. The main target should be creating content that will persuade and turn leads into sales. If you can't create content in this way, you won't get any results through them. Powerful product review drives traffic, gives you authoritative power and if you serve the honest review content, you can easily create a potential customer base.
Get Traffic and Engagement
You have put a lot of effort into setting up your affiliate platform and posting content regularly to reach your goals but if you don't have enough traffic, you can't even meet your goals. Affiliates always tend to engage more traffic on their product review content. More engagement creates more chances to get clicks, increasing conversion rate, and also your overall earning depends on your traffic. Therefore, you have to intend to increase traffic to your blog website. There are two kinds of traffic you can engage with,
Organic traffic

Paid traffic
Organic Traffic
Organic traffic indicates traffic on your website for which you don't have to pay, which means, you have got that free of cost. Organic traffic drives through the direct search on the search engine. When people search for something that you have already covered, they will find you in SERP if you have provided quality content. Therefore, the best way to get organic traffic to your website is through high-value content. There are so many ways that you can implement to create powerful content and ensure the position of SERP. Just do your research and follow experts on what they say regarding this.
Paid Traffic
For this type of traffic, you have to pay. You can do this with online paid advertising, buying advertising design space from high-traffic websites, and also running PPC campaigns. Paid traffic has both advantages and disadvantages. If you've enough investment that you can go with paying while you don't have earned, you can choose this way to get traffic to your website. But if you are short on investment, then you should pay attention to the organic way of traffic management.
Social Share
Social share can be an honest movement for affiliates. There are currently 3.78 billion social media users worldwide and they spend an average of 2 hours and 25 minutes daily on various social media platforms. Therefore, it can be a great chance for new affiliate starters to create a particular brand identity and engage people who are interested in your niche. Create social media content like images, short videos, product reviews, and animation, and can reach new people through social sharing. You can count on different social media platforms like Facebook, Instagram, Linked In, and Twitter to grow your affiliate network and earn lots of sales.
Guest Post
Guest posting should be an important part of affiliate strategy if you are going through a website or blog. As its name suggests, guest posting refers to the activity of posting other websites as a guest. By this, the host can make some traffic and if they get lucky, they can even get customers who are willing to buy from the website. Guest posting is as effective as it helps to engage with new people. It also shows good signals to search engines about your outbound linking performance. That means guest posting is also valuable for SEO. Just ensure that you are posting on a high-ranked website and when search engines capture that, it will show value to you.
Email List
Building an email list of audiences is what every online marketer and blogger wants to do. When you have an email list including all your audience's emails, you can use it for various purposes. Sending emails for every new post in the blog, highlighting affiliate promotions, coupon codes for discount offers, and so on. You can build an email list by creating a sign-up option for a newsletter on your website. If audiences find posts helpful and, on their demand, they must sign up for a newsletter design and in this way, you can create an email list of your audiences.
Search Engine Optimization
Search engine optimization simply SEO is the biggest issue for all types of online activists no matter what they are dealing with. It is the practice that keeps you on track and gives you the desired position on the search engine result page. If you're an affiliate marketer, you should be attentive to all SEO strategies and include them in your strategy. However, SEO is no small journey, it takes time to optimize a website for SEO-friendly. Follow up on all the SEO tactics to ensure that you are doing well.
The above discussion will help you to understand the fundamentals of affiliate marketing and how it works. If you follow the above instructions, you can build your affiliate career with a decent flow of revenue. But this is not all, you have to dive deeper into your research or consult with expert affiliates to grow up all the way.
What Not to Do As An Affiliate Programmer?
There are some common affiliate marketing mistakes that you should be aware of. Make sure that you are not relating to any of these.
Always maintain the flow of quality content, don't deal with inferiority

Choosing the wrong niche will ruin you

Don't follow up on date SEO updates

Master copy others' footprint

Doing hurry to get big results

Bad user interface and user experience of the website

Forget to analyze the performance

Deviating from the goal
How to Measure Your Affiliate Program?
There are different metrics as well as tools to help you measure your affiliate program and learn about your performance. Measuring affiliate programs is all about how you are interacting and what you are getting in return. Here are some metrics you should pay attention to,