How to Step Ahead of Your Business?
We know the present situation of the world and all the businesses and industries have come to a standstill position to this serious Coronavirus situation. The present situation is hampering global business largely and therefore, all of the biggest companies can cope with the situation. As the situation is not preferable in the present time you need to rethink your business so that you can grab the best output for your business. In this COVID-19 there are some changes to make ahead for the small business company. To have your business flourish with the present global crisis you need to follow some tricky steps so that you can easily step forward with your goal. Well, we are here to give you some utmost suggestions so that you can easily make out the way to step up your business during the pandemic also.
Tricks to Step Ahead of Your Business with the Present Situation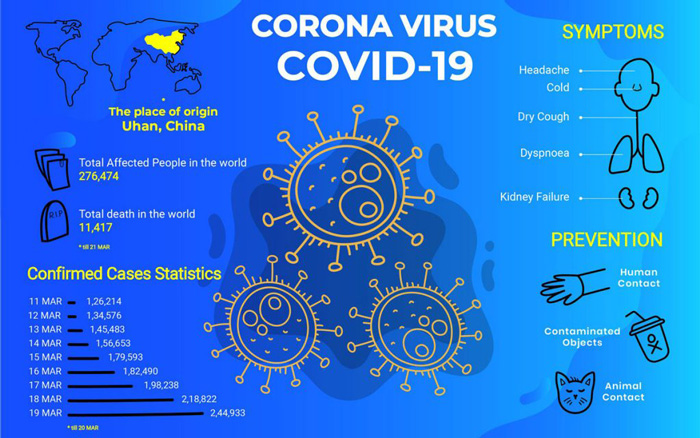 The global economy is not a stable situation right now and therefore millions of companies are facing problems with their business. People are sticking at home and all of the malls and shops are closed due to the pandemic. However, if you want to make your business on this tough day you need to be tricky so that you can easily step forward with your business. Here below we will find out the problems of doing business during a pandemic and then we will expose the solution to it.
Restrictions Regarding Business in Pandemic:
There are some common restrictions for making business in the pandemic which are arising problems to make traditional business and therefore the business companies are facing problems. However, we will discuss the restrictions of the present business situation so that we can avail of some important info for stepping ahead in our present business plan. So, let's check out the problems of having business in the present pandemic situation so that we can overcome the problems to make out business without facing problems
People are afraid of pandemics and avoiding to go for shopping

Governments are enforcing to shut down the malls and shops

Mass transport is closed due to the present situation

A private vehicle cannot go out for buying things in general
Well, above are the obstacles for any kind of business and all the business companies are now facing the same types of problems and to solve those restrictions we have planned to give the best suggestion so that you can get the best output regarding your business. As we are going to discuss the matter briefly, we want to share with you the possible solutions that can be taken as steps of improving the business. We will elaborate on the factors targeting the category of business so that you can easily understand the key problems and its solution to have your business alive in this pandemic.
Possible Solutions for the Step Ahead of Your Business in the Pandemic:
Due to the coronavirus world has become a place of an unstable business platform for the traditional business format and branding design for business. As a businessman, you should not stop rather you should plan for big so that you can easily make out the best output for your business. No worry we are here to explain how you can make out the best use of your business properly. We are following some facts about the present business situation and this is the importance of the products that have not reduced rather people are unable to go out shopping. It is easy to say but hard to do to make your business flourish but you can take benefit from this present pandemic if you are having a small business that will help you to make your business great. Here we are going to expose the facts for small business companies and their possibility to make out great business in this present worst global economic situation. If you are dealing with any small group of companies or your own business you have the best chance to step ahead of your business right now. Just read out our point of view to grab the core thoughts about your business and brand.
Below are Strategies that May Work the Best for Traditional and Small Business industries:
Due to the COVID-19 pandemic, you are having free time to think about your business rules and marketing strategy and you should utilize this time to research the business. Select out your competitor who is now big in the market compare you and point out their weakness. The main plus point is your operating cost because being a small business you have minimum operating costs compared to the big companies. Therefore, while the big companies have to shut down their business you can pursue your business for having minimum operating costs. Utilize your low production facts because you know the market-consuming demand of the present situation. You can step ahead of your business as we know that after this pandemic all the players will arrive in the field and then it will be hard enough to compete with them. Take all the needed professional services for your business marketing like graphic designs, and clipping path, and print out all of your advertising materials as you will have now these services at the very lowest price. Deal with all the parties who are giving you professional services for your business and product marketing as you will get all the services now at a very reasonable price and this will also help you to reduce your operating cost. Make yourself prepared and boost your business while the pandemic is in control. As you are doing traditional business you can follow these steps which will help you to grow up your business largely after the pandemic.

Services | All Kinds of Content Creation Services Company
What Will Be the Future of Business?
We are living in 2020 and time has changed our lifestyle. In 2020 we are facing global problems and we are trying to cope with this present situation. The whole world has come to stand still and the blood of the economy has been stopped. All the big companies are facing problems to make out their business. I must say that we are restricted now but the consumer is not stopped as we need things to deal with our life. Therefore, the main fact is people are looking for the products but couldn't get them as they are unable to go to shopping malls or markets. Here we are going to break the ice about what will be the future of the business sectors and shopping malls. Just read out for getting the most vital info about the future of our business environment. People are now staying at home and can't go out therefore there we see a huge collapse of selling in the shopping sectors and all other sectors also then what will be the future of these business sections?
Well, the probable solution is technology, yes, people are converting to the virtual world most. Therefore, people want to buy anything online and various trusted shops or websites like Amazon, eBay, Alibaba, etc. are largely used for making regular purchases. Here is the future and technology will help you to advance your business ahead with all possible probability to become a success in your business.
Importance of E-Business
If you convert your business into an e-business with eCommerce solutions some facilities will help you largely and grab the best profits for your business. Here below we will list some vital facts which can help you to make your business great.
After converting your business into an e-business you can easily reach out to your targeted customers with the products that will help you to increase your selling rates.

Here online your customers can watch out and make orders 24/7 and you don't need any salesman to show the products to your customers.

There you may no need to have your shop fully decorated which will help you reduce a lot of fixed cost

Here is no risk of making cash transitions that are risk-free

As there is a COVID-19 alert, there will be no problem with it if you convert your business into an e-business.
What to Do If I Want to Make An Online Business?
As you are looking for converting your business into an e-business you need to have some virtual materials which will help you to maintain all of your virtual shops so that you can make out a profitable business with your products or service. Here below we are going to mention the required virtual materials which will help you most.
You need to set up a website for your business.

Need to do a professional logo design for your website and therefore you need to contact any professional graphic design service providing company.

To display your products, you need to take photoshoots of your products and then you need to take the help of a professional clipping path so that your products become more natural to see.

After making out your products photo editing you can hope to have the best advertisement for your products and service.
After doing such things you can hope to have that you don't need so many investments or expenses to grab the customers. The world is changing its business pattern and it will fully depend on the virtual world within years therefore, take the proper steps and stand strongly with your business. If you make your business online there will be no restrictions of any pandemic like COVID-19 and this is the utmost solution to strengthen your business greatly.