What is a tri-fold brochure?
It is a common type of brochure. It is also known as a letter fold because it presents as a letter in an envelope. Tri-fold brochures mean that it has six sides. If we fold a piece of paper twice equally then it will be a tri-fold brochure.
Also, this type of brochure creates three equal sections by folding the sides over the middle and these are unique in shape. Most of the tri-fold brochures come to the right side first and then the left so that when opened, the brochure can be read from left to right.
What is a brochure?
A brochure is an informative paper document that is used for advertising. It is also used as a promotional document or as an introduction to a company, organization, product, or service.
A brochure can be folded into a template or leaflet. Traditionally, they are single or multi-fold paper-based documents and are used to make them in different shapes and sizes. It contains multiple pages which bring reviews about a company or their products to inform customers about their services.
Brochures are distributed in many different ways: as newspapers inside, handed out in the street, by mail, or placed in brochure racks in high traffic locations.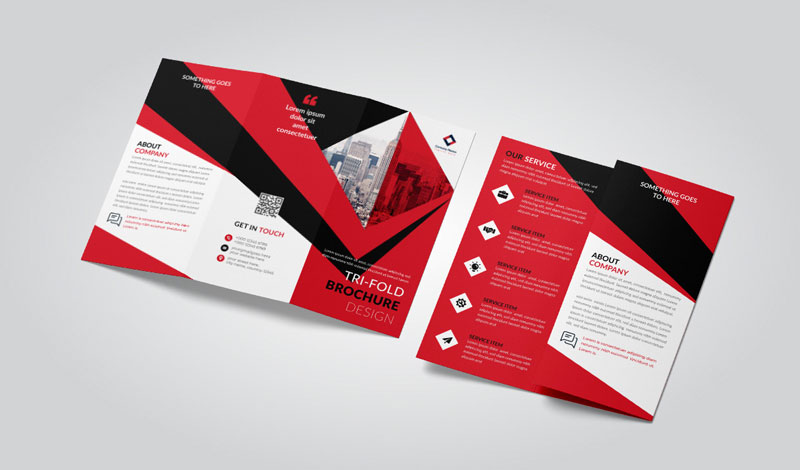 The layout of a tri-fold brochure
Without an expert, it is quite difficult to know how to layout a tri-fold brochure. Generally, the view of a tri-fold brochure depends upon the view of the paper. Here we present some ideas to layout your brochure in a typical way that would help your target audience more to get to attract you.
Segment-1
In this way, the front flap of the brochure is used as the first section, and the front cover includes an image, the name of the company, and your brand message that lure the reader to open the brochure and make continue reading for more information.
Segment-2
This is the most needed section for brochure design because it expresses something like I need this. When the reader unfolds the brochure to see the inside front cover, this section will appear in front of them. It will be led to go with other information.
Often this section holds some questions and answers about your products or service which will lead a potential customer to involve with you.
Segment-3/4
This is the middle and right segment of your brochure. Usually, this section contains information that might be complicated with lots of text.
Segment-5
It is the outside of your tri-fold brochure which includes a tear-away order form, a ticket to an event, or sometimes extra information. Also, this panel could include blank lines for note-taking, a mini-calendar, or a discount coupon for your target audience.
How do you design a professional brochure for your business?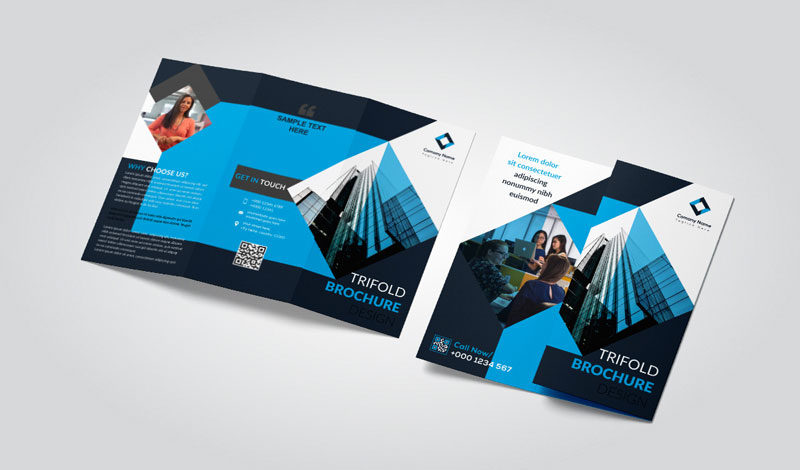 If you have a business whether it is small or big, you will need a brochure for perfect marketing, product introducing, and making contact with your clients and customers.
But before going to create your very first business brochure, you need to have the knowledge of in which way it will work more effectively. Just making a brochure and handing it out to the people is not making your target come true.
You should have the proper knowledge of how to design a brochure in an attractive way. Let's look at those points before starting. Hope it will help you a lot.
Try to make it attractive
The brochure is what containing some important business messages from the retailer to the recipients. so, the first rule to achieve your desired goal is to make it perfect. It should be attractive so that it can contact instantly to your target audiences.
Brand identity
Brochures are also used to increase brand identity among non-potential customers. When you are making a brochure for your business company or organization, don't forget to put your brand logo on it. in this way, you will be more visible and will get closer to your target audience.
Make it colorful
Colorful content makes the fastest eye contact with people. Color is a visual way of present ideas and thoughts. Want to get connected with people faster? Then make your business brochure in a colorful way.
Remember, People always pay the most attention to colorful content, texts, images.
Add geometrical shapes
You can simply add some geometric shapes like rectangles, squares, or triangles to your brochure for an impression. It is the easiest way of creating an eye-catching design that speaks about your taste, sophistication, and style. You can also add 3D models to get more eye contact.
Make it informative
Add basic details that will need a non-potential customer to get to know you. You need to give a clear thought of what type of service do you provide.
Besides, your company name, head office address, contact number, email address, the brand logo must need to include in your brochure.
Include beautiful photography
You can simply put some photographs which are adjustable to your brochure. Carefully engage images you choose to use on your tri-fold.
Make sure about the high quality of those pictures. You might need to crop or edit those photos before adding them to your brochure. Keep an eye on editing if they need it.
Work with typefaces
The typeface is a way to grab someone's attention to an important message. Stylish and bold typography is a bit closer to achieve this goal.
There are so many different types of font that are available online which you can use to give your brochure an outstanding look. Try to use bold and attractive fonts.
Timeless and elegant
Try to make it elegant and timeless because today's world is getting more complicated as there are so many options that come in one single opportunity.
Your brochure should need to be modern and also it has a classy feel so that people attracted to read its content by having it in their hands.

Services: All Kinds of Content Creation Services Company
Why tri-fold brochure is Important for business?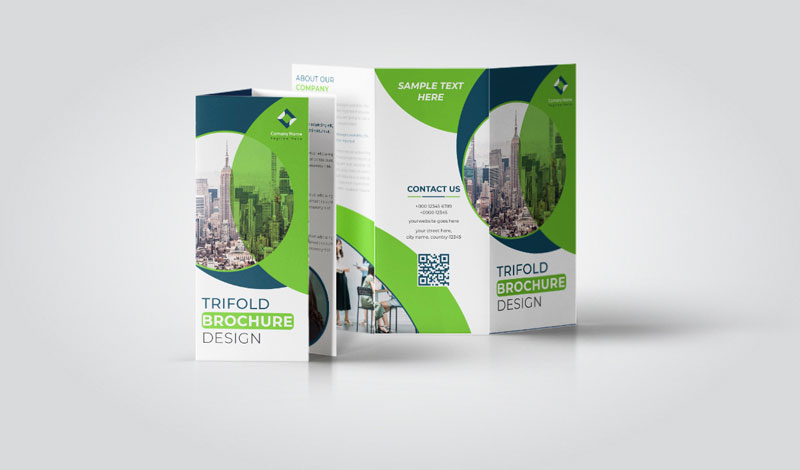 The designing brochure is quite a bit experimental. You have to play with human psychology to gain their attention. If once built perfectly, it will help you a lot.
As well as looking professional, your brochure must appeal to your target audiences, reaching out to them in a way that resonates and fits perfectly with your branding. A tri-fold brochure comes with a lot of benefits for your business. This type of brochure is best for-
Prospectus
Contents with huge information
Visual content such as maps or infographics
So, why did you choose a tri-fold brochure instead of others? Here is the answer is given below.
Pack lots of information into a small space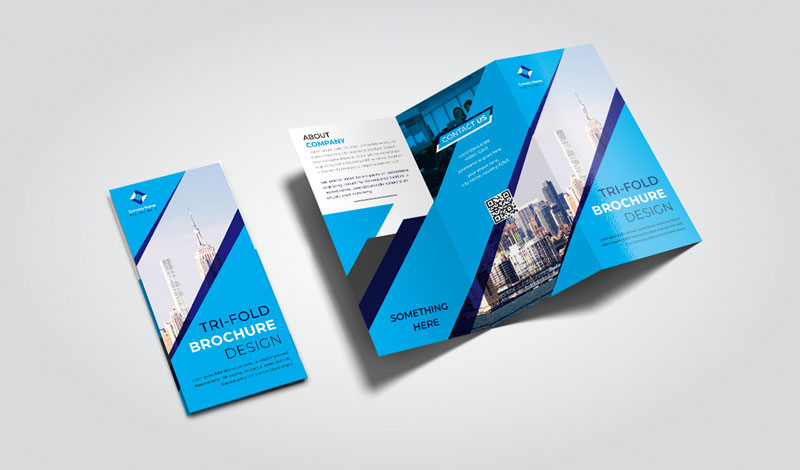 A tri-fold brochure allows you to gather huge information into its small figure. You may include a variety of information, such as a restaurant menu, cleaning services, travel guides, or a list of offerings from a company. It also gives you an easy way to break up information into sections.
Easily break up information's into sections
The tri-fold brochure is a perfect choice for business because it provides 6 individual panels split between the front and back of the leaflet with a wide range of products and services. Also, these panels can be used to divide up information into so many sections.
The tri-fold is a standard size
As a brochure carried out your brand identity strongly, so it needs to be created in a standard size so that it can be handed out whether in the city and town. Among the other brochure categories, tri-fold is best and standard enough to show your brand personality.
Easy to carry
At present, people like to have something that they can handle or put on their hands easily. Someone holds your flyers physically means that you are halfway to getting your message across. One can easily stash them in a pocket or handbag to take with them.
Cheaper than a full-scale brochure
Tri-fold brochures may be expensive than single-sided flyers but they are relatively cost-effective when compared to full-scale brochures and catalogs.
Especially for small businesses, high advertising costs can hold them back because they don't have enough money to deal with that but with tri-fold brochures, they can save a huge amount which they can use for production purposes.
Gives a professional impression to your business
A well-designed tri-fold brochure can get a strong first impression on your business. Tri-fold is more difficult to design and is slightly more expensive.
But rather than handing customers cheaply designed brochures, a local business that hands out well-designed tri-fold brochures will instantly create an image of quality and professionalism.
From the above discussion, it is clear that a brochure is a very important marketing tool that helps you introduce your company and give all the necessary information about your product and services to your target audience.
A tri-fold brochure can help you to create awareness and also create a sense of legitimacy in the market. Remember, a good brochure must consist of great design.
So, make your brochures in that way. Try to make it different from others.