Effective Organic Marketing Strategy
Marketing is an essential part of business no matter what type of business is. You have to work through an effective marketing strategy to succeed and end up with a prospective profit. Without a marketing strategy, you don't have goals to reach, precise plans to determine your next step, and even don't know what to do if you are in a difficult situation with your business. Well, when you move forward to implement strategies for your business for the first time, there are a lot of things that appear in front of you. You may feel disoriented seeing different types of marketing strategies if you don't have any perspective knowledge about this. There are different types of marketing strategies implemented for different kinds of businesses. Therefore, it is important to know what type of business you are dealing with and then decide on plans for marketing strategies. Are you a B2B or B2C marketer? Is it an online business or is it just a brick-and-mortar type or both? According to these criteria, there are several types of marketing strategies to move. They are,
Online marketing strategies:
Offline marketing strategies:
However, we can't see the name of organic marketing in any of them. So, what is an organic marketing strategy? Let's find the answer,
What is Organic Marketing?
If you're pretty familiar with the field of online, you may have known about the meaning of organic. Online, we say organic things that come naturally and we don't spend money to continue it. For instance, organic traffic, organic SEO, organic marketing, etc. Undoubtedly digital marketing requires minimum budgets, efforts, and discretion to do things precisely. But when it comes to organic marketing, you have to think quite a bit differently than conventional ways. For small businesses, organic marketing is a kinda blessing as they do not have to invest high in paid advertising and paid marketing. Although, in the true sense, organic marketing is also practiced by paid marketers to gain more revenue and traffic from organic sources. However, there are so many activities that fall under organic marketing strategies. We will disclose all of them to you gradually. For now, let's take a look at paid marketing to clear things up.
What is Paid Marketing?
Paid marketing is the opposite of organic marketing. It is also known as search engine marketing (SEM). When organic marketing can go without spending money on it, paid marketing requires a consequent amount of money in every step to take your destination. Paid marketing is effective in getting quick results in your efforts. It is essential for building brand awareness, encouraging customer engagement, product selling, starting a new business online, and so on. Digital marketing is the aggregation of online advertising, click-through campaigns, display marketing, influencer marketing, affiliate programs, etc. These all ask a certain amount of money to implement and move forward through the paid marketing strategy. However, paid marketing demands huge attention, proper planning, and the realization of where to spend your money. If you can't integrate the proper strategy into this, you won't be able to reach your expectations.

Services: All Kinds of Content Creation Services Company
How to Create An Effective Organic Marketing Strategy?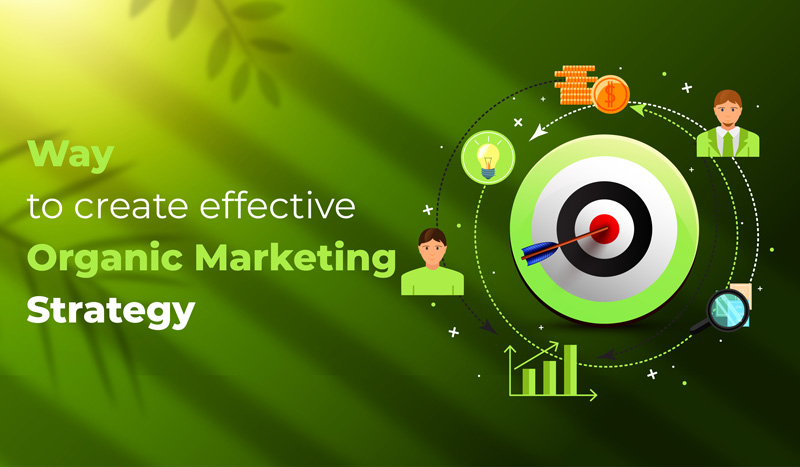 While money doesn't matter in organic marketing, you have to put in a lot more than money. Organic marketing encompasses content marketing, link building, and sharing content on different platforms. You have to monitor every single step and measure your performance with analytic tools. Above all, the one most important thing you have to consider in organic marketing is creating quality content. As you are willing to get visitors, consumers and clients organically, this is the best way to attract visitors and make them potential. Before starting, keep in mind that organic marketing is a long-term process and takes a lot of effort to develop and make work for you. Paid marketing and paid advertising strategies are far easier than this. However, if you want to get into organic marketing, you have to create a specific strategy to determine what you need to do. Here are some key points of organic marketing strategy to easily get about it.
Quality content is the key

Do your keyword research precisely

Focus on audience interests and create what they want

SEO optimized content

Integrating social media platforms

Make it visually appealing

Guest posting can help you a lot

Optimize your website to boost performance

Analyze performance and measure success
These 9 effective organic marketing tactics will help you to create a feasible organic marketing strategy that will lead you to success. Let's dig a little deeper into those key points to learn how to use them perfectly.
Quality Content is the Key
Inorganic marketing where you want to engage people without spending money on online advertising, quality content can bring your audience right to your door. Online is the storehouse of contents, here we can find all types of video, audio, blog content, resources, and everything we need online. How much content do you think is published daily in addition to all the media upload platforms online? There are 1,209,600 social media contents published by the users, more than 4 million hours of video content uploaded on YouTube, and in Q1 of 2021, approximately 5 million WordPress blog posts every day. It's a huge amount to think of no doubt, and do you think all of them are quality full content? Not at all, more than 60% of the published content fail to engage the audience due to the lack of context, reader friendliness, and interactive resources to hook readers from start to end.
However, it is not difficult to find the specific information you need from this huge database at all. Search engines manage it smartly and show the best content at the top of the search engine result page (SERP). So, if your content looks peachy and keen to search engine robots, you will be visible on top when potential users search for it. As a result, you will have organic visitors to that content.
Do Your Keyword Research Precisely
Keyword research is an integral part of your content marketing strategy. And since you choose organic marketing, you have to give it more importance. But it is a matter of fact that you need some paid tools to do your keyword research perfectly. Paid tools help a lot to understand competition, find keywords that are compatible with you, and so on. Also, there are some free tools available that aren't working very well though. But you can get a little help through them if you aren't able to buy paid tools. However, keyword research requires knowledge and expertise to find low-competitive high-volume keywords where you can rank. Zero-knowledge about keyword research? Then you should have some form of YouTube, a free online SEO course, and content available online. There are different types of keywords such as,
Short-tail keyword: high search volume and highly competitive keywords which are consists of three words or less

long-tail keyword: this type of keyword is used for specific search intent, so, search volume and competition are also low for them

Evergreen keyword: evergreen keyword is those which are always on demand, users frequently search for these keywords, and this will continue over time

Primary keyword: it is the keyword you target to rank for in a specific content

Product keyword: keywords that define products

LSI keyword: Latent Semantic Indexing keywords are closely related to your main keywords

GEO-targeting keyword: effective for local businesses, used to target audience in a specific geographic area

Phrase match keyword, Exact match keyword, and Negative Keywords are practiced in the google AdSense campaign for better results
Focus On Audience Interests and Create What they Want
It is one of the most important points in this discussion. Tracking audience habits and search intent is highly important in organic marketing. When you have the information about users, you can give exactly what they want. When you have all those users want, they are about to spend more time as well as money to build a better relationship with you. Tracking user engagement will allow you to gaze,
Where do users come from?

How they are engaging with your site?

How much time they are spending on average?

On which pages they are spending more time
When you have this data about users, you can easily define your next step and find your next content topic or idea. Fortunately, many analytic tools help activists track users' and visitors' activity precisely. These tools provide demographics of how the user gets to your website, which pages they have visited, and the duration all in all. As we are making it organic, most of our visitors will come organically which means from a direct search on google. Social media can be a great source of visitors if you are integrating it into your strategy. However, there is no alternative to tracking users' search intent, behaviors, and how they are interacting if you want to get success in organic marketing. Find out why users are having a bad experience on your site and fix it.
SEO Optimized Content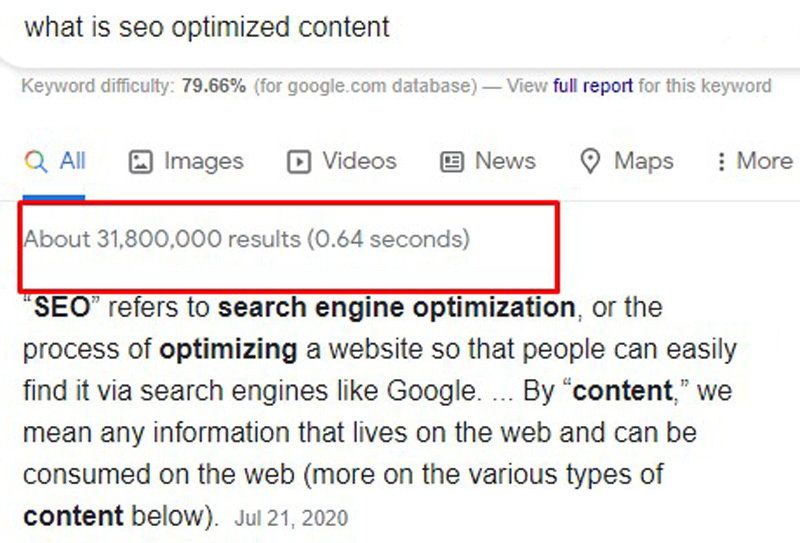 SEO is the practice of creating search engine standard content that can easily be found by both the search engine and the visitors. From what we see above, there are 5 million blog posts published daily online. Let's get this show on the road, look at the image below.
It is the search result of the query 'what is SEO optimized content? Do you get the red box area? Here shows that the search engine takes only 0.68 seconds to show about 32,300,000 results. Can you imagine it? The search engine shows the results of the user's asked terms within a few seconds. In this short time, it crawls for relevant resources in its database indexed content and algorithmically ranks to the relevance of the contents. This is why we see search results schematically on the SERP and we get the best results at the top of the list. And that's the effect of SEO-optimized content. Creating SEO-optimized content is the biggest part of the riddle. If you create SEO-optimized content and publish it, you are more likely to get organic traffic and potential consumers for that. However, so many marketers think that writing SEO-optimized content is necessary for the search engine. But that's not actually, you have to write for the audience not for the search engine robot. Content reader friendliness will determine whether people engage with your content or they leave without reading. To ensure that your content is SEO optimized, you can follow the given pattern,
Readability

Page speed

Proper use of headings

Use target and LSI keywords

Resources and information

Statistics and graphs

Internal and external linking

Meta description

Optimized images

How to type content
Integrating Social Media Platforms
As an organic marketer, you can be hugely benefited from integrating social media platforms into your strategy. Currently, there are approximately 4.33 billion social media users and they spend more than 2 hours daily on social media platforms. Social media is a great source of organic traffic where you can engage a lot of people who are interested in your niche. If your contents are great and you cover useful topics, you can easily reach mass people on social media. This is why social sharing counts as highly important in both organic and paid marketing. You can organize campaigns to increase brand awareness, and social engagement and to build a strong audience base on particular platforms. Since there are lots of social media platforms that are rapidly used all over the world, you've to understand where your target audience is used to be. Besides, you've to implement different types of content marketing for different social media platforms. For instance, you can post any type of content on Facebook such as images, videos, and blog posts. But on Instagram, Pinterest, and YouTube you can only post images and videos. Twitter and LinkedIn are also mentionable in this regard to integrate into your strategy. However, if you want to boost traffic organically and maintain the flow over time, you must have to create a strong presence on social media. Don't worry, there is social media analytics that will help you get more audience and make their potential.
Make It Visually Appealing
Whatever type of content you create, it needs to be visually appealing. It should have the ability to give visitors a good first impression and attract them to learn more about it. If you are dealing with online products, you must be careful about the product description moreover the product image. If it is video content, try to make it short, narrative, and the best in quality. If the quality isn't good, you won't have viewers in it. Similarly, if it is blog content, it should have images related to it that can keep the reader engaged. Indisputably, visually appealing content acquires more social engagement, more shares, and more clicks on CTA. So, creating visually appealing content is also a part of the strategy. To make content appealing, you have to consider all the elements such as colors, typography, graphics, illustrations, etc.
These elements have a great impact on users when they interact with your content. Besides, content size is another issue you have to take into account. Images and motion graphic videos attached to your content should be optimized for better response on the web. Otherwise, it will cause slow loading while users are on the page. If it takes more than 3 seconds to load, visitors are more likely to be upset and leave your site. If you want to avoid this kind of situation and make the visual content highly attractive and optimized, you can enlist the help of professional graphic design agencies to deal with it professionally.
Guest Posting Can Help You Grow
A guest post is a blog post or article that isn't published on your site, rather it is used to publish on other websites. So, what are your benefits when it comes to posting on other people's websites? Guest posting refers to one of the effective organic marketing strategies. Through the guest post, you can get visitors to your website organically, get consumers, increase brand awareness and brand value, and so on. Ideally, there are huge benefits of guest posting if you are doing it the right way. Before getting into it, find some great websites in your niche to make guest posts. Guest posting on high-rated websites is considered more valuable to the search engine. Sometimes you may have to pay to get a chance to guest post websites like that, but you can also find a list of healthy websites in your niche through research. When you have websites, it's time to write engaging guest posts. Guest posts should be organized well, informative and captivating. If the content is relevant to the interests of readers, they must read it and visit your website to learn more. In this way, you can benefit in many ways such as,
Get organic traffic

Authoritative backlinks increase website value

Positive signal for SEO

Grow audience base

Get backlinks from websites that are good for social media activity

Increase brand awareness
However, guest posting is crucial in an organic marketing strategy. Incorporating this into your strategies will allow you to get more reach, clicks, and prospects on your website.
Responsive Design to Boost Performance
If your website is in poor health, publishing high-quality content alone may not help. In the entire online journey, the website is the central processing unit that organizes all the activities. Many issues can More specifically, the website is the online store for eCommerce retailers, an online visual identity for commercial and non-commercial organizations, a self-publishing platform for bloggers, affiliate programmers, and so on. Whatever you want to do with a website, you have to ensure the best quality of it. A quality website means the website is fit in all aspects such as,
These are the points to ensure that your website has a good quality and provides the best experience to the users. Online competition is growing exponentially as everyone wants to have an effective online presence. The rapid growth of eCommerce businesses, affiliate marketing, and other online activities has made it extremely difficult for beginners to start a new business online. But if you are following the right track and integrating proper strategies, you still have chances to do better no matter the age.
Analyze Performance and Measure Success
Since you started with a website, you have done a myriad of tasks to reach your online goals. You should be aware that everything is going well or that you are going through some issues that need to be fixed. Many issues can ruin your online journey and hinder your growth. If you don't fix it, you won't rank for your target keyword as a result, you don't have traffic, clicks, and prospects on your website. Therefore, analyzing your performance and measuring if you are successful or not is indispensable for you. This is why there are tools developed to help online marketers and activists to manage their website performance precisely. Integrating these tools will help you track not only your website performance but also traffic, new engagements, fields where you have chances to do better, and so on. Possibly, there are so many metrics that are used to measure web performance. Here are some important metrics to consider more.
Analytics tools will give you a closer view of the condition of your websites based on the above metrics. You can see everything happening with your website through these tools. Besides, you will be able to audit your website to find reasons for bad user experience, broken links, error pages, and many more. So, here comes the question: what tools to use regarding this? As there are so many items available in both paid and free versions. If you're a freebie, then you can use,
Google Analytics

Google search console

SEMrush

Moz keyword explorer

Similar web
Whatever your business in the present online field, you must have a decent strategy to follow up and build a better online presence. The best thing is, keeping up to date with the popular online platforms where experts used give information and talk about it. However, there is nothing stable in the world, everything can change. And if we talk about it online, it changes every day. So, nothing is better than staying up to date with the latest practices. It will help you to end the day with success.