Ensure that Content is SEO Optimized
Search engine optimization, or SEO, is highly significant for content marketers. To understand content and SEO as a whole, its useful to segment these two terms: SEO refers to the process of optimizing a website, including your blog post, to make it more visible to the people who are using search engines (like Google) to find your product or services. Although, content refers to any information found on the web and can be consumed on the web. Thus, by concluding these terms: SEO content is any content created to draw search engine traffic. Writing for SEO means that your content emphasis provides consumers with the related information they need to solve their queries. Also, it means optimizing for keywords and key phrases that assist search engines in understanding your content. However, you can also take your website to top search engine results using advanced SEO consultancy services and boost traffic to a website.
What is SEO Content?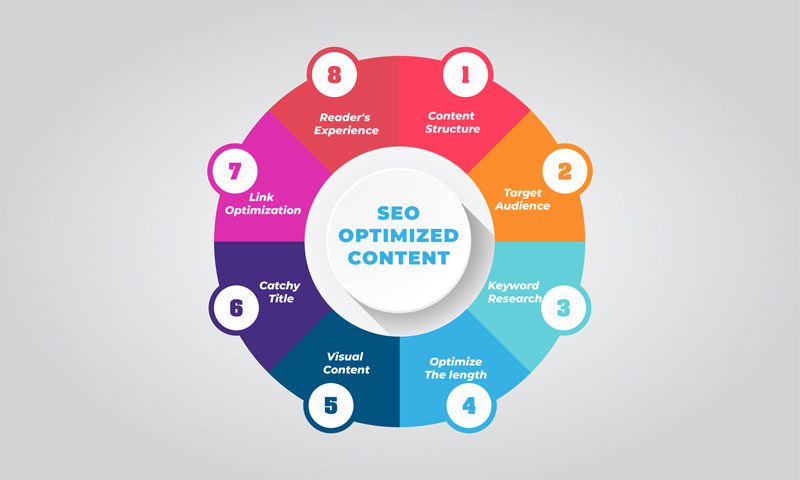 Content and SEO are closely associated. SEO content is online content created or designed to rank higher in search engines (like Google). Individuals use search engines to find products and services or solutions to their questions, and search engines like Google provide the most pertinent or fitting content they can find. However, the first page or top search result might be a blog post, product description, article, or YouTube video– it's all content. Essentially, content and SEO go hand in hand, and it can be arduous to understand the degrees they share. Content needs SEO to be noticeable in the noise of unexceptional blog posts blocking up the internet nowadays. Furthermore, Google has said that one of the top three ranking factors for organic search is content. Search engine optimization (or SEO) is a constantly altering field. But all through the latest variations, one factor has remained constant, and that's the significance of content to SEO. Here are enlisted the main factors that are essential to write an SEO friendly content:

Services | All Kinds of Content Creation Services Company
1. Content Structure
Good arrangement or structure is a significant factor in high-quality content. Suppose, if you pick one of the results in SERP, and there is a long or unorganized text, will you be able to continue reading the blog? or use the Ctrl + F shortcut, or just leave to find a well-structured article. The contents of your blog may be incredible but can be easily outshined in a chaotic, disorganized, or ineffective arrangement. Segmenting your content into smaller paragraphs of about 2-3 lines with headings makes for an easy read that will keep your audience engaged. Subheadings help to make your content viewable and easier to understand.
Readability:
Here are enlisted some suggestions to make content readable:
Article length: Create lengthy content if it's needed. Extensive reads of 3000+ words acquire 3x more traffic, 4x more shares, and 3.5x more backlinks than blogs of mediocre length (750-1200 words). But this doesn't outshine the significance of a short article or make it rank poorly — it relies on the user's requirement.

Table of content: If the article is extensive or long read, consider adding a table of contents at the start of the article to allow visitors to click the desired section quickly.

Headings: consider using H2 and H3s. Well-organized articles with both H2 and H3 tags are more potentially high-performing. The Content structure makes it easier for the user to comprehend the content but keeps it simple as well to avoid any multiple subheadings.

Paragraphs: keep paragraphs smaller by about 2-3 lines. One paragraph refers to one notion. Segment the content into rational, comprehensible parts to keep readers engaged.

Queries: Draw the reader's attention by adding their questions in subheadings.

Divide long sentences: Try to split long sentences into shorter ones, just like breaking your content into smaller paragraphs to make it more appealing.

Bullets: by using bullets and numbered lists, you can deliver broad information briefly.
2. Recognize the Target Audience for Your Blog
SEO-friendly content helps to identify the target audience for your blog. Regardless of what business your article targets, you'll want to recognize and speak to the visitor reading your post. Create content that attracts the user's attention and appeals to the interests of your target market or answers their queries. Every article need not be about your product or service, but they all should be industry-related. To make your content SEO optimized, ensure that the content is appealing and informative, and do it well against your rivals.
3. Conduct Keyword Research
If you want to boost traffic through search, it's worth conducting keyword research before creating content. So that you can emphasize keywords for which a certain amount of search volume already exists –Simply put, write about subjects that users are already searching for information about. Make sure to use the keywords rationally and naturally in your content as well as in the content marketing. Using a keyword phrase in your title makes your article more likely to be observed by your target audience.
4. Optimize the Length of Your Posts
According to a survey, the average length of a first-page search result on Google is 2000 words. Google usually tends to prefer lengthy articles. Splitting your long reads articles into shorter parts for your readers (using bullet points, subheadings, and lists) helps the audience to understand the content better.
5. Add Visual Content
Images are an indispensable segment of the content puzzle. Besides optimizing your writing for SEO, Images and videos are among the essential visual elements that show on the search engine results page. Different images and videos across a page can assist provide information to the audience better and flow your content well. Search engines like Google or Bing focus on visuals for specific keywords. The more appreciated, relevant, and engaging content is, the more backlinks you may get. Backlinks from verified websites help to make your content reliable for Google. Therefore, the search engine ranks it higher. Another pro of visuals to any blog post is that they can be ranked in the Images and Video sections of Google and even boost more traffic.
Consider infographics design, checklists, templates, and other sorts of visual content to give value to your audience quicker and appealingly. Incorporating an image along with your blog post can make a good impression. Thus, be sure to optimize your visual content.
6. Create A Catchy Title
The main title of your blog post is the first element that will catch sight of readers when they find your article, and it decides if they'll open or keep scrolling. An engaging title involves data, asks a question, or leads with inquisitiveness to increase the reader's engagement. Here's a look at the factors when creating your H1 heading:
Create an eye-captivating H1. It will assist avoid visitors from getting lost among related pages on your site

Consider Using numbers like 'top 5', 10 best', '7 creative…', etc. Articles with list headlines get 2x more traffic and 2x more social shares than other types

Consider using words like 'how', 'why', 'what', and 'where'. So that you assist users in recognizing what they will find on the page below

The H1 of the page should define the content; else, Google refers to the inconsistency as low content quality
Use headings properly:
Headings are a significant but most unnoticed element of good SEO. Title tags are HTML tags that vary from H1 to H6 and are used to build an outline and add structure to an article or blog post. Using headings wisely can help Google segment the main topics of lengthy articles.
7. Link Optimization
Quality links are one of the most indispensable factors of a good SEO strategy. They assist search engines like Google in evaluating the significance of websites and provide better results to searchers. Thus, to optimize your search engine rankings, you need quality links. But creating strong quality links is not that easy; initially, you need to identify what makes a quality link, what makes a bad link, and what you can perform to enhance your website for better results. If you get creative with other kinds of content like infographics and videos, incorporating an embed code on your site assists in optimizing content sharing and also adds a link back to the source. Creating great content helps enhance the shareability and the likelihood that other websites will link to it, so the target for quality! Internal links are links that point from one page to another on your website. Having a solid internal linking structure ensures that you point users and search engines to valuable, relevant pages with other content to reference.
8. Focus on the Reader's Experience
It is beyond doubt that the reader's experience is the essential element of a blog post. The reader experience involves various factors such as readability, content structure, and page speed. Thus, you'll want to write content that's easy to read, cover your topic, and is comprehensive according to recent data and trends. Structuring the content with headings and subheadings is also significant because it assists the reader read or viewing the content instantly to find the information they need.
Endnote
Content optimization is crucial for effective SEO and should be done by targeting smart strategies. The article highlights the importance of SEO content and the factors that should be worked on to optimize it well. The factors include content structure, target audience, better keyword research, content length, visual graphics, title, quality links, and reader experience. Working on these can provide a great edge to rank your content higher on the search engine.