Best Letterhead Design
Letterhead is a visual communication system of business industries or firms. It is used to introduce a newly built company to others.
With the best commercially printed letterhead, contracts, client or fundraising letters, internal memos, and other company documentation still make their impression.
What is the letterhead design service?
A letterhead or letterhead paper is a piece of the printed paper that is used to catch and holds someone's attention. It may be new content to someone who is new in the market.
For business owners, letterhead is the first introduction to who you are, what your business is, and why you do it? whatever, a well-designed letterhead will show your messages carefully and express your creative activity.
What is the purpose of a letterhead?
For a newly formed business, it is the first thing to create an official company letterhead. They are important because of their wide range of uses. Although letterhead deals a lot with business companies to get people to know it.
Also, there are some other purposes that highly work behind on a letterhead. These are-
Letterhead expresses the company's brand identity to its clients
It acts as a visual representation of your company
Convey messages to the recipients
Makes a positive impression upon potential clients
Used to deliver notices or call meetings
Presenting the company's legal announcements and interdepartmental statements
Providing business-related information to other parties
Shows professionalism
Communicates seriousness, stability, and consistency
It is a part of branding consistency
Cover letters for your company's proposals and presentations
These 12 Types of Letterhead Design
Letterhead is used not only for business purposes but also in many other sectors. Like-
Educational letterhead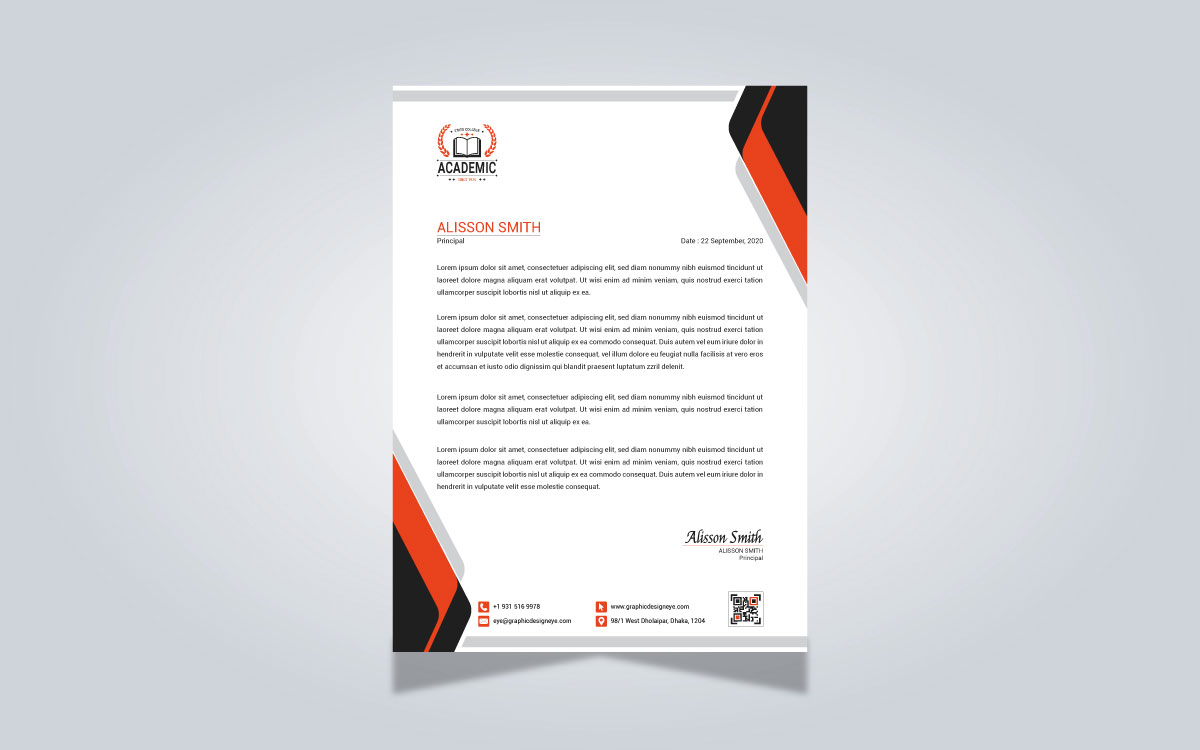 Letterhead is widely used in educational institutions. Using letterhead in high school is the way of giving a clear representation of that school.
Usually, it includes information about the school such as its name, contact details, and a lot more. It contains a clear picture of the school and with the letterhead, one can easily get in contact with the school.
Financial letterhead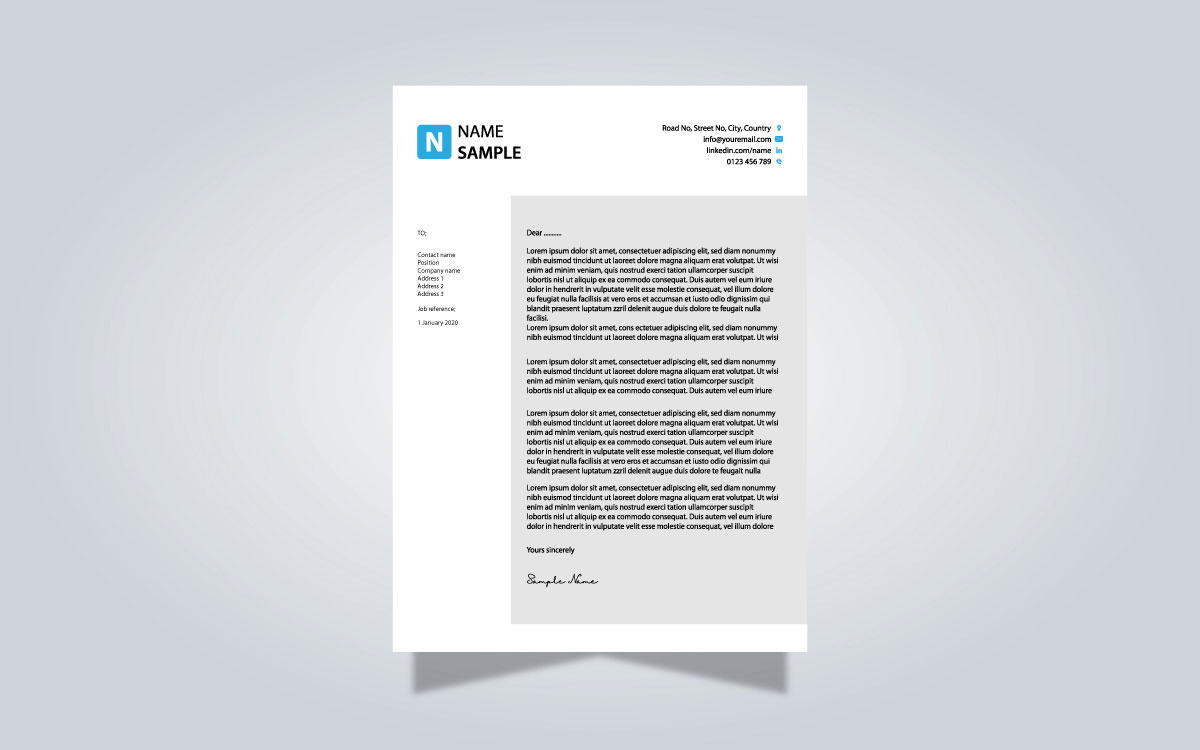 Letterhead can also be used for many financial purposes like giving your brand identity to someone who doesn't know about you. Generally, the financial letterhead contains the name of the organization, address, mailing or contact address, and other information that needs someone to get the brand.
Letterhead design for bank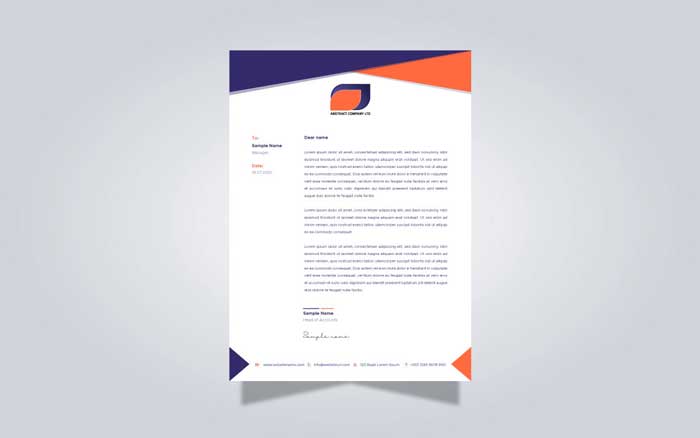 A bank letterhead is a document of some details and generalities about the bank's relationship, history, and current standing with the principal. A bank letterhead is usually provided by the bond principals bank to the client.
An official bank letterhead comes with much information like the name of the account holder, date, types of accounts, account number and signature, and so on.
Business letterhead design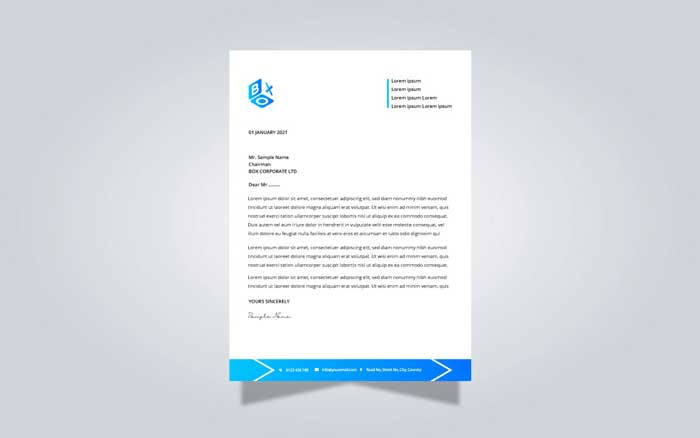 For business issues, letterhead is still a physical representation of any business company. It is one of the most important printing aspects of any business.
Creating the best letterhead design is a great idea for branding and also increasing the company's sales. Whatever business letterhead is very efficient to build a marketing communications strategy. It also shows your professionalism.
Restaurant letterhead design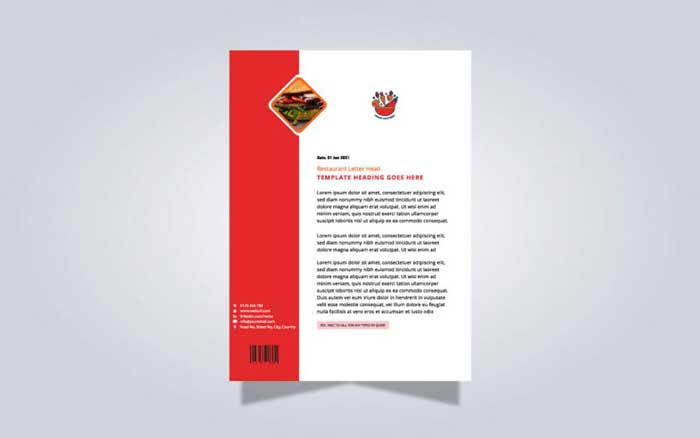 Letterhead is also used in restaurants. This issue contains mostly the name of the restaurant, logo, contact number, and a slogan or wishes if they had.
Travel agency letterhead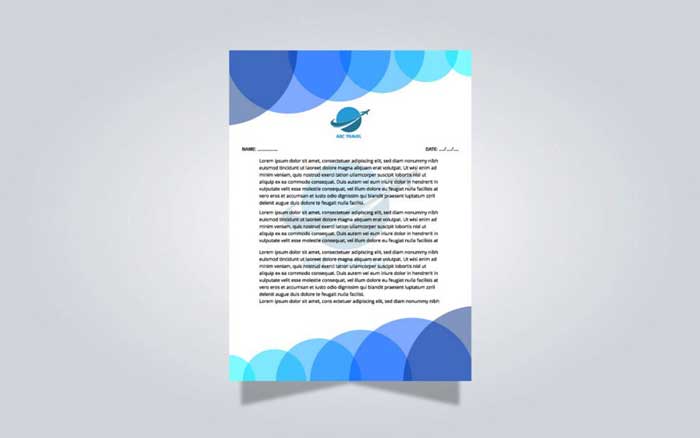 Are you a travel agency holder and you help tourists to guide in different countries of the world? Then you are highly in need of a letterhead to attract more tourists to get to contact you. A well-designed letterhead is effective for a better travel agent.
Pharmacy letterhead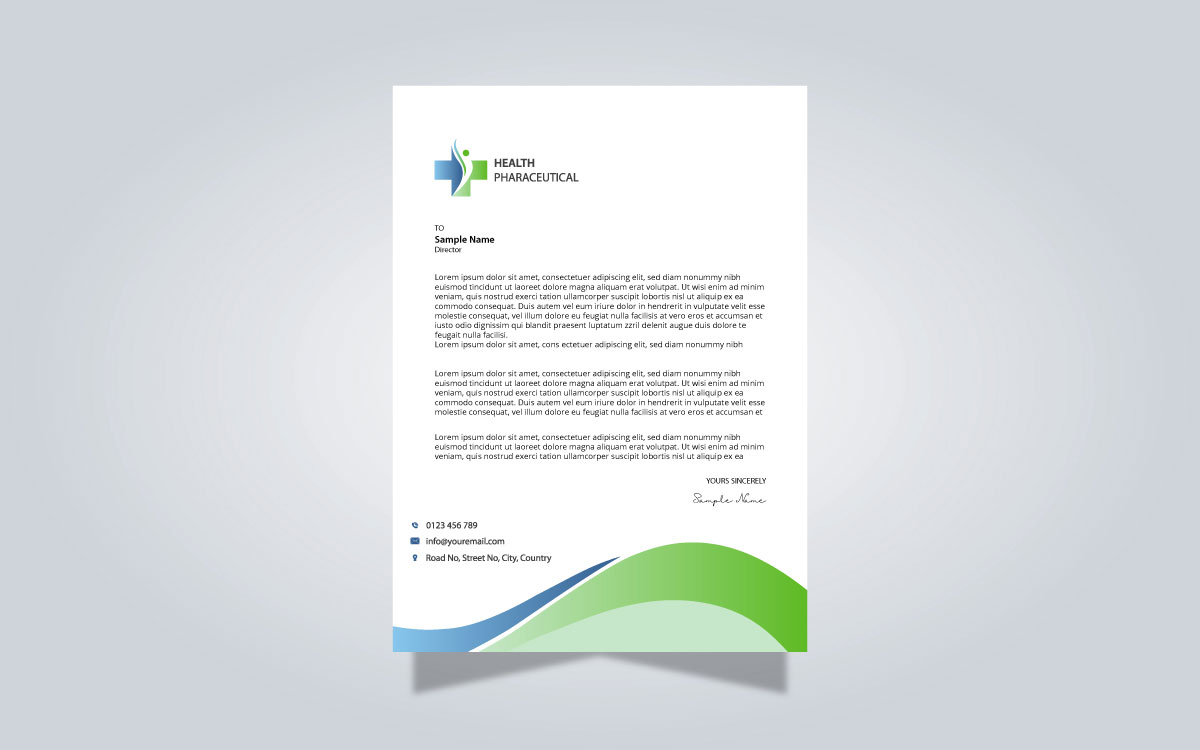 Pharmacy-related documents must be accurate and short. On the letterhead of the medical institution information such as the doctor's name, phone number and other contact information must need to be included.
Letterhead design for pet product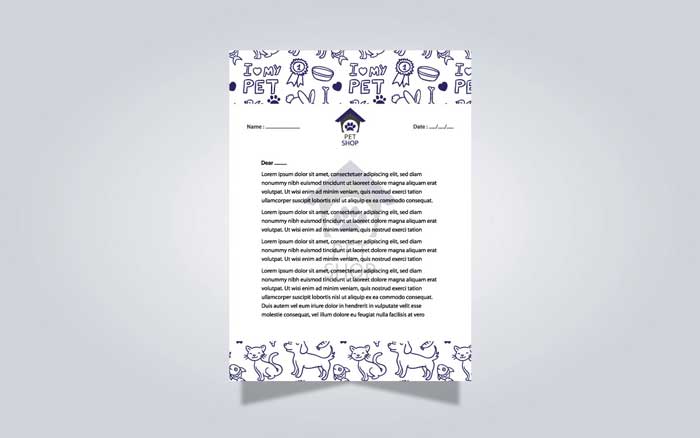 Want to start a new business with a pet product? At present, pets are getting more attention from humans than before. Different people have different tastes to tame various kinds of animals. In this way, pet products companies are growing larger all over the world to help people. Different types of pet products are available for needs.
So, you need to have a letterhead for your company when you will start this business.
Store letterhead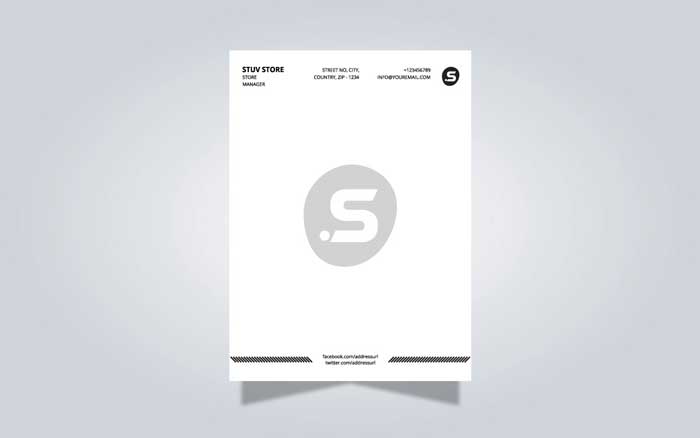 Clothing stores also need a letterhead for better brand promotion and to let people know about themselves. Letterhead is an essential material for clothing stores because it can hold your store's name, address, and contact number.
When you give customers your clothes letterhead, they might be able to find you for the next purchase time.
Real estate letterhead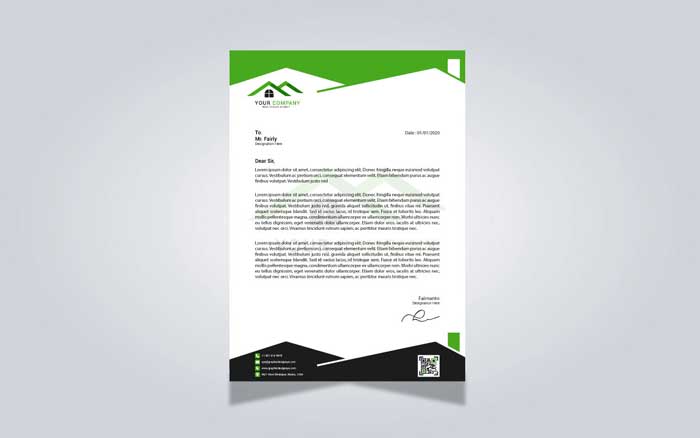 If you are involved in real estate or construction work, try to bring together creativity and minimalism on your letterhead. Be sure to use the graphics and geometry characteristics of your niche.
Photography letterhead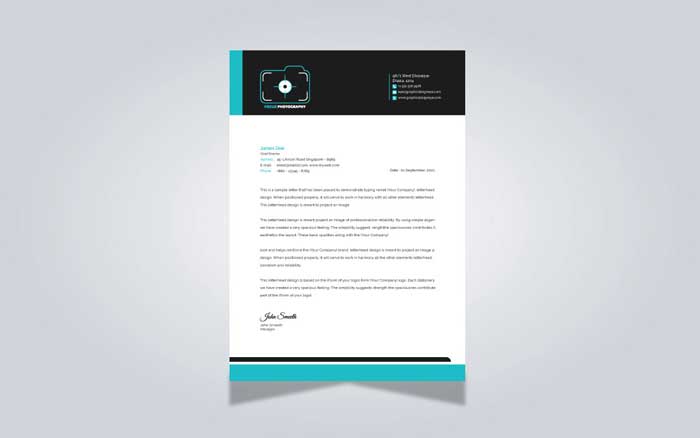 Have a passion for photography and want to shine in this sector? Letterhead will help you to tell people about yourself. It shows your professionalism through your work and gets people to contact you.
Furniture letterhead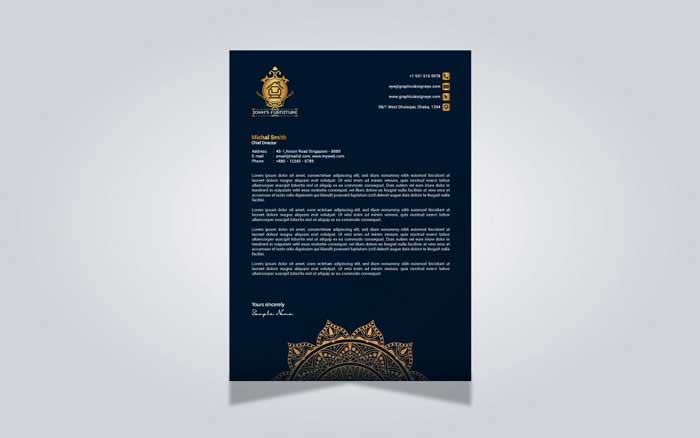 Though letterhead is best for all types of business but in furniture and home goods, it is a bit more important. Letterhead for furniture marts helps you look like the professional you are.
When customers think of your business, the little details can leave a very big impression. Show your professionalism to your customers with an exclusive business letterhead.
What information goes on a letterhead?
As letterheads are used to identify a brand, they must contain information that will drive a customer directly to the company and not any other.
Similar to creating an ID card, a professional letterhead should have the general components regarding the company.
So, what type of information should be included on a letterhead? Here are some clues-
Company's name: Letterheads without any company or brand name are like a piece of a white paper sheet. So, nobody is getting attracted to it. whatever the type of letterhead, it must need to include the name of the publisher.
Logo: The logo is the symbol of a company's brand identity. Sometimes a logo is more than a symbol because it tells a company's story by delivering your brand message in a way that helps to establish a connection with your audience. So, it is necessary to include your company's logo on your letterhead.
Slogan: A slogan is a motto or phrase used to express an idea or purpose. Its main goal is to persuade members of the public or a more defined target group. The slogan is a special way to identify a product or a company. Publishing slogans on your letterhead is a way to make it stand out and help customers to join the connection.
Address: The main goal of a letterhead is to help people to get to know you. So, the address of your company must be included on your letterhead because whoever will receive the document must have knowledge of where the company is located. Without an exact location, your client is going to fail to discover you.
Contact details: Contact details are a must include an element for your letterhead. It will connect the recipients to your company instantly. You should include telephone, voice, and fax numbers to make them more visible to you.
Email address: At present, electronic tools are becoming dominant. One would be behind the times if they don't consider adding the website and email address on their letterhead. Better yet, entrepreneurs should include their social media details as well.
What makes a good letterhead design?
When working on the design of your business letterhead, you might need to have a clear concept of what should be added and what shouldn't. Remember a letterhead will go to perform as a visual contactor for your business.
Be sure to make it attractive, eye-catching, and also informative. Here are some suggestions for how-to best letterhead design for your business. You can apply these to fit your situation.
Focus on your company
What type of business do you have and what service do you want to provide to your audience? Your letterhead must have to build in a way that expresses your brand identity and shows your professionalism.
The visual design of your business letterhead must suit your niche and expectations. So, make sure you carefully represent the company when designing your letterhead.
Think about the content
Your letterhead must include some information in basic demands. So, what type of information should your letterhead include? There are some regions which have legal requirements for what information should include on a letterhead.
For instance, in the UK you must include the registered office address, contact details, and which part you are operating in, whereas the USA has no requirements on this issue. So, it's better to check if there are any minimum standards on your part.
Whatever your letterhead must include some informative content so that the audience who takes the paper sheet in hand must know what it is.
You need enough information to make your identity clear such as your company name, logo, slogan or wish, contact number, location or address, etc. You can also add your business email address, social media page to show that you are also available online.
Give a borderline
Want to give an extra impression to your letterhead? Then use a borderline on it. The border is a showcase; it acts as a frame to the content. Though it is not essential to give a borderline to your letterhead you can try this for better looking. A colorful border can increase the outer beauty of your letterhead. A well-thought border works like a picture frame that showcases a photo or a printing. Try to keep the border looking trendy.
Give basic details
Add basic details that will need a non-potential customer to get to know you. You need to give a clear thought of what type of service you provide. Besides, your company name, head office address, contact number, email address, the brand logo must need to included on your letterhead.
Choose your layout
The layout is a way to make paper sheets outstanding. There are lots of different layouts available for letterhead. Look for some basic layout that you can use as a starting point for your design? Here are some to help you in this way-
Full border
In this layout, color and design are placed outside of the paper. Though your letterhead is a piece of the square paper sheet, this layout will fit much to it.
Graphic border
Color and design are used to keep around the edge of the body text in this layout. It must need to have the graphic design experience to do this creatively.
Header and footer
In this layout, the design is restricted to the top and bottom of the page.
Background graphics
Want to put some watermark graphics in a low contrast shade on your letterhead? Then you should use this type of layout to give background graphics to your letterhead.
Find a perfect font
Contents in which your letterhead is carried must be established stylishly. The typeface is a crucial design element that is needed to perfectly design your letterhead. There are many different types of fonts available to choose from.
Try to choose the best for your needs wisely. Be sure to keep your company name in a larger font and bold.
A larger font is a definite trick to draw the reader's eye to the important details. Try to use just one same font and sometimes it is enough for compatibility and doesn't make the content look too busy.
However, there is an internet that has a huge collection of different typography. So, you can take advantage of that.
Pick your paper stock
The overall result of creating your letterhead is depending upon your paper quality. Paper quality is as important as the letterhead itself. It is quite known to all that the heavier weight of your paper, the more premium and professional the result will be.
Also, you should give attention to the paper's quality and smoothness. We are mentioning some papers which will suitable to make a letterhead-
Cream wove paper
It is the most common paper type for letterhead printing. It is also the most cost-effective paper because it's made with recycled paper. Although it is recycled paper, its quality is not reduced and you can use this type of paper if you want to make a letterhead in bulk.
Alabaster paper
Alabaster paper comes in two types 1) 80 GSM and 2) 100 GSM and it is best for those who need to make the letterhead look classic and professional. Whatever, it will be the best option for corporate, professional, and big brands.
Royal executive bond paper
This type of paper ensures great brightness, best strength, and excellent quality. It is available in two types of paper thickness 1) 85 GSM and 2) 100 GSM. Although royal executive bond paper is wood-free and a premium type letterhead paper.
Sunshine paper
Want to make your letterhead with slightly yellowish shaded paper? Then sunshine paper is the best choice for you. it is the most cost-effective and endurable paper for letterhead printing. It is also eco-friendly and recyclable. Highly preferable for small shop owners and retailers.
Texture paper
This type of paper has a silky-smooth surface structure and it gives a delightful experience to customers and makes a long-lasting effect. Texture paper has a wide variety in its quality and thickness. Check all those to decide which type is best for you.
Choose color carefully
Color is an element to makes something look beautiful and attractive. Colors have dealt with different psychology to the human mind. It can impact a permanent impression on the viewers. While making a letterhead for your business purpose,
You have to point out some issues which might need to create letterhead outstanding. Your brand color should be reflected on your letterhead.
You can use solid colors to highlight your company name and other details and gradients in the header or the corners. If there is a border on your letterhead, put some colors on it.
Add color to the footer of your letterhead. You can also play with your background to make it colorful but be aware that your text would be easily readable against your selected hue. If you have a brand color palette, then try to reflect that on your letterhead.
Add special effects
Special effects are going to give your letterhead an extra impression. A simple way to add effects to your design is to print solid color on the reverse of your letterhead and overprint a spot UV design that will reflect light differently to the non-UV-printed areas.
This is a cost-effective but visually impressive effect. You can also use foil blocking, die-cutting, and a specialist printer for letterpress effects.
Experiment with 3D models
You can simply add some geometric shapes like rectangles, squares, or triangles to your letterhead for an impression. It is the easiest way of creating a catching design that speaks about your taste, sophistication, and style.
Moreover, geometrical shapes can set an emotional tone that reflects your company's personality. Think about designing an asymmetrical header.
Try to keep it simple
Simplicity is key to make an effective letterhead. So, keep the letterhead as simple as possible and its design should be functional. By using too many colors or imagery is a way of turning your template into a mess that will distract the recipient's attention from the document itself.
Keep in mind that your letterhead is a delivery mechanism for your company. So, it should be built properly so that it feels great in the hand of your target audience.
Letterheads are usually coming in various sizes. For example, in North America, the typical measurement is 8.5×11 inches (215×280mm). whereas in the majority of countries outside this region, business letterhead design is printed in A4 size of 8.27×11.69 inches. (210mm×297mm). Also, other measurements often used are 5.5×8.5 inches, 8.5×14 inches, and 11×17 inches.
Which font is best for a letterhead?
The font is a way to make texts eye-catching. Remember, your letterhead says everything about your company with just a few graphics and texts. So, try some attractive fonts which will make you more visible to your clients.
A lot of people use Futura, Helvetica, Century gothic, and other mainstream fonts for letterhead. Whatever using just one same font is often enough for consistent purposes.
How much to design a letterhead?
It all depends upon the design category and quality because there is a huge variety of designing a letterhead or stationery. By the way, the figure is all-around 50 to 100 euros to design a beautiful and attractive letterhead for your business.
Letterhead is an essential branding element, just like your business logo, business card, or website. It holds your brand image and spreads it out to your customers and clients.
Moreover, there is no doubt about beautiful design which gives a first good impression to your documents. Here comes the question of the necessity to design a letterhead. besides, a corporate letterhead protects your documents from being forged.