What is a clipping mask?
A clipping mask is an exclusive photoshop technique that is used by photoshop experts. Photoshop masking is required for every image solution progress and it can be done in so many ways.
Photoshop image masking is nearly similar to the clipping path. Both techniques are used to remove the background from an image.
But image masking is quite different and it results in more effectiveness.
For your convenience, We're including here all masking types that can be done with photoshop. They are,
Layer mask
Clipping mask
Alpha channel mask
As we are here to discuss clipping masks, let's get the definition and usage of clipping masks in photoshop.
What is a clipping mask in photoshop?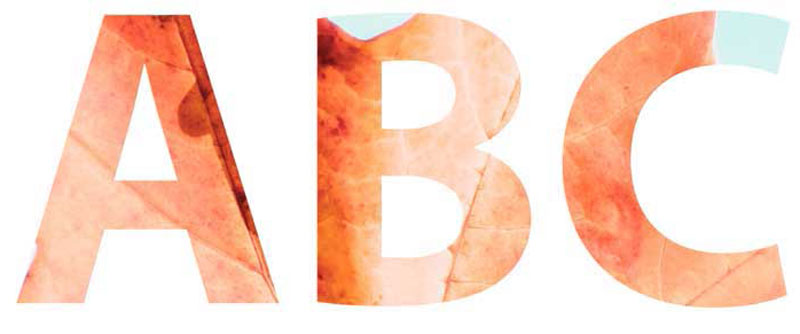 In photoshop, clipping a mask is a powerful option that can control the visibility of a layer. It is a group of layers, in which every layer indicates a different part of the image.
Every image that you use to work in photoshop, contains different shapes and objects. Like frame, text, objects, etc.
While doing clipping masks, the expert divides all those image parts into layers. Among these, the bottom layer defines the boundaries of the entire group.
Then they keep the photograph in the layer above it and text in the topmost layer.
So, a clipping mask is a task of two or more layers combining to make a better visual outlook that you want to achieve.
The combination of those layers with their content and transparency determines what would be visible of the new layer and what wouldn't.
The upper layer will remain invisible until the lower layer gets some pixels into it.
If you are a beginner, then you may find clipping masks and layer masks similar but at the end of the result, you would get the difference significantly.
What is the usage of clipping masks?
The clipping mask is a powerful Photoshop technique that helps to create beautiful designs with frames and text in Photoshop.
Experts use this technique to create,
Frames for images
With the clipping mask technique, you will allow creating frames for your image and put them on wherever you want in your image.
As we discussed above, Photoshop refers to so many custom shapes to create beautiful frames. If you don't like any of these, you can also create a shape that you want to see in your image.
Attractive typography
As we did the text clipping mask above, we can make exclusive typography with the text that we want to use for a specific reason.
It is a great technique for some great issues like the print design industry, as they have to work with visual typography design.
With the clipping mask technique, they can make any typography design related to their printing material. Especially for magazine design, clipping text masking is a great option to choose from.
To create attractive image layouts
In photography, layouts are an important matter that can't be always optimized perfectly. To reveal the deep meaning through an image, photographers need to edit their photos with several editing techniques.
Photographers who used to take models or glamour photographs for any specific photography agency, have to edit their images to be more appealing.
The clipping mask technique will help them in their journey to make things better and standard for them.
Who needs a clipping mask?
A clipping mask is a mentionable editing technique that helps a lot in some situations.
A clipping mask can be used for so many purposes but here we're mentioning some specific sectors where a clipping mask is necessary. These are,
Photographers create beautiful frames according to the customers' desires.
Printing design agency, as they have to print cards, brochures, flyers. Clipping masks will help them a lot in making beautiful typography.
A clipping mask is also used to remove the background from images and attach the object to a required shape to look better.
To make advertisements for product items online or on social media.
A clipping mask is very useful when you need to focus on an exact part of a photo.

Services: All Kinds of Content Creation Services Company
How to do a clipping mask in photoshop?
Clipping a mask refers to some unique techniques that will allow you to make any of your images is like a shape.
You can also make the text a masking shape through a clipping mask.
In this article, we are going to show all these different techniques of clipping masks. Let's start the operations,
Clipping mask with frames
With the clipping mask technique, one can adjust any part of an image into a shape.
In photoshop, there is a huge collection of various types of shapes and frames from where you can choose any that you want.
To do clipping mask in photoshop, you will have to follow some steps that are given below,
STEP-1
Open the photoshop application on your device. Then select the image that you want to use in your first clipping mask project. Go FILE > OPEN > Select the image
STEP-2
In the photoshop window, you will find so many tools on the left side. In which you should choose the rectangle tool and hold it for a second. Then you have found six options holding the rectangle tool. Select (Custom shape tool).
By selecting the custom shape tool, you will allow access to the shape feature in the options bar will offer you so many custom shapes.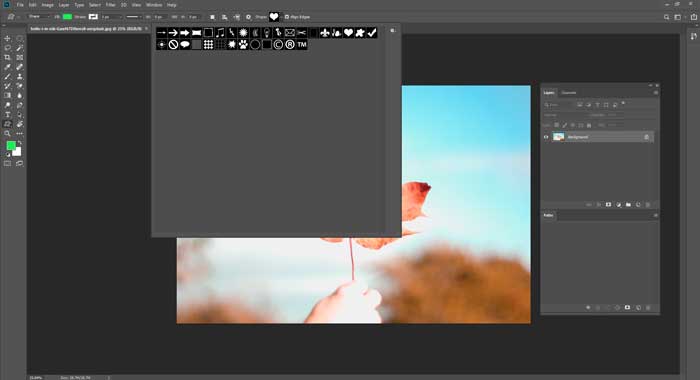 STEP-3
When you choose one shape to apply to your image, hold the shift key while drawing the shape to keep balance the ratio of the shape.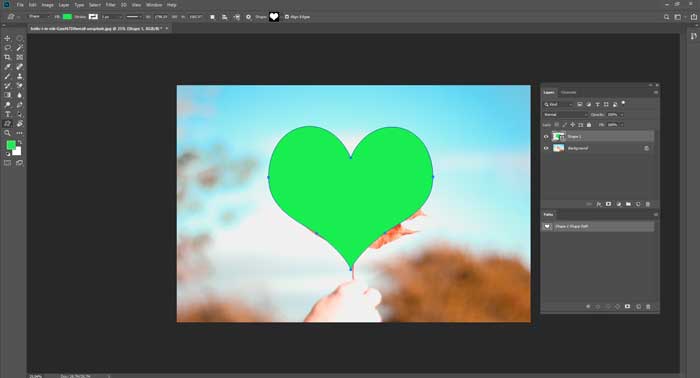 STEP-4
Look at the layer panel, you will have to place the image layer above and the shape layer bottom. Now, right-click on the main image layer and select the option (Create clipping mask).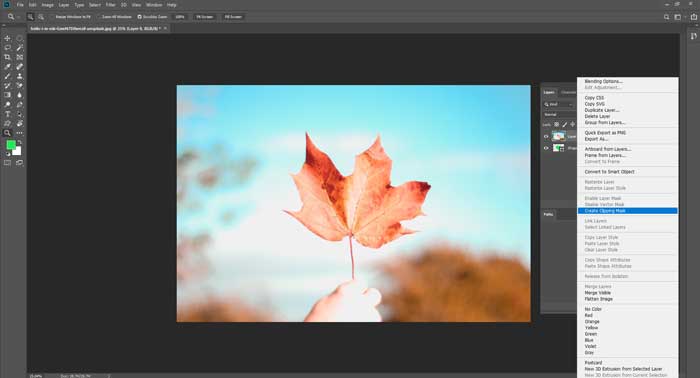 STEP-5
You have done your first clipping mask project by yourself. If you aren't satisfied with the position of adjusting the frame in your image, then no problem. You can still change the position of the frame by simply clicking on the image and shaking it wherever you want to place the frame.
You should remember one thing in the time of making a clipping mask in photoshop, that is, the shape you are working to apply to your image. Put the shapes layer bottom of the image layer.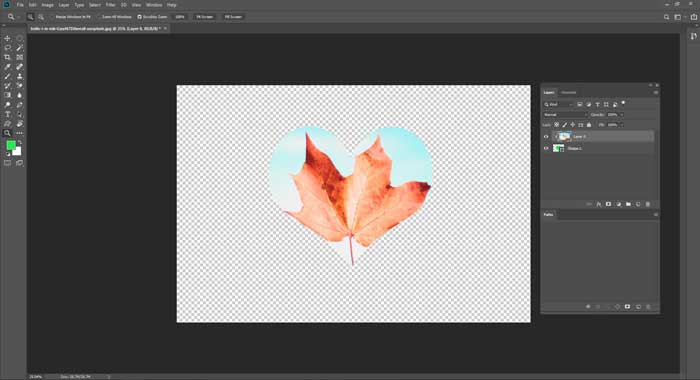 Text clipping mask
Here we're showing the step-by-step process of making a text clipping mask in photoshop.
STEP-1
go to File>Open>select the picture that you want to open.
STEP-2
Then you should have to go to the toolbar and select the Text tool. Click on the image where you want to place the desired text. Then write something.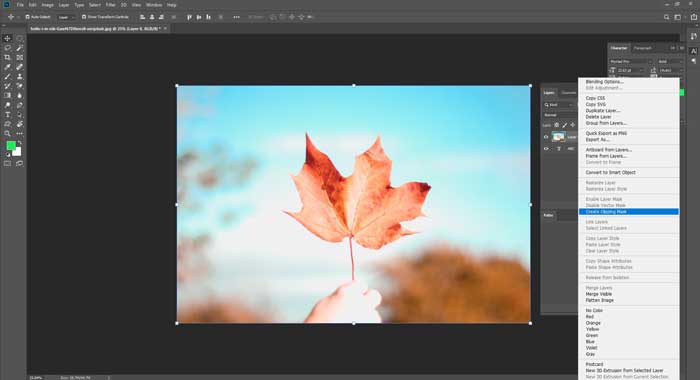 STEP-3
Now take the cursor on the layers panel and take it in the middle of the image and text layer while holding on to the Alt key. This process releases the clipping mask and turns the text into a mask.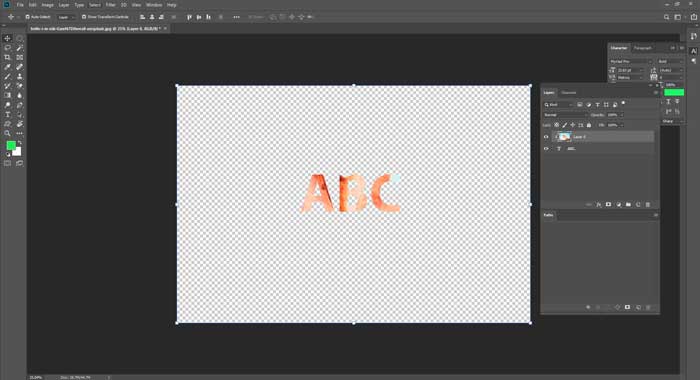 From above, we get the sense of clipping masks. Clipping the mask is nothing but a photoshop design that needs to mask the content of one layer using another layer.
Hope these two clipping mask processes will help you to make a design with any of your images in Photoshop.
A clipping mask is a great photoshop technique that is used in many image solutions. If you need to use frame or exclusive typography with the image then you should use this technique.
To use a clipping mask in any image project, you have to acquire the skill first. Also, you can find an editing agency or an expert one if you don't know about making a clipping mask by yourself.