Resume Design Service
Resume is a traditional but smarter way to let others know your competencies in brief. So, getting a resume design service raises the chances to get notices. Because the regular resumes are less attractive. But the professional resumes look great in all terms.
No matter how qualified you are, you need the right way to present your qualification to your potential employers. Thus, if you get CV design and writing services, the chances of getting noticed for any particular job are enhanced.
Expert resume designers add some aesthetical aspects in the resume. As a direct outcome, the common resume becomes an extraordinary one. Alongside expressing your capacities, the designed resume upholds your personality. Ultimately, the job application turns into a successful one.
Our expert designer focuses on every single detail and highlights your skills through the design. The resume turns into a valuable asset for you and adds confidence in your heart. It boosts your level of self-confidence, and also brings peace of mind.
So, try our service to adore your resume professionally.
What Is A Resume Design Service?
In the modern age when all types of products and services are available for money. You can buy whatever you need or what you can't do with money. We all are familiar with freelance work that is provided by freelancers online. Freelancers are so expert on some categories they are offered. What type of services do you need, you would get a freelancer who is expert enough to do the job for you. Today, people are doing their technical writing, blog post, logo design, and banner design with the help of freelancer workers. Similarly, resume design service is also creating a peculiar post in the field of freelance service. If you are a job seeker but can't make a perfect resume to apply, then no problem you can do that with the help of a freelance service provider.
Also, most graphic design agencies now offer all types of design-related services including resume design. So, it is too easy to find a resume design service agency to meet your needs if you are finding one for yourself.
Resume Design: How It Matters?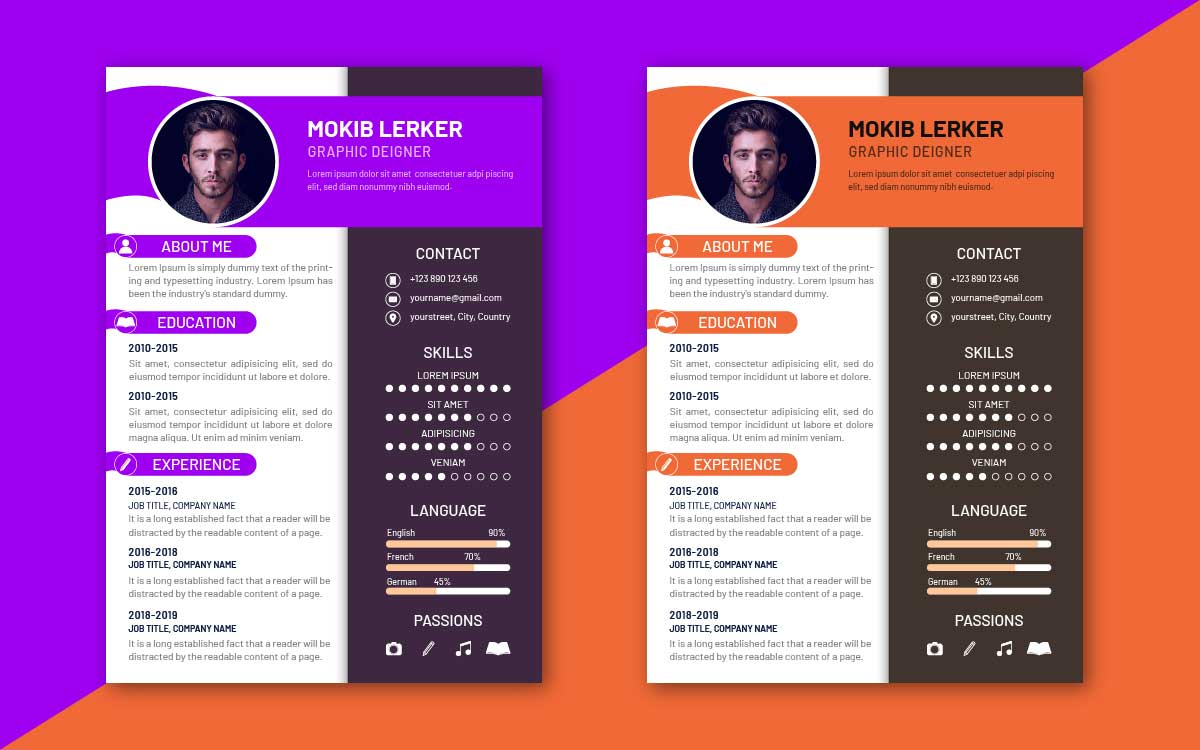 Most people use to go to a computer expert when they need a resume of them. They don't pay any attention to whether the template is good or not. They go and ask to create a resume. But so many people need a more professional resume to send to a big company or firm. Because not all the authority works the same. Big organizations have required a high profile to select an employee. Moreover, when you have sent a resume, the receiver or the recruiter hasn't enough time to give much time. Because thousands of applicants apply for a job so that the recruiters can give the highest 1 mint to check a resume. This is why you have to present your resume as the best of the rest to catch up with the recruiter's attention to you. Not only for information but also the overall look of the resume, you have to pay a lot to create an outstanding resume.
A Variation On Resume Design
Resumes come in so many varieties as different job vacancies require different types of information and skills from the applicants. That means a resume for an NGO job vacancy and a resume for a graphic design post won't be the same at all. A resume comes in almost different categories according to the matter of creating it for which job purpose. To put it simply, when you have to create a resume as a graphic design expert, you need to show your editing skills like,
Creative design
Illustration work
Editing
Drawing and art
And so on.
But when you are a commercial agent and looking to get a job similar, then you have to focus on skills like,
Marketing
Advertising
Coordination
Communicate with people
Expertise in certain computer programs like excel, adobe, and PowerPoint.
So, you have now known that your resume is highly dependent on which type of job you will be applying for.
What To Do Or Not In Resume Design?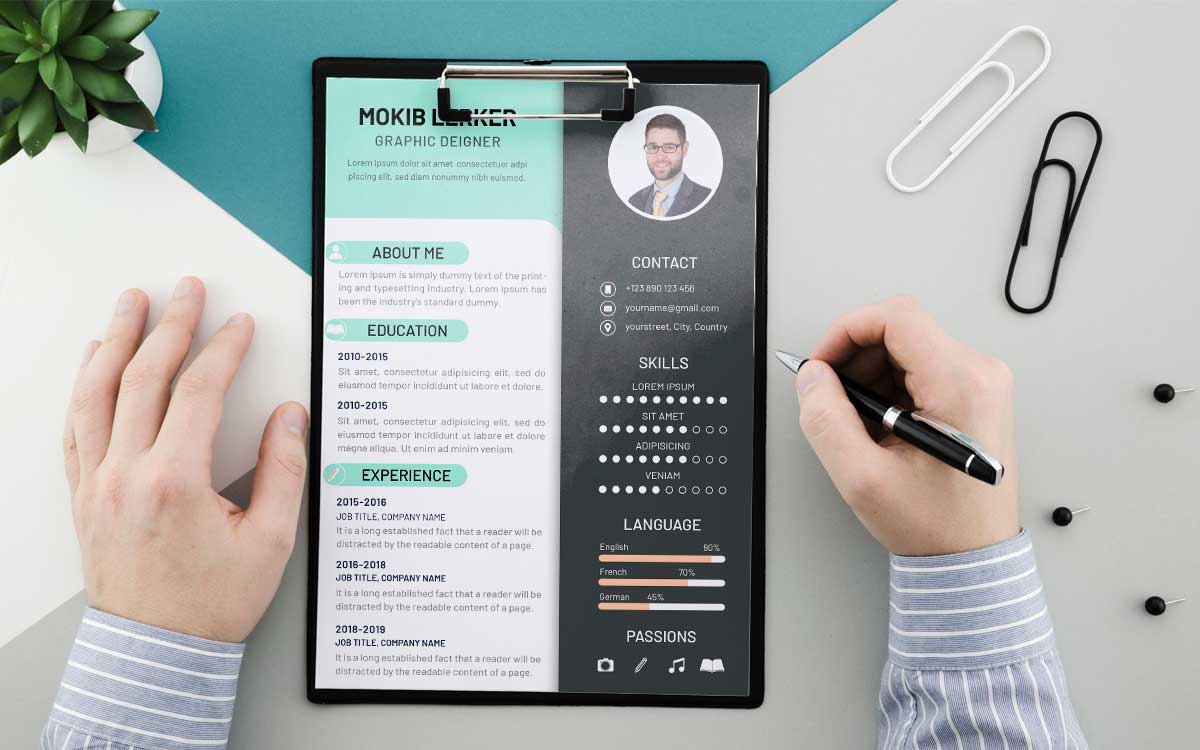 Well, you are here to find the best custom resume design service for your purpose. If you read the above discussion, then you already have a sense of a resume and the importance of presenting a resume in the best way. When it comes to the question of designing a resume of your own, you should have enough experience in this regard. If you already have that, then it's fine to go one for you. But if you don't have the experience in making a resume, then you should search for a professional resume design agency in this issue. Find the best one for your purpose and tell them what you want to include in your resume to make it as perfect as attractive. People have faced some difficulty when they put information on a resume. That is what type of information they should include, what information comes first and what last, in which way they should design it, and so on. According to these, we are showing here all of the questions that are needed to know before starting to design your resume. First, let's talk about some options that aren't for a well-looked resume. So you should include this information in your resume such as,
Don't Use Cliches:
Recruiters are tired enough when they check huge resumes and the same words after and after. Most applicants used to add hard worker, team player, or detail-oriented type words in their resume which made the recruiter bored. So, you should ignore those things of the past and have to add attractive and smart phrases to keep the recruiter connected.
Don't Use Negative And Vague Phrases:
Let's compare two sentences here below,
Passed ambitious production goals.
Optimistic revenue numbers achieved.
Those two sentences refer to the same meaning as someone's but the last one is quite stronger than the first. So, you should use these types of sentences that leave a negative thought on your resume. Another example here to make you clear in this regard is (running a project with a group of five selling members) which can be more attractive if the sentence is formed hired, and directed by a selling group of five members with annual revenue of more than $10 million. The first sentence is too straight that views your achievements but not your professionalism. But the second one is to express both of them that must get a connection of the recruiter's eye.
Grammar Mistakes:
You have to be aware while writing basic parts of your resume. Grammar mistakes can make recruiters have a bad feeling about you. Many applicants don't inform them as they create their resumes in a hurry. Grammar is an important issue to give attention to creating a resume for a job. To keep away your resume from grammatical mistakes, one thing that can give the best result is revising. When you complete the resume, revise it as much as you can. You also read your resume loudly so that any unnecessary grammar mistakes will be spotted if there have. Give attention to verb sentences, subject-verb agreement, hyphen use, and apostrophe in your resume.
Don't Use More Than Two Fonts:
Fonts are the way you can give your resume a different look from others. Fonts are the style of expressing your resume letters. So you should have to choose the best font to complete your resume. Don't use more than two fonts on your resume as it can make the resume look too busy. The best is to keep only one font and go with it at last.
Don't Include Soft And Obvious Skills:
Everyone is skillful in some common sectors like typing, Microsoft Word, PowerPoint, and some other views. Every resume has a particular place that shows the applicant's skills. And most of them used to include those common skills that are not so perfect. Because you have to keep yourself ahead of others, your skills should well be organized to do that. That's why the skills you would use to include your resume, should tell your professionalism. While everyone is using bullet points to describe their skills, you can put yourself in a different place not using them. Just frankly show your skills within a para, which would work best as a highlight.
Avoid Mentioning Job Description As Same As The Recruitment Post:
You should not mention the job description that is already given at the recruitment post. Many applicants do this without any hesitation but they don't know it can keep them behind their competitors. For instance, imagine a recruitment post that includes two options in search of their applicants are, (speed learning ability) and (vast knowledge of programming). Surely, half of the applicants would go to add those two options as the same in their job descriptions section. It is not right. You should keep yourself different from others. Instead of applying the same thing, you can make a similar phrase to express the same line with differentiation.
Mention Your Awards And Honors:
By adding awards and honors, you can make yourself a chosen one for the recruiters. Most applicants use to focus on roles and obligations only. But that is not enough as the recruiters already know that you did something similar so you apply for the job. Achievements, accomplishments, and awards would tell them you were done the job with confidence and higher skills. Moreover, not all the applicants have the opportunity to include some extra advantages like achievements in their resumes. So if you have any of them, don't take it usuriously.
Volunteer Work:
Sometimes many applicants don't get the way of how to add some volunteer work that they did before. It is not a much-complicated issue as they see. Recruiters who have a hard day because of checking so many resumes by sitting on/her chairs might be happy for any applicants with lots of volunteer work activities. So, put your volunteer job experience in the working experience section of your resume. Almost all recruiters have spent a few on the working experience when they check yours, they surely spend some extra moments on your volunteer activities.
Show Your Versatile Skills:
In the past, applicants included their skills only in a section. Skills are a very important option for your resume that can let you stay forward. When you are applying for any job, you must have some skills that are relevant to the post. For instance, you can't apply for a graphic design post without editing or design skills with software. When you have added your skills to the resume, you have to be smart to make it as perfect as possible. It has now become a trend as people use to include their skills by breaking them into some sections. Present resume templates online, you will find skills according to,
Personal skills
Management skills
Technical skills
Computer skills
Additional Skills
Leadership skills
If you don't have enough skills to fill that option up, then don't go for that.
Make It Optimized For ATS:
It may be a new application to you but ATS is going for Applicant Tracking System. It is used by large organizations as they have received huge resumes that aren't possible to check. So, they use ATS, which is programmed in a way that can scan for contextual keywords and phrases. Then the system scores them mathematically to relevance and separates non-qualified from qualified. It then sends the qualified applicants' resumes to the human for another check. So, you have to make your resume in a way that it can pass the ATS and smoothly go on the human hand.
Use Powerful Verbs:
The pronunciation and the verb you are using on the resume should have a strong emphasis on the readers. When you use potent verbs in your resume, it sounds smooth when it is read. You have to skip common forms of verbal words like led, handled, managed, etc. You can easily replace them by charting, administering, consolidating, or maximized, and so on.
How Does Resume Design Service Benefits You?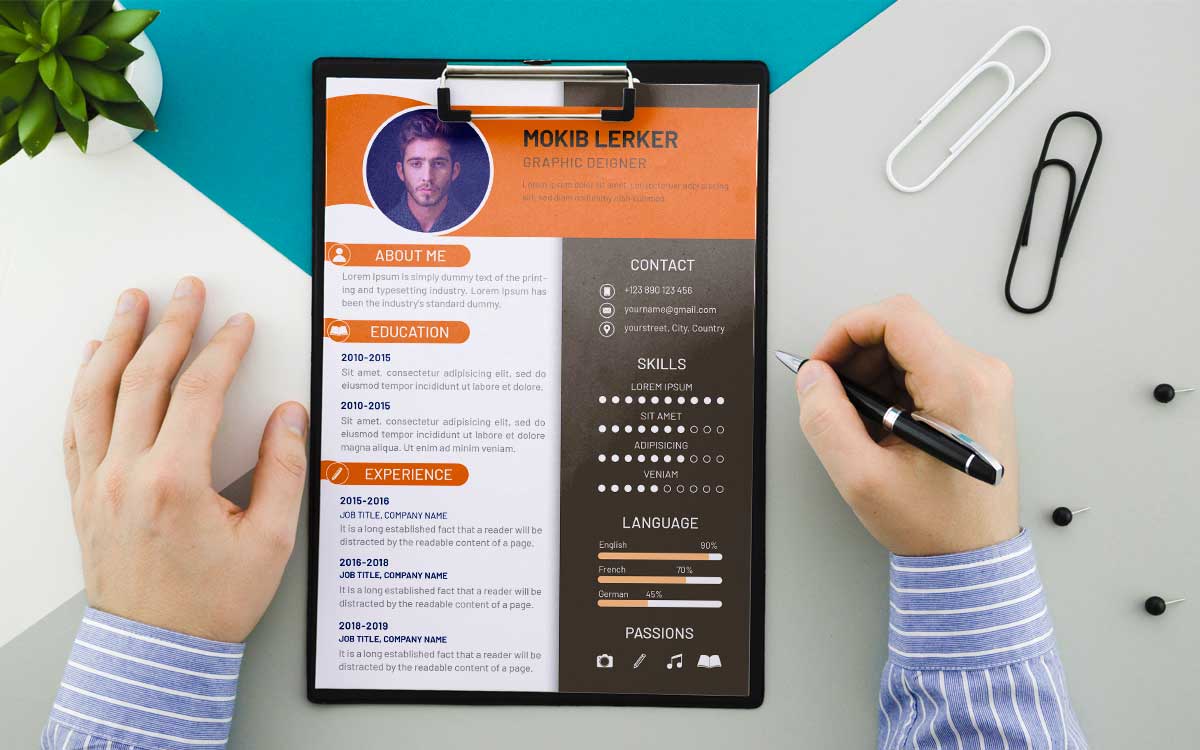 Many of you are thinking that you are taking so much effort into the graphic design of a resume for your job purpose. Hiring a freelancer or going to an agency is costly to make a two-page printing material. No, you are on the wrong side, if you read the above discussion, you have already learned some important issues that you might have known before. Because you don't have the right sense of creating a perfect resume on your own, instead of being a design expert, you can't make your resume and this is literal. When you must take the help of others, then why compromise this offer by going to a non-professional person who makes your resume on a pre-created template? A custom resume design that is created with the help of a design expert will keep you ahead of the competition. Well, there are so many benefits that come with resume design. We're including some of them here below,
Attractive:
A great thing comes with great responsibilities. Although, you don't have the experience or skills to make a resume for yourself. But if you go through a resume design expert, it just costs you a few or nothing more. But in exchange for that money, you will get a responsive resume with an attractive design that must take the attention of the recruiter. Traditional resumes are just a combination of some words, but when an expert designer works for your resume. You are going to get the best result for sure.
Add A Positive First Impression:
A resume design that is done professionally hand comes with a first impression. That means, when the recruiter will open your resume, they have surely got something different from others. Usually, a recruiter spends almost one or two minutes checking a resume. As there are so many resumes they have to check, they don't have a chance to check one closely. In this issue, adding a positive impression to your resume will work in a great way for you. When you design a resume by a graphic design service provider, they not only include necessary data into it but also add some extra design.
ATS Optimized:
ATS is what we discussed above, it is a computerized control system that works functionally and mathematically to check the resume. It is used to qualify resumes that aren't managed well. Creating a resume by a resume design service provider will ensure you get an ATS-optimized resume. So, you don't have the tension of qualifying by unexpected machines. Moreover, it will let you go to the next stage, and maybe you will get a call for a viva.
Save Your Time:
It is a great benefit of a custom resume design process. When you have given the job to any third party, you keep yourself away from big trouble. Creating a perfect resume is a big issue for job seekers, as they don't have the right sense of positioning information in the right place of the resume. That's why, if you take a resume design service, whether online or offline, you will take the right decision. It will save you time to distract yourself from some trouble and also make you confident in having a perfect resume.
Grab Employers Attention:
Finally, one thing that you can easily assure with a custom resume design service is grabbing your employer's attention. A perfectly-created resume shows your professionalism separately and makes you distinct from others. And those who are experts in resume design have so many ideas of how to grab the recruiter's attention with that paper sheet. So, take your service provider easily to get the best result for your money.
How Much Does A Resume Design Service Cost?
Whether you are looking for creating a new resume for your next job application or you want to rewrite your previous one to make that update. Resume design service will cost you according to your need. If you search about resume design services on google, you will find so many resume design service providers with various types of pricing ranges. The price for a resume design service depends on the resume and the way how much it needs to be worked.
Whenever you meet a resume design agency, you have to receive a form that is needed to fill up. Then the authority will start their work by adjusting information on that form. Although resume design service typically charges around $100-$400 based on the company you have decided to go with. If you are a job seeker and have a hard time preparing your resume, then you can make this article your way-finder to take you over from such a situation. If you decide to prepare your resume by any resume design service provider, do it as quickly as possible because the time isn't going to wait for you.