Postcard Design Service
In the age of strategic marketing and online, talking about something like postcards can make you laugh. Postcards are one of the best things to share specific contexts directly with others. It is used to create a sense of urgency to the purpose and also it has a range of usage in marketing and other purposes. So, in some cases, you may also feel the need for postcard design services. However, at present, we are more likely to use the internet, email, and social media to find and resolve most of our modern problem's solutions. Not only in communication, but also in business, education, and all over things, they have a great impact all the way.
Does that mean offline activities and materials are going to lose importance?
Not at all, because no matter how much time we spend online in a day or how much impact they expand on our life, we can't ignore the real world, the feeling of nature for which we need to come into the offline world even for a while. When it comes to business advertising offline, we need to rely on advertising content such as banner design, posters design, flyers design, brochures design, etc. Which are the best functions to create a business position in the crowd. By the same token, sending invitations with postcards, and spreading brand words for specific approaches is a great offline marketing strategy used along with others.
What is a Postcard?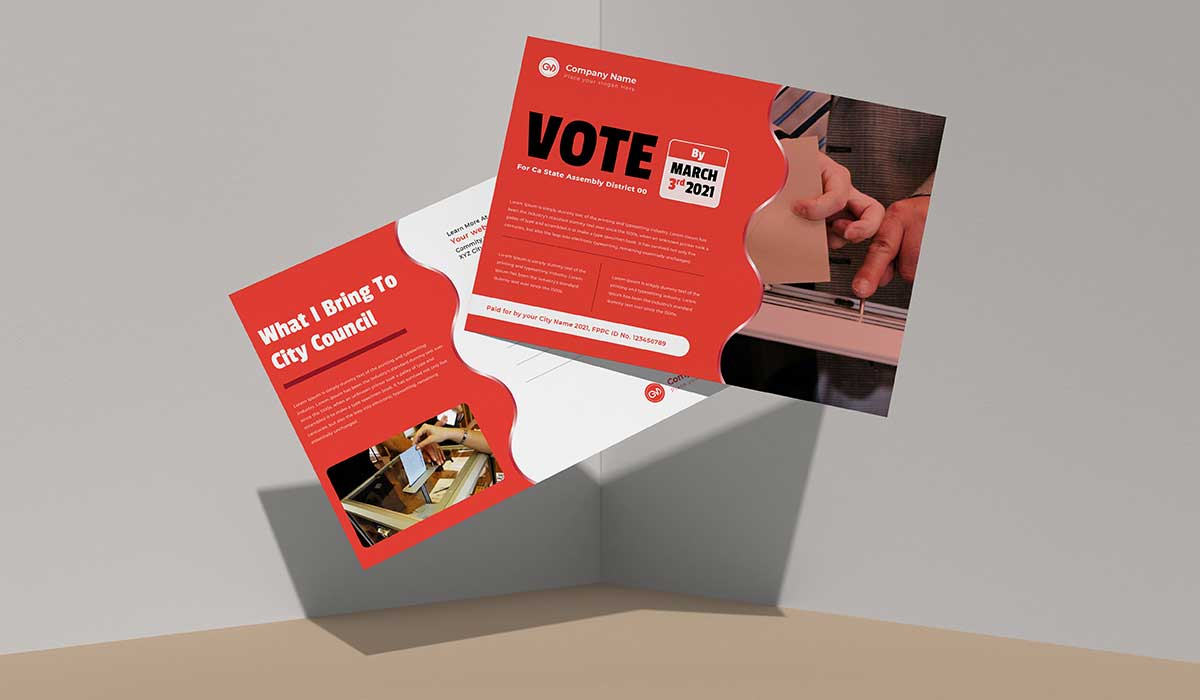 Do you know 56% of Americans still purchase from direct mail? Simply put, the postcard is a kind of paper piece that conveys specific messages directly from the sender to the receiver. It is different from the conventional letter type as no envelope is needed for postcards. Postcards are usually rectangular and can be made with thin cardboard, fabrics, and sometimes wood and coconut also used instead of paper. Postcards cost lower mailing costs than letters. But when postcards disseminate for personal invitations and institutional purposes, there is no need to mail them. in such regards, it can be handed out personally. Postcards became more popular in the late 19th and early 20th centuries as a great and easy communication tool, especially in western countries. Also, now, people like to design beautiful postcards on their own to let someone know about any specific issues or as invitations and proposals.
However, postcards are not the only usage of conveying message cards, but their comprehensive use and extreme popularity also make it a matter of study and more than a remarkable hobby for certain people. You may have heard the term deltiology which stands for studying and collecting postcards.
Different Types of Postcard Design
From the very beginning of using postcards, it is customized variously in their size, shape, material fusions, and other facets. No matter what your purpose is to design a postcard, you should have an idea of different types of postcards so that you can consider a better one for you. Here are the postcard design ideas below to explain how they can vary in size and shape.
Regular Postcard
A regular postcard is a kind of postcard that we use to see most of the time. They come as enough in size and thickness to use in party invitations, event calls, and brand promotion. A regular postcard is perfect to include pictures as you want. However, you can use a regular postcard for marketing purposes by adding a clear call to action, and specific collaboration of typography and image. Regular postcards are generally 4.5 in height, 5.6 in wide, and 0.006 inches thick.
Jumbo Postcard
Need some additional space for your postcards to include extra information? Then jumbo postcards may be a suitable option for you. The bigger the better, the use of beautiful postcards has changed over time. Postcards for business and marketing purposes require more space to properly deliver the right speech to the audience. Jumbo postcard sizes vary according to the needs of feedback. But the most used jumbo postcard sizes are 5.5x8.5, and 6x11. With jumbo postcards, you can include multiple images, lists, and whatever you want.
Panoramic Postcard
Panoramic postcards are those which have a vintage panoramic scenario with powerful typography. Postcards are not always used as a means of communication and thought, they are a good collectible, and although many people collect postcards as a reflection of memory. However, panoramic postcards are very good to keep in the collection. People use panoramic postcards to give someone memorable and related images.
Giant Postcard
Giant postcards are designed for prominent marketers, to handle any of their annual meetings with clients, agents, shareholders, and other officers. The only reason to choose giant postcards is the need for extensive space. It is very perfect to use in large marketing events, and campaigns and also for attracting people's attention to a specific brand and organization. Due to its large size, it used laminated or extra protection to prevent any damage. So, if you have a giant postcard and you want to mail it anywhere. Try to mail it with first-class service and through EDDM.
Postcard Design Inspirations
When you need to print standard postcards for any of your reasons, you must go to a design specialist to get the job done. In the conversation with the designer, you may be asked a question like what type of postcard you prefer to design, postcard size, elements you want to include, and so on. In the meantime, you should have an idea of what can make a postcard beautiful and engrossing. However, there is the internet where you can get a plethora of postcard designs and inspiration for yours. Take a look at the list below, we provide this to our very first clients who have no idea about postcard design,
Postcards for special days like valentine's day

Movie postcards

Postcards with beautiful quotes

Postcards with animations and cartoon character

Travel postcards

Illustration of unique postcards design
What are the Purposes You May Need to Design Postcards?
There are a lot of possibilities that directly influence the necessity of designing beautiful postcards. A postcard has some great usage in some big cases when it takes the full course to itself. As you are here in search of a professional postcard design service, that means you already got reasons to design postcards. But there are some other reasons that you may not know about the necessity of postcards. Therefore, we are talking here about the different usage of postcards below. So, let's dive into it,
Postcards for Invitations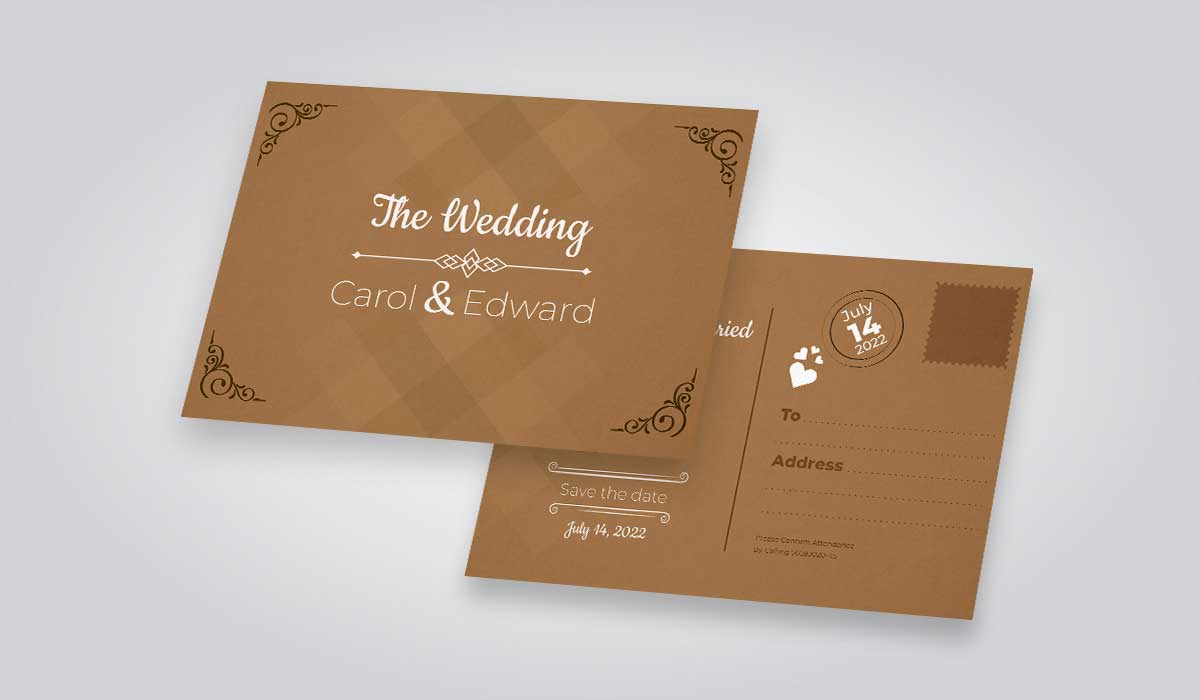 Postcards for invitations are a traditional way of sending invitations to the nearest people, and neighbors and it is just a trend in The United States. Besides, it is a cost-effective and lovely way to directly send invitation messages. Typically, we used to hand out wedding and any party invitation cards within the best envelope design. But if you choose postcards, you don't have to pay an additional charge for the envelope. In this way, postcards can be used at weddings, birthdays, anniversaries, and any other parties to invite people widely.
Postcards for Events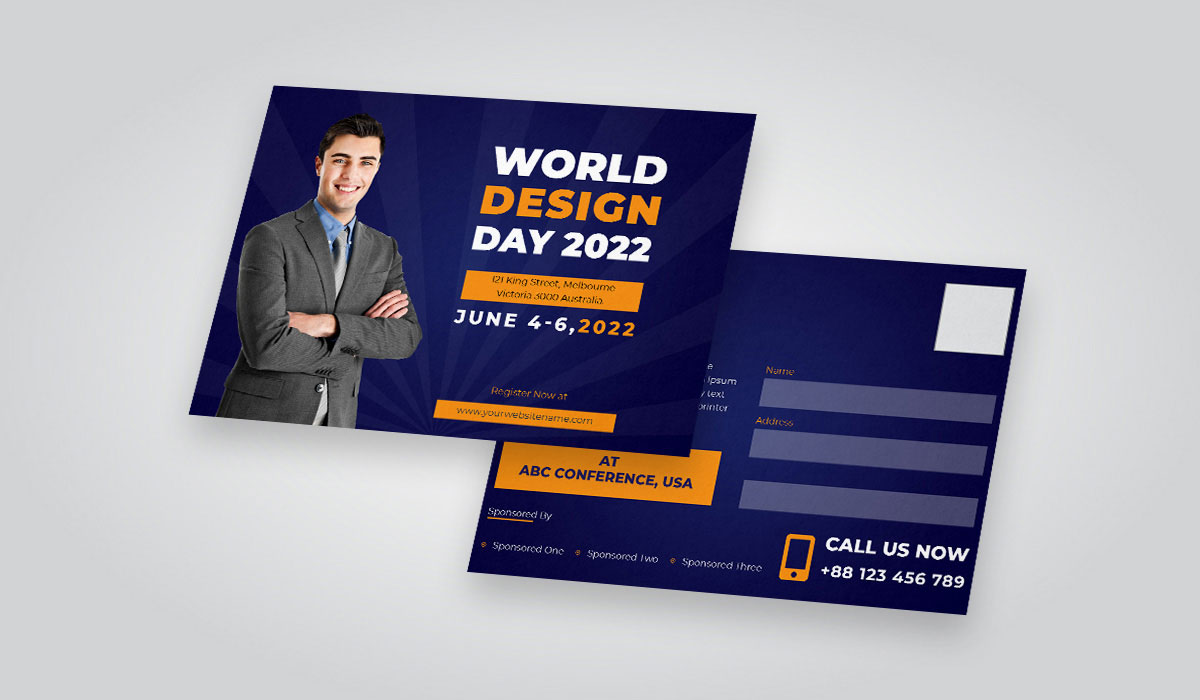 With a small but operative look, postcards can be a great solution for your upcoming event management. Though postcards are short in the body, you have still a high chance to express important cautions through them. For spreading event awareness, there is nothing as important as postcards. It is so convenient and can easily be handed out among a large number of people.
Postcards for Direct Marketing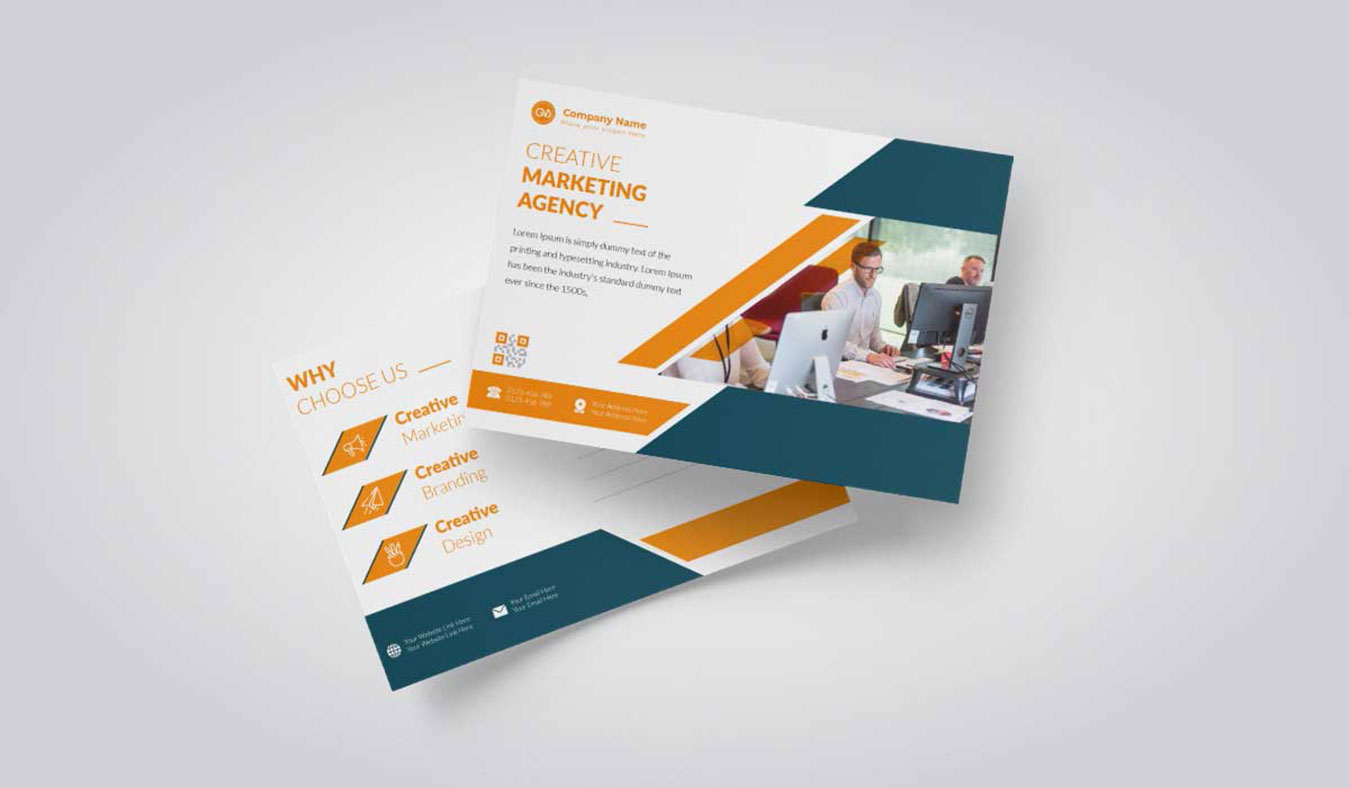 Yes, postcards are so effective in offline direct marketing strategies even in the digital world. Sounds scrappy but it is true, compared with other forms of present marketing, postcards are more effective than all of them. Let's get some points of view about why postcards are so effective in direct marketing.
Simple presentation with actionable words and outlook

Given directly to the recipients

Short in words, that more in action

As printed with beautiful designs, people like to hoard them carefully

Postcards are delivered physically to prospects' mailbox, there are no other marketing formulas as directed as postcards
Postcards for Promotion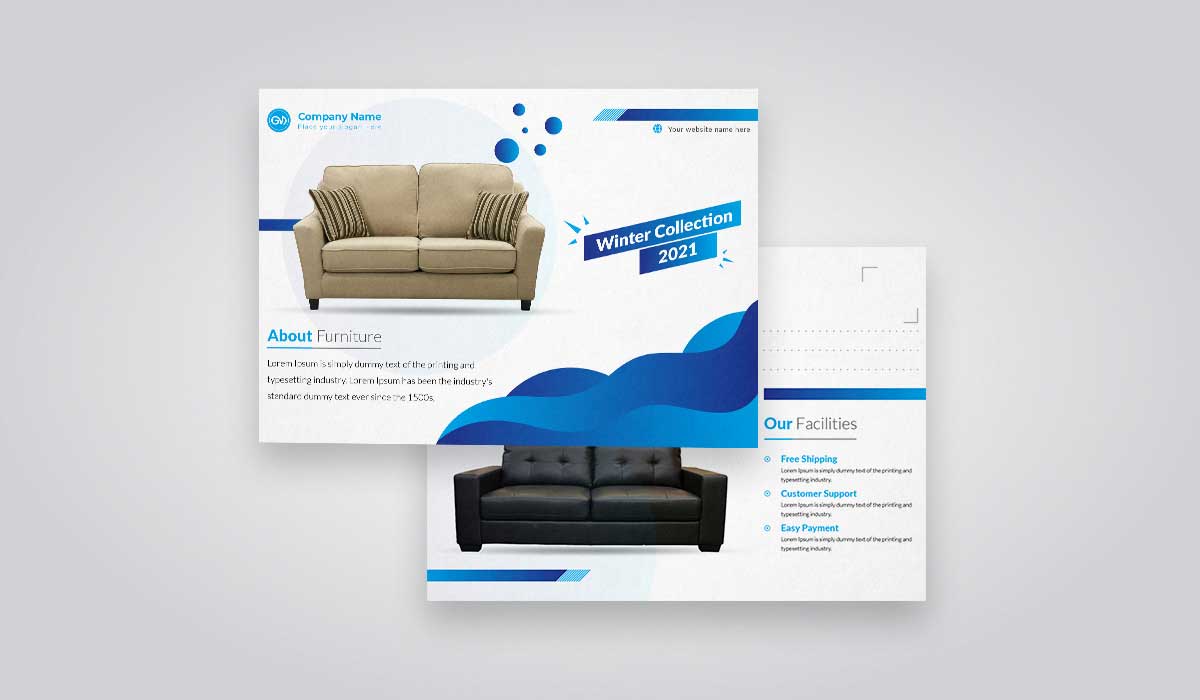 Postcards are such great promotional tools that can help you to grow your business cost-effectively. Because postcards are less in size and are effective for marketing with content, using postcards for promotional purposes will land customers directly in your store. Postcards are cheap to produce, one can create thousands of postcards for a product promotion campaign and can share them publicly. Once postcards are given to the hand of people, they must have a look at them. And if it seems like something in their favor, they must engage with that. So, it is clear that you can promote both product and service and anything through them.
Postcards to Voters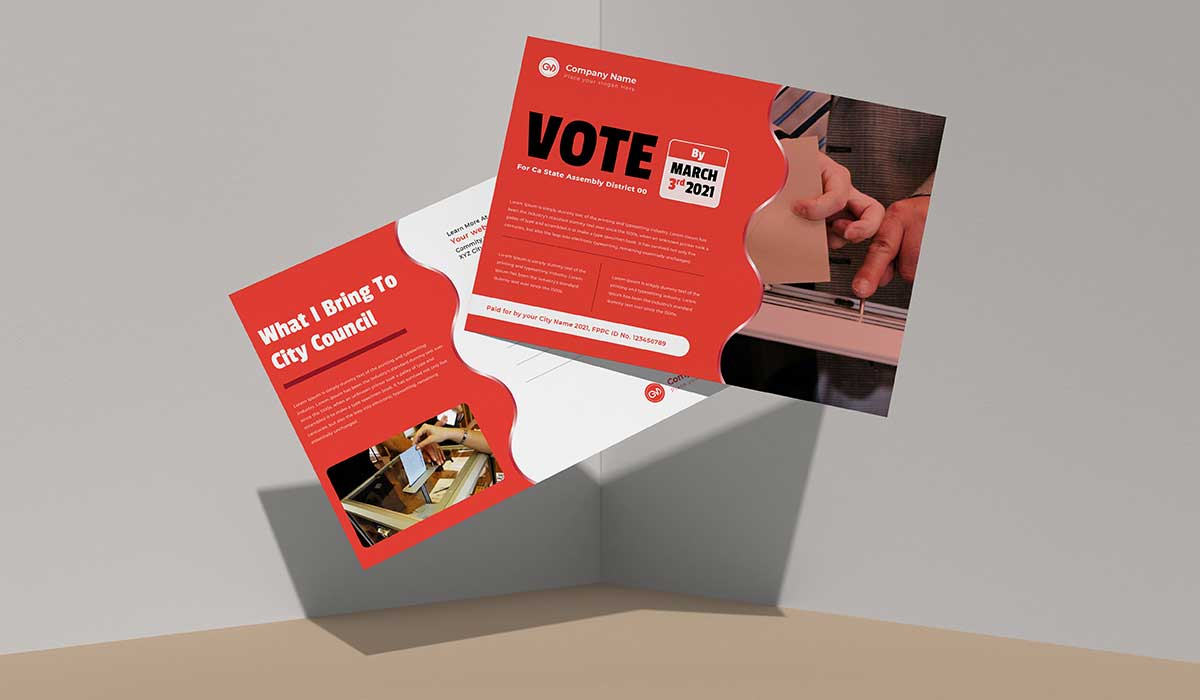 In the United States, it is a common practice that takes the part at the time of the election. In this event, democratic candidates used to send postcards to voters specifically. The program is managed by volunteers from all over the United States. The entire process is so friendly and it's all handled by the volunteers. Since 2017, postcards to voters have attracted more than 61,000 volunteers in each state who have written nearly 4 million postcards to voters in the run-up to 122 elections.
Postcards for Sale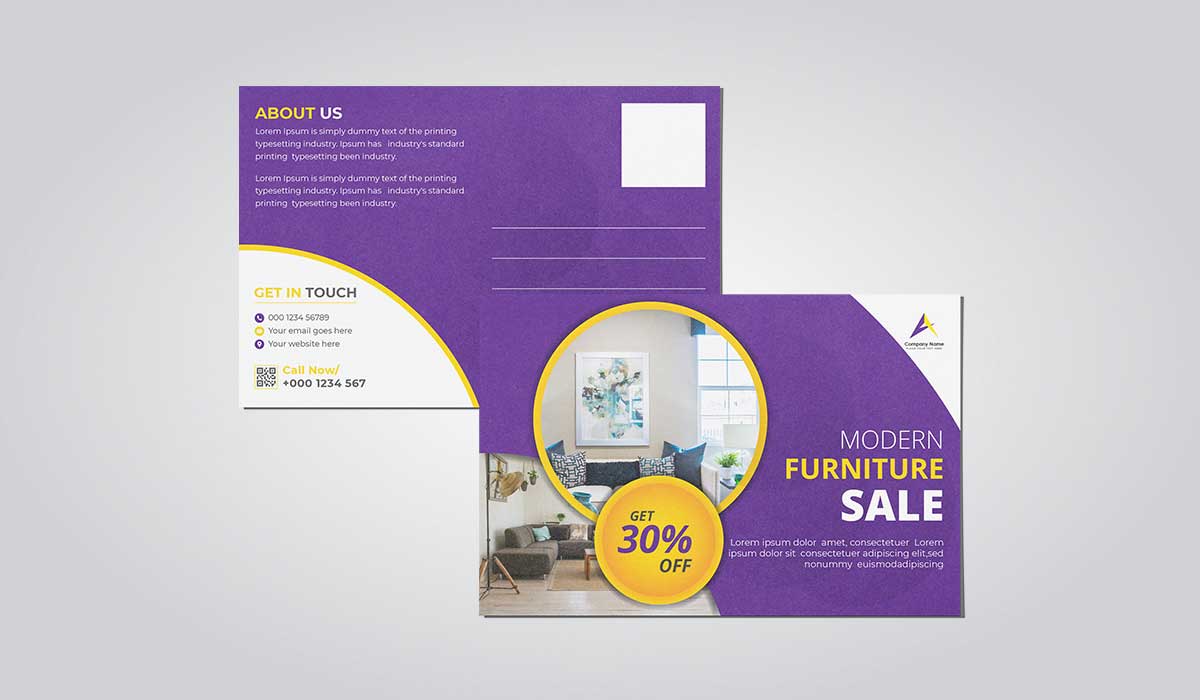 Because of various uses of postcards, they are now a matter of art that has exceptional price and demand. As they are so cost-effective, people are more likely to use colorful postcards at events, the party engaging, and so on. Due to the comprehensive usage of postcards, there are agencies set off everywhere. Those agencies design postcards as people want. Also, some freelance designers used to sell pre-designed postcards in the online marketplace.
Real Estate Marketing Postcard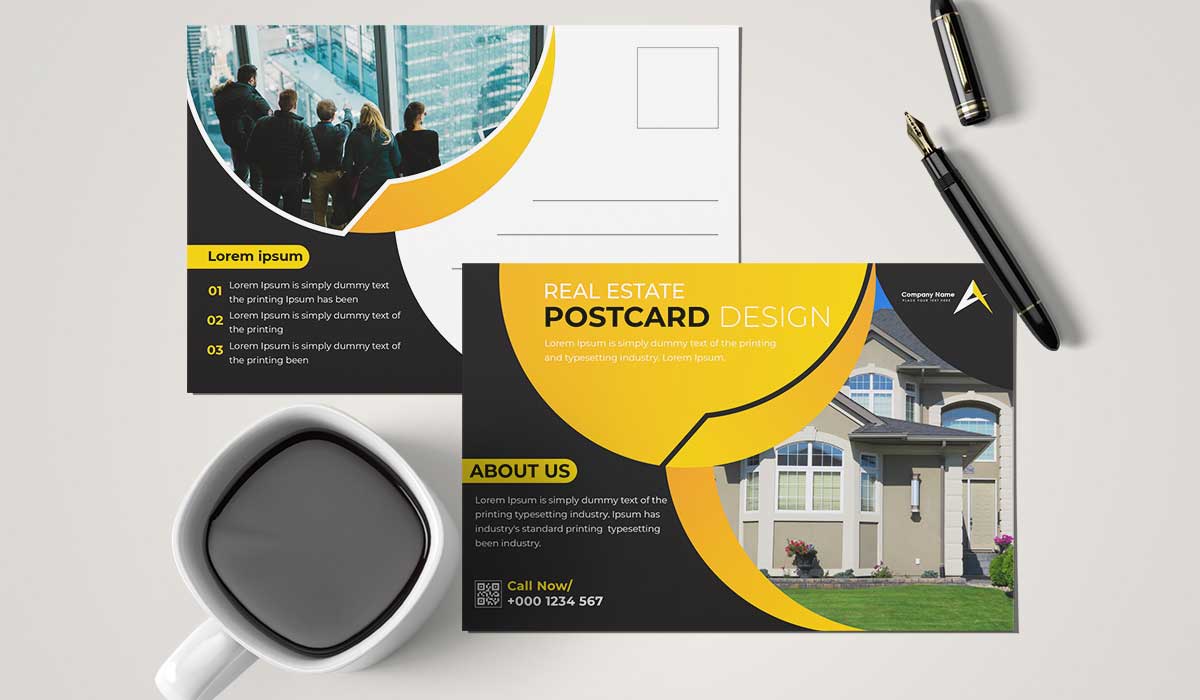 Postcards for real estate marketing purposes create a huge sense and it is one of the popular uses of postcards. Real estate business holders showcase different sites, projects, and apartments to deal with their clients. They need it to attract clients with stunning views of the site so that the client will get to buy. Postcards have been used in real estate marketing for decades. Especially jumbo postcards and giant postcards are perfect to fit all the needs of a real estate organization.
How Much Does It Cost to Design a Postcard?
As previously said, postcard marketing isn't so expensive. You can make postcards for each high volume needs for marketing and promoting purposes or a few needs like special party invitations and so on. Whatever your purpose, you don't need to worry about the cost factor of postcards. Some important factors regulate the entire price range for postcard making. They are,
Design Cost
When you are setting off to design a postcard for yourself, you have to pay attention to its design first. For design, it will be better to find a postcard design agency online as there are so many postcard design service providers you could find to meet your needs. They are way too professional to catch what you want to focus on in the design and could deliver you the exact theme you are looking for. However, the design costs may vary depending on the agency you have ordered the design. According to quality and other design aspects, you can find postcard design services starting from $50 to $500 online.
Print Cost
Once you have got a design for your postcard, it's time to print the design and make the job finished. You can deal with your local printing press to have the best idea of the paper quality and further modification. Nevertheless, many agencies do both design and printing simultaneously. You can go with one of them if you think it would be better for you.
How to Address a Postcard?
Postcards often need to send to remote areas via direct mail. Sending a postcard to the nearest and dearest person creates a good feeling, keeps friendships strong, and also meets business purposes. However, the main goal of postcards is being reached to their destination, in the hand of the person who is mentioned in the postcard's address. If the address isn't clearly described, all your effort will go in vain. That's why you should have a sense of how to address a postcard. Here we go for the solution in this regard,
Always keep the recipient's address on the back part of the postcard. You can print postcards with additional space for the address

Divide the address section into two sides, right for the sender and left for the receiver

Date

Stamp
What Size of the Postcard is Most Effective?
It depends on the user and his purpose for using postcards. For events and party invitations, the regular postcard is suitable in all aspects. Business promotion and marketing need a little more space to squeeze promotional speech, product identities, and brand motifs. So, they need jumbo or giant postcards to keep it stand and effective. However, you can design random shapes, sizes, and designs to suit the postcard you want to design. scroll up if you don't know about the different types of postcards.
Is Direct Mail Still Effective?
High digitization of business and digital marketing makes things easier and global for all of us because we can promote brands, make popularization, and so on just to be active on the internet. Sitting on the sofa in our house and moving to the laptop, managing things we can't do offline now. So, most of you don't think direct mail is an effective way to use it in this digital world.
But that's not a fact anymore. Opportunities that come online are not enough to succeed because a lot of things happen offline as well. You have to care for consumers, their quantity, and demand offline so. Direct mail is still one of the great ways to deliver specific messages directed into the hands of the client, their mind. Unlike digital marketing and branding facts, direct mail is more effective, crystal clear, and more than that people get it direct. So, its conversion rate is way higher than digital processes. Besides, direct mail offers some other benefits, such as,
As it is a direct process, receivers must be open and look at the mail. Whether he takes action or not, direct mail provides a higher open rate and it can go 90%

Statistics show US advertisers spend approximately $167 on direct mail for each person

It has a high ROI

Can go through balancing with your digital marketing strategy and you can run both at the same time

The return policy of direct mail marketing is good

54% of the consumer in the US loves to get direct mail from their most preferable brand

It is more targeted than online marketing and advertising

Direct mail can make your audiences feel loyal

Grab attention at first sight
What is a Lithograph Postcard?
Lithographing a postcard is an old but operative way of printing postcards which is known as lithography. It was a complex process but it resulted in colorful postcards that would get vintage and comfortable look. The first mechanized lithography press was founded in Paris in 1833. Though it is one of the oldest methods of postcards, people still love to collect lithograph postcards.
What is a Vintage Postcard?
Vintage postcards mainly refer to antique postcards which have identical values. Vintage postcards are mostly found in the collections of serious postcard collectors.