Clipping Path Service
Clipping path service is a professional solution for eCommerce product photo editing and other detailed photo post-processing. As the demand for visual graphics grows exponentially these days, photo editing service including manual clipping path, photo retouching, and photo path has become extremely necessary. If you've been involved in e-commerce, affiliate, or any social media marketing activity, you may be familiar with it. In order to use images online, we need to make them look interesting and appealing. To do this, images must go through a specific post-production process because we cannot use RAW images for website and eCommerce purposes. For instance, eCommerce product images should implement with white background, natural or reflecting shadow, and a quite bit color correction.
These processes are usually done with complex photo editing software like photoshop and others. Without having the knowledge of using these software's, you can't adjust images in yourself. In such cases, you should hire an online manual clipping path service to get what you need. Well, what will these online services do for you?
Changing image background and objects
Ecommerce product image post-production
Creating banners, posters for social media and website
Image manipulation service
Photo retouching
Making ghost mannequins for fashion product catalog
Optimizing images for better performance
Different Types of Clipping Path Categories
Manual Clipping path is a distinguished photoshop technique that takes part in most photo editing operations. But it mainly refers to the process of removing image objects from its background and replace it with a new one.
However, images vary based on the objects they contain. Some images contain simple objects while others have super complex objects. Needless to say, those complex objects background removing should be done by manual clipping path experts. So, the process is not same for all kinds of images. When you are in a professional service, you can see the different types of clipping path services that they offer. So, it is good to know about the different types of manual clipping paths and their methods. Below are some examples of different types of manual clipping paths.
Type of manual clipping path by image complexity
Type of manual clipping path by process
Type of manual clipping path by use
Type of manual clipping path by image complexity
As previously said, not all images are same, they are categorized as simple, medium, complex, and super complex. When you go to an image editing service, they will review all the images and determine which ones fall into which category. So, they can perform the task more efficiently. Don't worry, they can show amazing job by making your simple RAW product image looks gorgeous. How? Below is a brief explanation about it,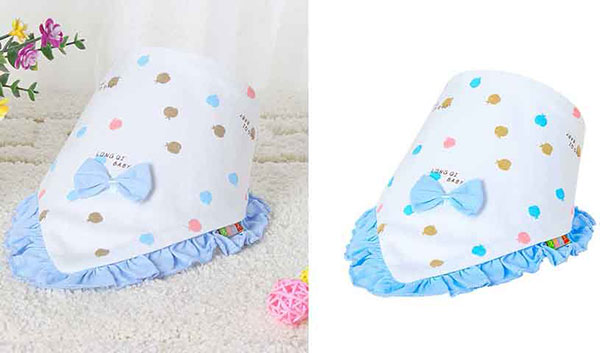 In photoshop clipping path services, simple clipping path applies to the simplest images which are very easy to process.
Generally, images that include simple objects with less curved edges and mostly come with straight lines or oval shapes are easier for background processing.
For example, think about a chair, cutting the background of a chair in a picture is not so difficult. Because it doesn't include any embedded transparency and all the curves and edges are so simple to draw a vector path around it.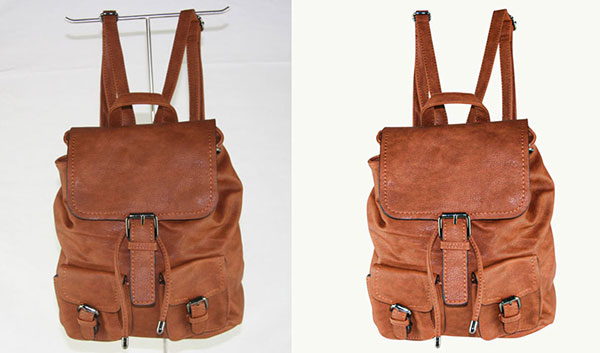 Medium clipping requires a little more consideration when working with Photoshop. This is because these images include objects that have several holes and embedded transparency.
Medium clipping is nothing different than a simple clipping path. Both are same in process, the only difference is medium clipping path applies when the image has complex shapes and edges and has a couple of objects to remove. Thus, it requires more attention rather than simple clipping path.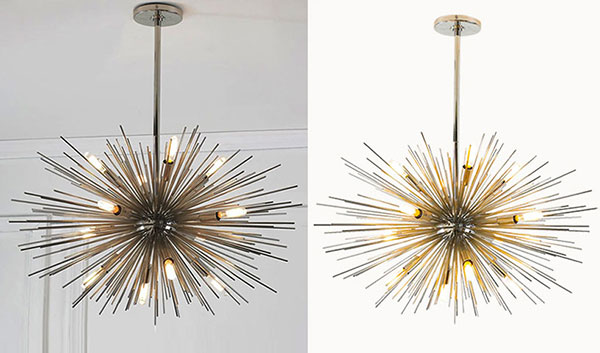 As its name implies, complex clipping is different and comes with more difficult objects than other types of clipping paths. Usually, images that have so many complex curves and edges needs to go through complex clipping process. For example, images that have more than 10 embedded transparencies, a lot of closed paths, and outlining paths are in this category.
Practically, if you have product images which contains cycle, chandelier, furry dolls, etc, you have to use this technique. For best results, you may need to get the best clipping path services support regarding this.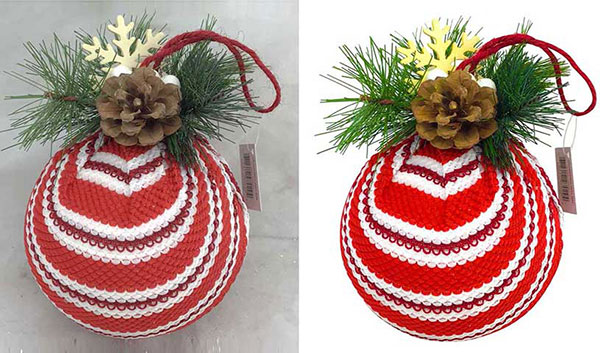 Super complex clipping path is a professional editing task. These images take huge time and consideration when processing.
In terms of clipping path, images that contain a lot more embedded transparencies and complex curves and edges fall under the super complex path.
Some examples of super complex images are jewelry photos, bicycles, cars, etc. If you have such images, you have to find the best clipping path service which can deliver the best quality results for your needs.
Type of clipping path by process
It is true that, clipping path and background removing is essential in all editing applications. Whether it is a product photo or your wedding photographs that you want to manipulation, you have to apply clipping path or background removal.
According to the image size, sometimes it is OK to go through the manual clipping path with pen tool, sometimes it needs masking, and sometimes you can use automatic tool to accomplish your need.
Although masking is quite different from the clipping path, it takes part in fixing complex images background. On the other hand, automatic process is done with AI functioned automatic tools that automate the process and requires zero skill and knowledge. Let's check these different types of clipping path methods used by professionals below.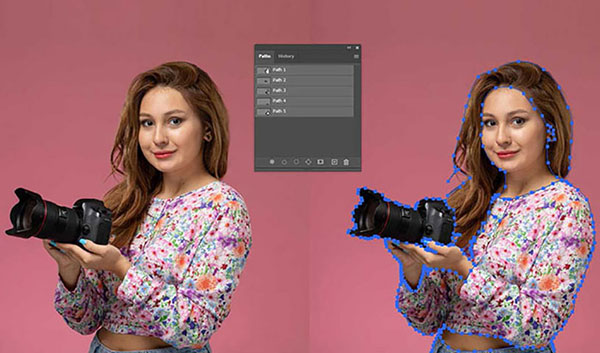 The reason we call it manual clipping path is, you have to put some real works with advanced tools in manual processing. Manual clipping path involves professional photo editing software's such as Photoshop. With Photoshop pen tool and advanced masking options, you can fine-tune any photo background without damaging objects.
Manual clipping path is mandatory for complex and super complex images. For professional photo needs, you can't rely on automated tools.
Therefore, before choosing any online photoshop clipping path services, you have to ensure that you are choosing the manual one.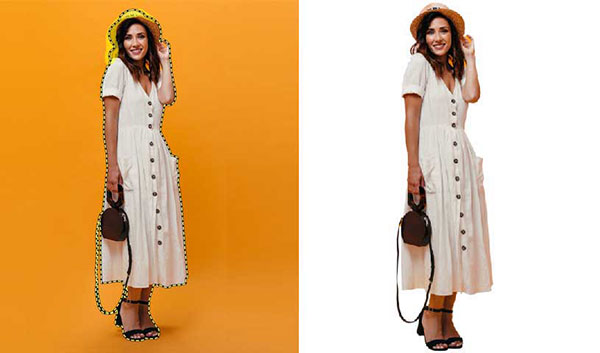 Automatic clipping path is done with online tools that automatically remove images background by advanced AI. These tools are almost hassle-free and you don't have to acknowledge any skills to use them. All you need is upload image > configure the requirements it asks > heat the process button > get results. Well, what can you expect from these automated tools? Some quick incomplete images with transparent backgrounds that you can't use for professional purposes.
You can easily fulfill one's task of bulk simple images with such automatic tools. Although these tools are not recommended for complex and super complex images. Complex images look unreal when edit with automatic tools. In cases, you have to choose manual clipping path or image masking.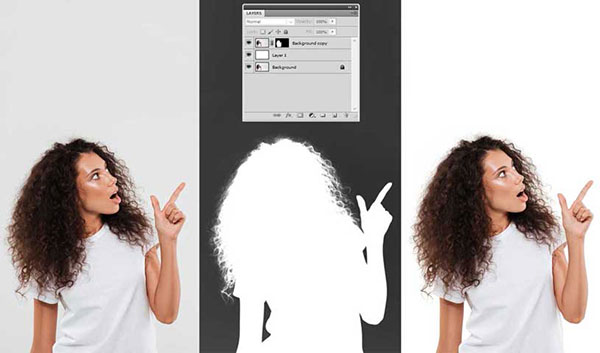 Masking is a delicate way to remove backgrounds from super complex images. It is almost different from the way clipping path is used. Masking technique is used in most cases where traditional pen tool cannot give appealing results. Typically, masking techniques are applied when images contain fur or hairy objects. These objects look unreal if processed with clipping path.
Masking allows to perform editing by creating masks, you can isolate and protect specific part of an image that should be edited. So, it is crucial to know how to use masking to remove objects from images background.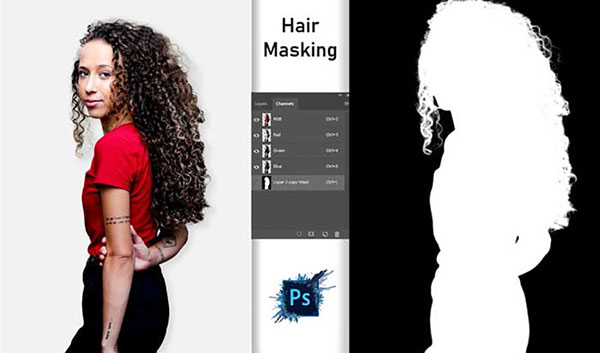 Look at the image above and realize how complicated it would be if you used the pen tool to remove that curly hair part of the object. This is why, clipping path or pen tool isnt preferred when removing background of curly hairs or furry objects.
Fortunately, there is hair masking technique that experts choose to save messy hair part of images in editing. Hair mask takes part in high-end photo retouching and post-processing. It excellently restores hair in the image and gives exotic looks to the object.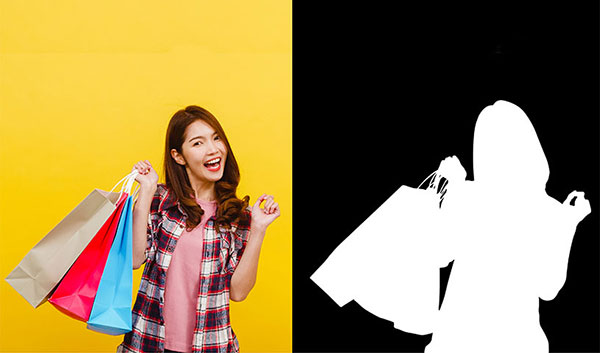 Alpha masking makes object isolation easy for even more complex curves and edges. But its main use is to remove background from images that include fur/hairy objects.
As you can see the above example of alpha masking where the object is removed harmlessly by isolating the background. Masking doesn't involve pen tools like clipping paths.
Different types of masking techniques are available and alpha channel masking is one of the most essential. Since masking is a professional technique, you should hire an online image masking service when need.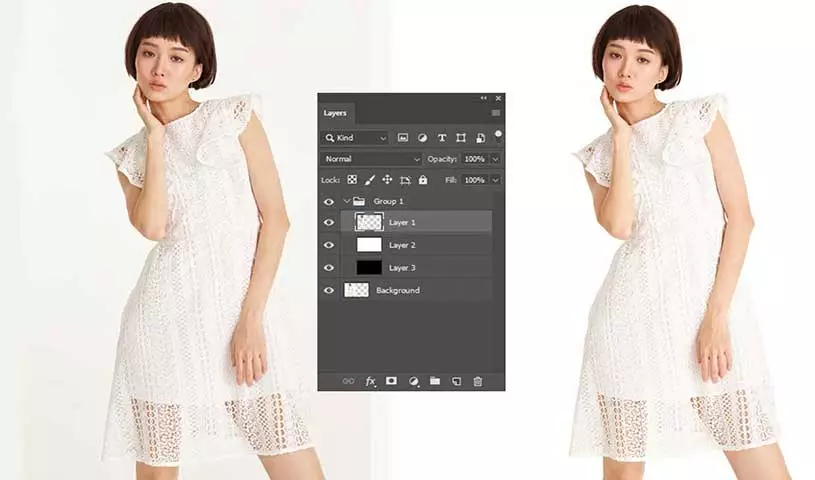 While working with pen tool is very time-consuming and difficult, layer mask technique provides a sleek way to deal with rough unwanted image backgrounds. In photoshop, there are two types of masks you can apply,
Layer mask is applied when it needs to control images transparency. It works through photoshop layer and mask to control the transparency level. The layer mask is essential in professional image retouching and manipulation. To make your images look excellent, you should consider using layer mask.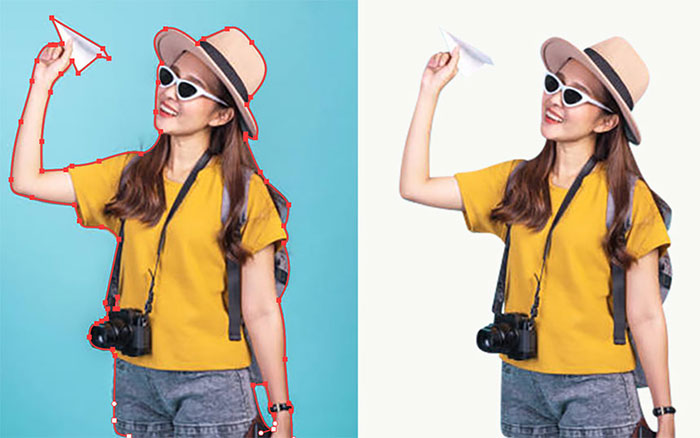 Unlike pixel-based layer mask that is resolution dependent, vector mask offers more independent way to mask objects.
Vector masks are pixel independent; you need to create a vector path with pen tool then select the entire the path and add mask into it.
Vector mask results more smoother edges than layer mask. As it uses complex mathematics to deploy vector path for your selection, it can give even more sharper object selection for maskin.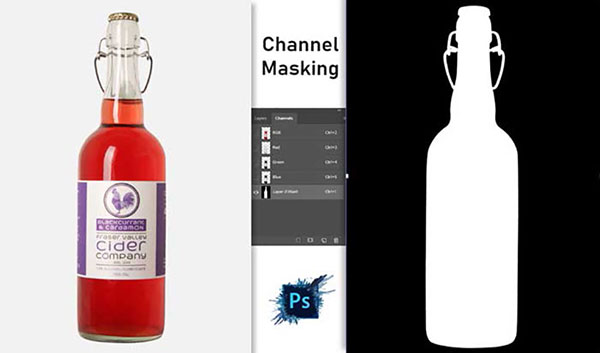 In Photoshop, channels act like containers. "Channels are grayscale images that store different types of information".
Unlike other masking and clipping path operation, channel masking refers to the idea of applying masks through the channels of images. There are two types of channel masking available,
Color channel masking
Alpha channel masking
Color channels contain color information of an image, for instance, an RGB image has four color channels such as Red, Green, Blue and a composite RGB channel.
Alpha channels, on the other hand, work through selection to store masks and protect specific objects from unwanted editing. Channel masking is a complex editing technique, you may need the help of professionals to do it on your own.
Types of clipping path by use
Since clipping path widely takes part in professional photo retouching, it also helps in visual content creation. For instance, we need visual content separately for websites and social media platforms. In order to engage social media audiences and website users, we need to publish new content on a regular basis.
Ecommerce businesses need to upload product images with white background, so they are more concerned about this and employ online clipping path services to get bulk ecommerce product photos done with it. Sometimes they need multiple and overlapping path to make the product images more engaging. Here are some more types of clipping path by their use so you can take more advanced decision in your need.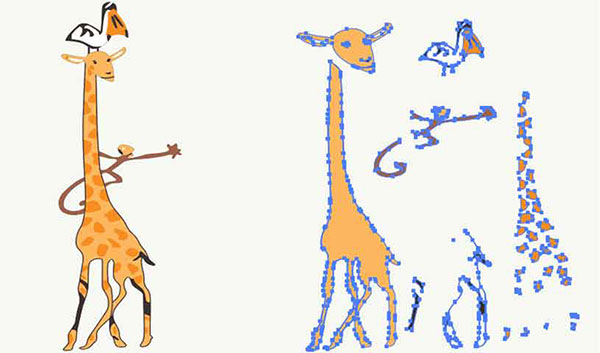 Mainly InDesign is one of the Adobe applications that makes such things faster and easier for professionals.
The software is highly used in print design and digital design such as layout design, page design. However, clipping path is much easier with InDesign than Photoshop. Because it offers built-in functions that make the application seamless.
With InDesign, you don't need to do artwork with the pen tool, just open the image in InDesign > go to the object menu > find clipping path > and then its automatic clipping path option will prepare a vector path around the object that you can easily remove. InDesign is also used for curves and wrap text, type on a path inside a circle, and so on.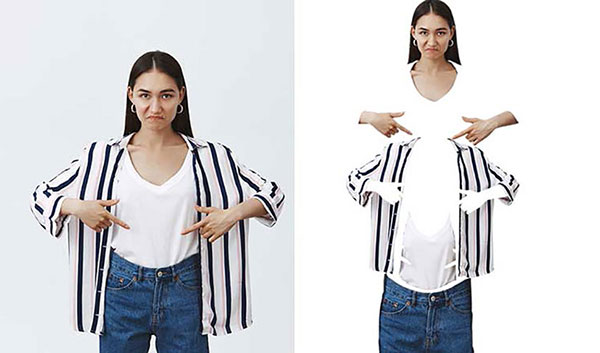 Overlapping clipping path is a process similar to the regular clipping path. Its main function is to overlap three or more objects that are the same in the category but different in color and design.
Overlapping path requires mostly when e-commerce retailers need to show a bunch of products on a single background. These products often come in a variety of colors, so they need to overlap to be displayed in a single background. The technique is used to provide more information about the product. Such as showcasing all the available colors and designs of single products with one image. For products like bags, clothes, shoes, sunglasses, etc. It is better to apply the overlapping path technique.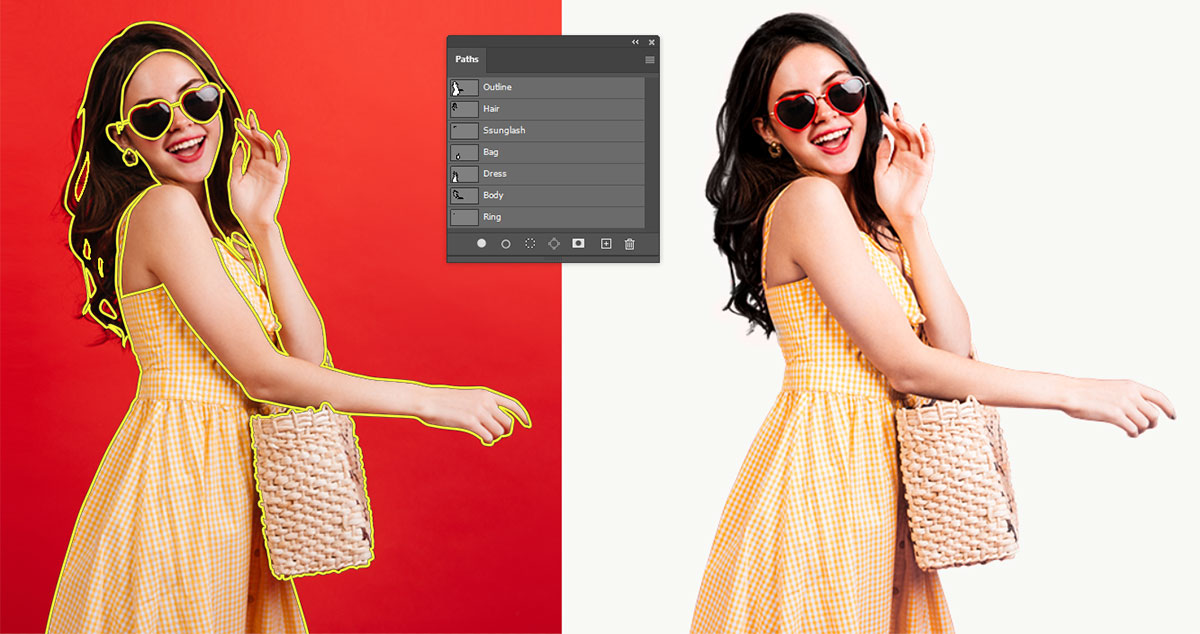 In conventional path operation, a vector path is drawn with the pen tool to create a complete outline in the outer area of the object. Unlike as usual clipping paths, multiple clipping path require when each part of the object should be removed separately. In multi-path operations, it is used to separate the target object into multiple parts because each part needs to be adjusted significantly. Thus, experts draw multiple paths as need to detach the object and adjust things precisely. For instance, when it needs to change only the background color, it is enough to detach the whole object at once from its background.
But think about the image where a model stands wearing branded tops, shoes, and sunglasses, and you want to change the dress and shoe color individually. In such cases, multiple paths help to split out the object and bring whatever changes and adjustments need. Did you ever find multiple clipping path services online?
Manual Clipping Path vs. Automatic Clipping Path
Currently, the demand for clipping paths starting to grow rapidly. It is because of the huge extension of online ecommerce, selling services, and digital activities where visual elements are fundamental. Since we use photos and videos everywhere on social media and online. But before that, we need to make them effective and look attractive.
For this, we use specific editing software that are help us in many ways. There are both manual and automatic editing softwares available. Automatic tools are simple to use and you don't have any skills to use it. However, you cant rely on those automatic clipping path tools because they don't give the output you need. You can use them but the results will not be as perfect as you want.
Moreover, you can't use them to make complex images clipping path. On the other hand, manual editing software's are also called advanced application which takes time to learn and master at these softwares. If you are not patient enough to learn these manual editing techniques, you need to outsource online editing services to meet your needs. In past few years, the number of online photo editing service provider increased significantly. You can easily find the best clipping paths, photo masking, and professional photo retouching service online by simply searching it on your browser.
Price List
Clipping path

Clipping path by photoshop

Multiple paths

In multiple paths operations

InDesign paths

Mainly InDesign is one

Alpha masking

Above example of alpha masking

Hair masking

Hair masking sample above

Layer masking

Layer mask is essential in professional

1 to 50 Images

Non Discount on your order

51 to 100 Images

Get 10% discount

101 to 200 Images

Avail 15% discount

201 to 500 Images

Claim 20% discount

501 to 1000+ Images

25% off on order

KINDS OF (CONTRACTUAL)

Huge 40% off
Basic
$0.20

$1.00

$0.80

$1.00

$0.20

$0.36

$0.34

$0.32

$0.30
Medium
$1.00

$3.00

$2.50

$2.00

$1.00

$0.90

$0.85

$0.80

$0.75
Complex
$5.00

$10.00

$7.50

$5.00

$5.00

$4.80

$4.70

$4.50

$4.00
S-Complex
$10.00

$20.00

$12.00

$10.00

$10.00

$9.50

$9.00

$8.50

$8.00
Why outsource clipping path services?
Outsourcing clipping path is the best way to deal with ecommerce product images and all other photo editing criteria. It is highly necessary for those who have an online business. If you are one of them, you know how time-consuming it is to use clipping path for bulk images background removal. If you outsource clipping path service, you don't have to worry about anything.
You can get thousands of edited images ready to upload on your website within 24 hours by outsourcing these online services. They also provide the fastest delivery for the client satisfaction and also ask lowest rates for their service.
However, if you learn clipping paths and masking techniques, you don't have to go to a photo editing service provider.